28 local time, tens of thousands of people in Colombia's major cities to participate in a large-scale rally, asking the government to withdraw the fiscal and tax reform program has been submitted to Congress for discussion.
On the same day, demonstrations organized by Colombia's National Unemployment Council and a number of trade unions in many parts of the country, including the capital Bogota and the second largest city medellin. In Kali, the country's third-largest city, demonstrators clashed violently with police officers who maintained order at the rally site, local media reported.
It is understood that President Duke of Colombia this month formally submitted to Congress a new draft fiscal reform, including tax increases and reduced government spending. The measures taken by the government last year in response to the new outbreak of pneumonia have led to a surge in government spending and a rising fiscal deficit.
Congress began formal discussions on the draft on the 27th of this month. Because the bill touches on the interests of many middle-class people, including the lack of support within President Duke's party, there is still considerable uncertainty about whether it can move forward, according to experts.
However, Duke 28 reiterated that the government will not withdraw the draft tax reform, but revealed the willingness to talk to the opposition.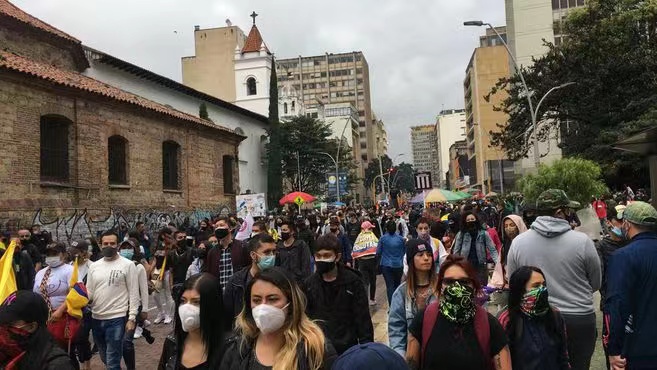 At present, Colombia is still at the peak of the pandemic, the 19th of this month, the first new deaths more than 400 cases, the country's cities in the intensive care bed occupancy rate of more than 90%, oxygen supply is tight.
According to a report released by colombia's Ministry of Health on the 28th, the country's Coronavirus pandemic has been confirmed a total of 2824,626 cases, a cumulative death of 72,725 cases, a cumulative rehabilitation of 2632,699 cases.