Ministery of defense in azerbaijan Xlaim shot down two armenian SU-25 And Armenia Refutes IT!
Azerbaijan's Ministry of National Defense issued a statement on October 29, local time, stating that two Armenian Su-25 fighters attempted to launch air strikes against Azerbaijan's Guadrinsky Front at 13:18 and 13:20, but they were shot down by Azerbaijan's air defense forces.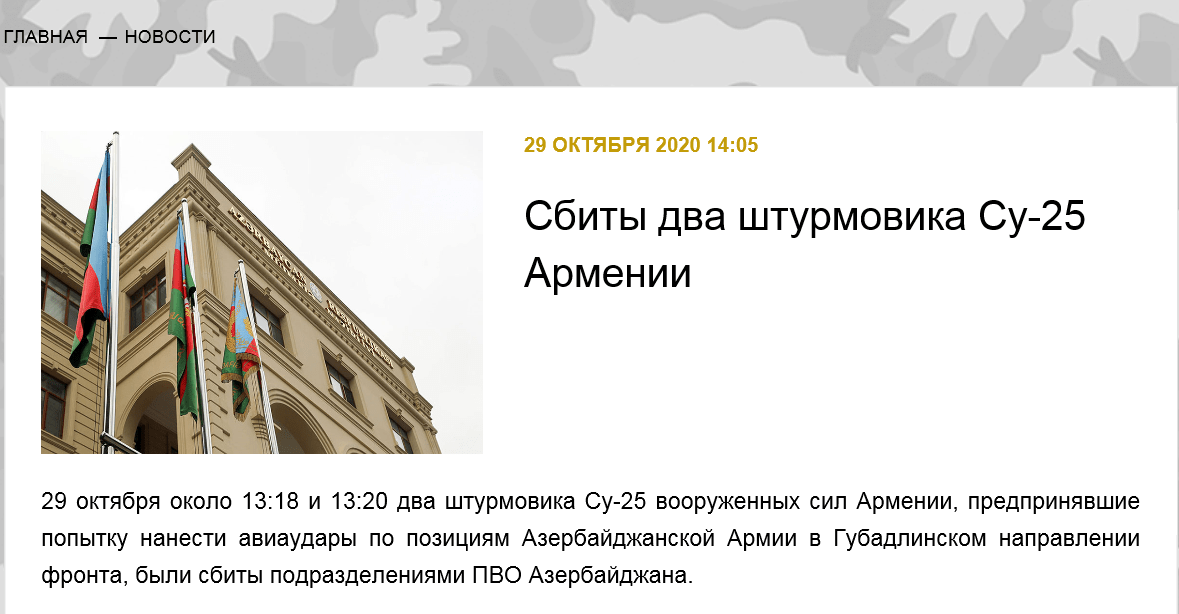 Subsequently, the Armenian Ministry of Defense rejected this statement. The press secretary of the Armenian Ministry of Defense, Stepanyan, posted on his social media that Azerbaijan's so-called shooting down of two Armenian military Su-25 fighters was false.
On September 27, Armenia and Azerbaijan broke out in the most serious armed conflict in 26 years in the disputed area of ​​Naka. With the mediation of Russia, France and the United States, the two countries reached a humanitarian ceasefire agreement three times in October. 
However, after the ceasefire agreement came into effect, the two sides continued to accuse each other of breaking the ceasefire and launching attacks, and denied allegations of breaking the ceasefire. (Headquarters reporter Wang Bin and Wang Xiaoxue)