On November 1st, the Kenyan newspaper Nation published an article entitled "The Forum on China-Africa Cooperation Is Essential to the Global Fight against the Pandemic" by Peter Kagowanga, director of the Kenya African Policy Research Institute. The article stated that China-Africa solidarity and cooperation within the framework of the Forum on China-Africa Cooperation helped to a certain extent in most parts of Africa to contain the spread of the Coronavirus. Uniting China, the first country hit by Coronavirus Pandemic, will help Africa weather the most serious public health challenge in recent decades.
The article stated that in the early stage of the outbreak in China, Africa and the world provided China with anti-Pandemic supplies to show solidarity. Now China is responding to this feeling of solidarity to Africa. The article listed China's various efforts to fight the Pandemic through China-Africa cooperation. For example, a special summit on China-Africa unity against the Pandemic was held in June to support China-Africa cooperation against the Pandemic from a policy perspective. China supports Africa's fight against the Pandemic through practical actions such as sharing experience, dispatching experts, donating medical equipment, and Pandemic prevention and testing materials. Not only at the government level, but Chinese charities and the private sector are also involved, providing millions of medical supplies and donations to Africa.
The article stated that the "China-Africa Cooperation Forum Circle" composed of China and 54 African countries has a population of about 2.79 billion, accounting for about 35% of the world's population, and is the world's largest anti-Pandemic cooperation. This cooperative is working hard to keep the Pandemic away from some of the poorest countries in the world. In the spirit of solidarity of the Forum on China-Africa Cooperation, China cancelled interest-free loans in Africa and started bilateral negotiations with African countries to reduce the debt burden of these governments.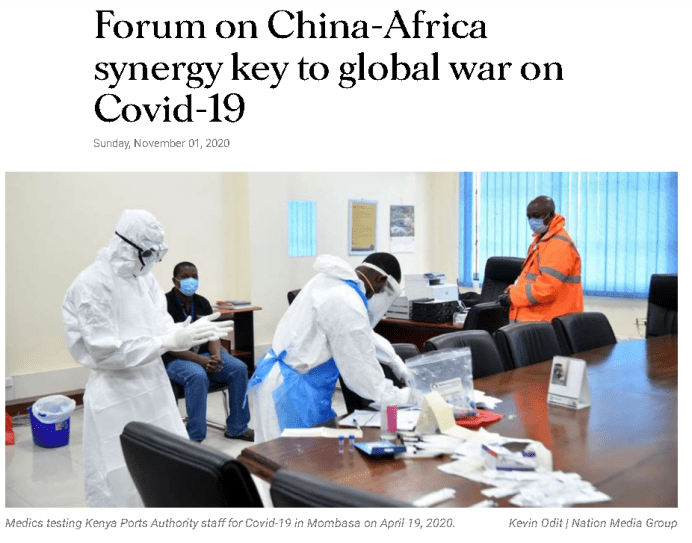 The Forum on China-Africa Cooperation also provides a framework for Africa's industrialization and strengthens Africa's ability to respond to infectious diseases. For example, during the Pandemic, some Chinese manufacturing industries moved to Africa to help solve local supply chain problems. China and Africa have also cooperated in the research and localized production of personal protective equipment, medical facilities and medicines. Now it is also necessary to unite in training local medical professionals and nursing staff in Africa to reverse the impact of brain drain.
The article points out that the Forum on China-Africa Cooperation is the key to establishing a new public health order in Africa. In the post-Pandemic era, preventing and fighting Pandemic should become one of the core pillars of the Forum on China-Africa Cooperation. It is also the establishment of a community with a shared future for mankind to achieve peace and development. An important part of prosperity. (Headquarters reporter Gu Xuejia)