U.S. Election Day on November 3, local time is getting closer. the ballot tracking database-the "US Election Project" (US Election Project) statistics, this year's US election will be the largest number of voters in history. 
Generally speaking, the number of voters who voted early will only account for about 30% of the total number of voters, but this year's situation is just the opposite. About 70% of voters will vote before the general election day . 
The BBC commented: This is destined to be an unusual American election.
Biden leads the polls and the victory is still not locked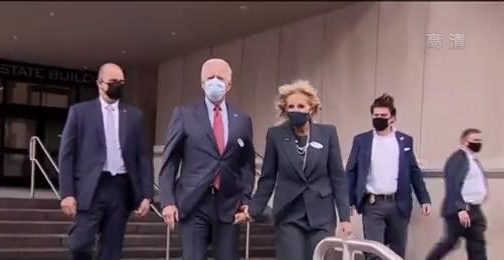 candidates participating in political elections will vote in their hometowns. But Trump, a native of New York, changed his voter registration address to the swing state of Florida.
But in Florida, which Trump calls his "hometown," according to statistics from FiveThirtyEight, a US political polling website, as of October 29, Trump has been temporarily behind.
In national polls, Biden's obvious lead over Trump continues.
In 12 swing states (Arizona, Colorado, Florida, Georgia, Iowa, Maine, Michigan, North Carolina, Ohio, Pennsylvania, Texas, Wisconsin), Biden is in 10 of them (except Ohio and Texas) temporarily lead.
But this does not mean that Biden has locked in the election victory.
NBC anchor: I still have lingering fears about the 2016 election. I don't believe in any polls. In any state's polls, if Biden doesn't lead Trump by more than 3 percentage points, I'll take this state Considered to have been taken by the Republican Party. I hear people discussing the general election, which is exactly the same as the general election four years ago.
The outcome is uncertain, and the election continues.
In the last week before the election, the Trump campaign team was fully fired. Trump himself went to six swing states to canvass votes and play economic cards.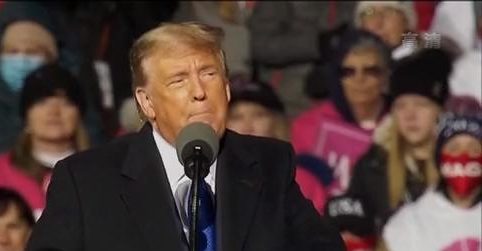 US President Trump: This election is a choice between Trump's super (economic) recovery and Biden's Great Depression.
Even the first lady Melania was sent to Atglen, a small town in Pennsylvania, for the first independent election since the opening of the election campaign.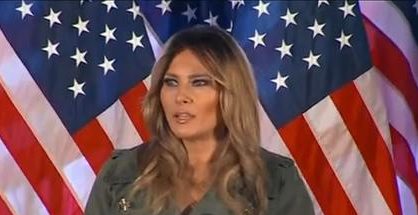 American First Lady Melania: We must re-elect Donald so that he has a beginning and an end. Only in this way can our country flourish. I don't always agree with the way he speaks, but it is very important that he is blunt to the people he serves.
In contrast, the Democratic candidate Biden's schedule is not so intensive. In the last week before the election, he only went to three swing states to canvass.
It is worth noting that in the conservative southern state of Georgia, which has supported the Republican Party for nearly 30 years, Biden has a small lead this year.
According to CNN analysis, Biden currently has a clear lead in the three swing states in the northeast, Michigan, Wisconsin and Pennsylvania. If Georgia, which has 16 electoral votes, the victory will be basically locked.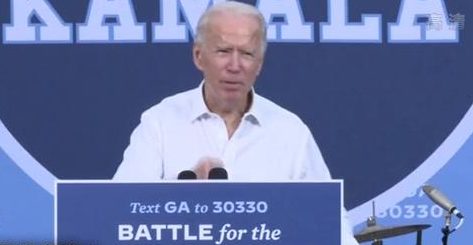 Democratic presidential candidate Biden: It's time, voters, to stand up and regain our democracy. We can do it in Georgia. If we get Georgia, we will win everything.
Young voters actively vote good for the Democratic Party
According to statistics from the Center for Citizen Learning and Participation Information (CIRCLE) of Tufts University in the United States, compared with the last general election in 2016, young voters between the ages of 18 and 29 this year are very active. As of October 26, more than 5 million young voters have voted, almost five times the number of the last general election, of which 3 million are from swing states.
In terms of political orientation, according to data released by Harvard University this week, 50% of the young voters of the millennial generation (born 1984-1995) and generation Z (born 1995-2009) support Biden. Only 26% support Trump. Among them, 63% of Gen Z voters said they would vote for Biden.
Historical data shows that when young voters enthusiastically vote, the results of general elections usually favor the Democratic Party.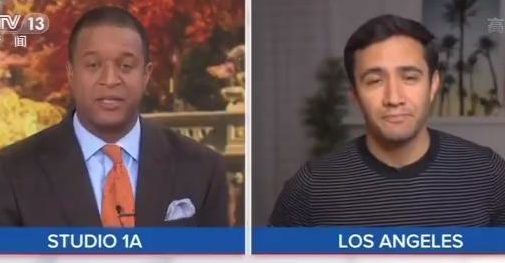 Anchor: Which of these voters (young voters) prefer?
NBC reporter: They are more inclined to the progressive (Democratic Party). It is worth noting that generation Z people are very independent and they have their own research and analysis. This group of children don't watch TV either. They are actually not very optimistic about the two candidates, but they are very concerned about social issues.
In addition to the increased enthusiasm of voters in voting, the method of voting in this year's general election has also changed.
Mailed ballot: "Election Day" or "Election Week"
Currently, most states require that "mailed ballots" arrive no later than November 3, and the postmark shall prevail. However, five states including Ohio, Nevada, Minnesota, North Carolina and Pennsylvania allow ballots to arrive later. Among them, Ohio and Pennsylvania are key swing states.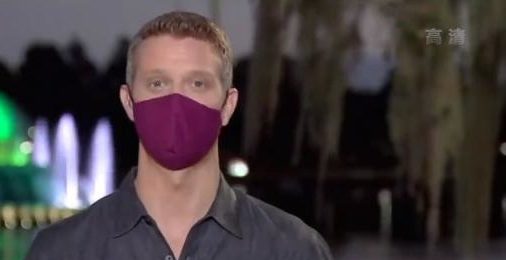 Reporter from the National Broadcasting Corporation: Pennsylvania cannot count the votes in advance, nor can the votes cast in advance. It can only be (counted) on the day of the general election. But the votes of Pennsylvania cannot be counted in one day. It may be the last week. This year's "election day" may become "election week."
According to the US media VOX, as of October 29, more than 80 million voters have voted. Among them, two-thirds of the voters have chosen the "mailed ballot" voting method. Among the "mailed votes" crowd, the number of voters who support the Democratic Party is about twice the number of voters who support the Republican Party.
Voting and vote-counting procedures have become more complicated, causing many people to worry about whether the results of this year's US general election will go smoothly.
Richard Hasen, professor of law and political science at the University of California, said: I hope the winner can win with a clear advantage, otherwise, no one can predict what the United States will pay for this election.
At this time, the United States Supreme Court has undergone dramatic changes.
On October 26, Trump held an oath for the new Supreme Court Justice Barrett on the South Lawn of the White House.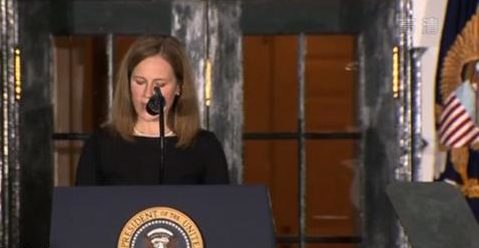 Supreme Court Justice Barrett: I solemnly swear tonight that I will perform my duties impartially, regardless of any political faction or personal preference.
Barrett's appointment made the ratio of conservatives to liberals in the Supreme Court justices to 6:3. The New York Times believes that this will make the US constitutional discretion in the next few decades "turn to the right" and will also add variables to the current election.
The general election is about to become the focus of race
The general election was just around the corner. At this time, another incident of police violence involving racial issues was exposed. This week, in Philadelphia, Pennsylvania's largest city, two white police officers fired more than a dozen shots at a black man allegedly suffering from a mental illness during law enforcement, killing him. In the past few days, this incident has caused serious protests and riots in the local area, and the topic of race has once again been placed in front of the two presidential candidates.
According to the "Philadelphia Inquirer" report, on October 26 local time, someone called 911 for help, saying that a 27-year-old man in his family had a mental problem and asked to send an ambulance. After a while, the two police officers rushed to the scene first. After seeing the police, the black man with a mental problem became more emotional and approached the police with a dagger.
Philadelphia Police Department Sheriff Gleip: The police ordered him several times and told him to lay down his weapon. Unfortunately, he did not do so.
The Philadelphia police chief admitted that the two police officers did not carry stun guns at the time and fired a total of 14 shots on Wallace, a black man. Wallace died after being taken to the hospital.
Wallace's father told the media that his son is suffering from bipolar disorder and is taking mental drugs. Since the outbreak of the Coronavirus pandemic, Wallace's condition has been unstable. He usually lives by driving food delivery. He has 9 children to feed and is under heavy financial pressure.
Currently, the two police officers involved have been suspended for investigation. The death of Wallace also triggered street protests again.
On October 27, a protester drove a truck and severely injured a policeman. After that, the confrontation between the police and the protesting crowd quickly escalated.
The police said that during the protests on the night of the 27th, 81 people were arrested by the police, about 300 shops were robbed and vandalized, and thousands of people participated in illegal activities.
Philadelphia Police Commissioner Outlaw: A total of 23 policemen were injured, including cuts and bruises. The policemen were injured by stones, bricks and other objects thrown over.
After two consecutive nights of riots, on the 28th, the Governor of Pennsylvania and Democrat Wolfe dispatched the National Guard to Philadelphia and imposed a curfew that night.
According to the police shooting database published by the Washington Post, as of October 26, 804 people have been shot dead by police this year, including Wallace. One-fifth of the dead suffer from mental health diseases.
On October 27, Biden issued a statement stating: "We cannot accept that mental illness will lead to death in the United States. At the same time, anger at social injustice must not be an excuse for violence.
Trump's remarks, as always, supported the police force and blamed the Democrats for the incompetence of the riots.
U.S. President Trump: People broke into the store, grabbed washing machines and all kinds of things, and dragged them away together. This is forbidden by law. People must be in order. We are paying close attention to the situation. We are waiting for the call. They need our help and we are always there.
However, the next day, Philadelphia District Attorney Krasner called Trump in a statement: "Mr. President, let your'proud boy' (right-wing organization),'hiring thugs' and'illegal elections'. The observers' stay away from Philadelphia, if they break the law here, I won't let you go."
Krasner's warning is not alarmist.
In protests in Portland, Kenosha, New York, and many other cities, right-wing militias armed with weapons have appeared, violently clashing with protesters and even causing casualties.
Now, as election day approaches, right-wing militia organizations across the United States have become more active, even appearing in front of polling places, threatening to intimidate voters.
Marcos, head of the Pinellas County election office in Florida: These people in security uniforms told the deputy sheriff that they belonged to a security company and claimed to be employed by the Trump team. This news has not been confirmed, but I He Sheriff attaches great importance to this, intimidating voters, preventing voters from voting, and obstructing voters from exercising their right to vote is firmly intolerable.
According to the British "Guardian" report, there are about 300 militia organizations in the United States with tens of thousands of members. Among them, retired and active military personnel account for about a quarter, and most of them are Trump supporters.
The Homeland Threat Assessment Report issued by the US Department of Homeland Security last month also pointed out that after the election, the threat of violence from right-wing white supremacists may intensify.
Reporter: Please raise your hand if you think the United States is on the verge of a civil war.
Guardian of Michigan Homeland: We are already in a civil war. This war has already begun. When American cities are in chaos, police stations are burned, people can't get in and out of the city, and law enforcement can't control the situation. You can call this a civil war.
The "Michigan Homeland Guardians" is a militia organization that was extremely active during the general election. The head of the organization said that they oppose all the government's mandatory orders, such as stay-at-home orders and orders restricting commercial activities. At the same time, they are ready for the chaos that may arise after the election.
US President Trump: Step back and stand by.
Pesco, the person in charge of "Michigan Homeland Guardian": When he (Trump) said "standby", what does he want to do? What does he want us to do on standby? In some of his speeches, he said that someone must help the government to quell the riots, and our militia believed that he gave us this task.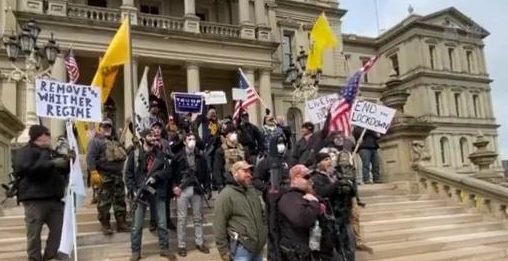 On October 16, the FBI announced that it had arrested 14 far-right activists from Michigan. Because they are dissatisfied with the series of pandemic control measures implemented by Michigan, they are planning a kidnapping and execution of Governor Whitmer. The planners came from different right-wing militia organizations, including members of the "Michigan Homeland Defenders".
Michigan Governor Whitmer: This really makes me deeply disturbed.
Reporter: Can you tell me when you learned that someone was trying to kidnap you?
Michigan Governor Whitmer: In April, when the president began to mention me in press conferences and other occasions.
Michigan Governor Whitmer: Since then, I have received death threats. I had to appease my daughter and husband. Someone wandered around my lawn with an automatic rifle more than once.
Pesko, the person in charge of "Michigan Homes Guardian": She (Governor Whitmer) asked for this. You can see everything she has done (control measures). I may be making excuses, but I It just thinks that she is self-inflicted and that she does not listen to the opinions of the people.
Reporter: We are talking about kidnapping, murder.
Pesco , the person in charge of "Michigan Home Guardians": Yes, if you keep angering the people, the people will explode.
Reporter: The actions of politicians have always been controversial, but they will not be kidnapped.
Pesco, head of "Michigan Home Guardians": We will not tolerate it.
Republican pollster Luenz: We were more divided during the Civil War than we are now, and we were more divided during the Great Depression than we are now, but at that time we had hope for the future. And now, in such a divided situation, we are losing hope.
Generally speaking, the results of the U.S. election will be basically clear on the night of the election day or in the early morning of the next day, but this year, I am afraid that no one can predict when the election results will be released.
And the "Washington Post" has set its sights on the post-election United States. The newspaper commented: No matter who wins the election, the next four years in power will be extremely difficult, because what is before him is a severely divided and perilous one. United States.