Gas and firewood stoves at a crematorium in the Indian state of Gujarat have been working continuously for a long time, never stopping during the Covid-19 outbreak, and metal parts on the equipment have even begun to melt, Reuters reported. The situation has raised questions about the accuracy of the number of coronavirus pandemic deaths officially disclosed in India.
According to crematorium and cemetery staff, media reports and a review of government data, the number of cremations and burials reported in some major Indian cities far exceeds the official number of coronavirus pandemic deaths, Reuters said. At the same time, India's health system is already weak, hospitals are overcrowded and oxygen and medicines are scarce.
On the 19th, India reported 273,810 new infections and 1,619 deaths. The total number of confirmed cases of coronavirus pandemic in India now exceeds 15 million, second only to the United States.
Experts say reliable data is key to the government's response to the new outbreak, and without reliable data, planning for hospital beds, oxygen and drug supplies can be difficult.
Indian government officials say the official disclosure of coronavirus pandemic deaths does not match the actual figures and may be caused by a number of factors, including excessive caution.
A senior health official in Gujarat said the increase in cremations was due to the fact that bodies were subject to coronavirus pandemic prevention guidelines that were cremated "even if the probability of the deceased's new coronavirus testing positive was 0.1%." "In many cases, patients are admitted to hospital in critical condition and die before being tested for the virus, " the official said. In some cases, patients have died when they are taken to hospital, and we do not know if they are positive. "
Bhramar Mukherjee, a professor of biostatistics and epidemiology at the University of Michigan, says many parts of India are in a "data rejection" state. "It's so confusing, it feels like no one knows what's going on, it's disgusting," she said. "
According to crematorium staff, the Kurukshetra crematorium and Umra crematorium in Surat, Gujarat, burned more than 100 bodies a day last week under coronavirus code, far more than the city's official figure of about 25 deaths a day from new crown pneumonia.
The manager of Ashwinikumar, another crematorium in the city of Surat, noted that cremation operations at the crematorium had tripled in recent weeks, but he did not provide the number of bodies that needed to be cremated under coronavirus code. "I've been going to crematoriums regularly since 1987 and I've been running crematoriums on a daily basis since 2005, but I've never seen so many bodies cremated in these years, even during the plague of 1994 and the floods of 2006," he said.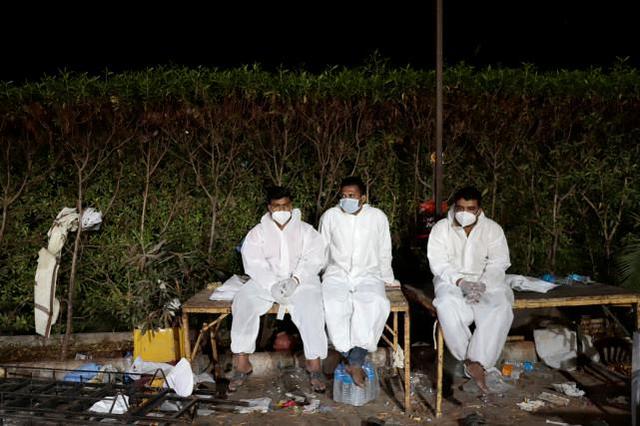 Reuters noted that data on incinerated corpses based on coronavirus pandemic regulations are highly inconsistent with official reports of coronavirus pandemic deaths, not just in Gujarat, but also in Uttar Pradesh, Madhya Pradesh and others.
India is not the only country where statistics on coronavirus pandemic have been questioned, but testimony from crematorium workers and a growing body of academic literature suggest that the death toll in India is underestimated compared with other countries, the report said.
Professor Mukherjee's study of India's first wave of coronavirus pandemic concluded that the number of new coronavirus infections across The country was 11 times higher than officially reported, in line with estimates from other countries. The number of coronavirus pandemic deaths in India is also two to five times higher than reported, well above the global average.
The Lancet medical journal noted last year that four Indian states accounted for 65 per cent of all new deaths in the country, with 100 per cent of deaths reported in those states. However, less than a quarter of deaths in India are medically certified. This means that in many of India's other 24 states, the true death rate from coronavirus pandemic may never be known. "Most of the deaths are unregistered, so it's impossible to verify the calculations," Mukherjee said. "