February 18th local time, the WTO released the latest barometer of goods trade, and the reading was significantly increased to 103.9.
According to the data, after the rebound in the third quarter, global trade in goods continued to grow strongly in the fourth quarter, and compared with the sharp decline in the first half of last year, the global trade in goods has improved significantly.
Container transport and air freight indexes are still rising, and the growth of electronic components and raw materials index is higher than the trend.
But the growth rate has peaked, some indexes such as export orders and automobile products have shown signs of slowing down, and the variant coronavirus will also put pressure on global goods trade, and the growth rate is difficult to maintain.
The WTO pointed out that driven by Asian export growth and North American and European imports, global goods trade rebounded from a serious decline in the second quarter last year, and goods trade fell 5.6% year-on-year in the third quarter, but not as serious as expected in the early stage of the epidemic.
However, due to the rise in the global incidence of COVID-19 and the emergence of variant viruses, the trade outlook after 2021 is difficult to determine, and the recovery depends largely on vaccination.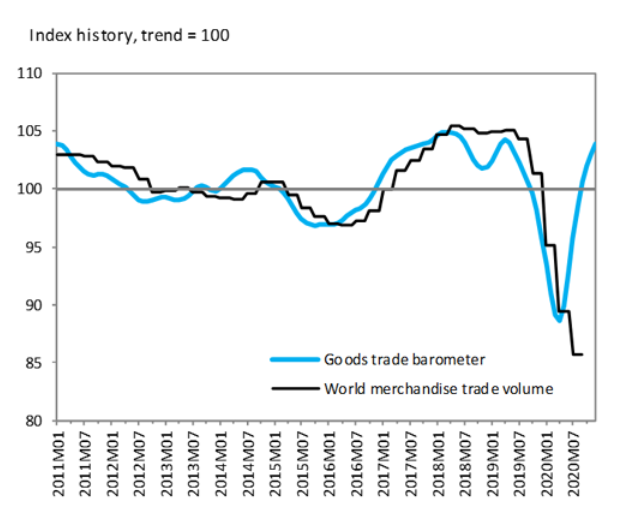 The WTO Barometer of Goods Trade provides early signals on the current trend and inflection point of world goods trade by collecting goods trade statistics, which is updated quarterly and in line with the barometer of trade in services.
When the value exceeds 100 indicates that global trade in goods has grown above expectations, and below 100 indicates that it is below expectations. The WTO will issue its next forecast in mid-April.