China News Service, October 26. According to the Associated Press, on the 25th local time, US President Trump and First Lady Melania held a Halloween celebration at the White House. Hundreds of children dressed up in various roles came to the White House to spend the holiday.
According to reports, that night, the South porch of the White ouse was decorated with brightly colored leaves and flowers, pumpkin lanterns, and a military band playing songs to create an atmosphere.
Many children in various costumes such as Superman and Unicorn came to the White House to beg for candy. Trump and Melania also greeted and talked with them while maintaining social distance.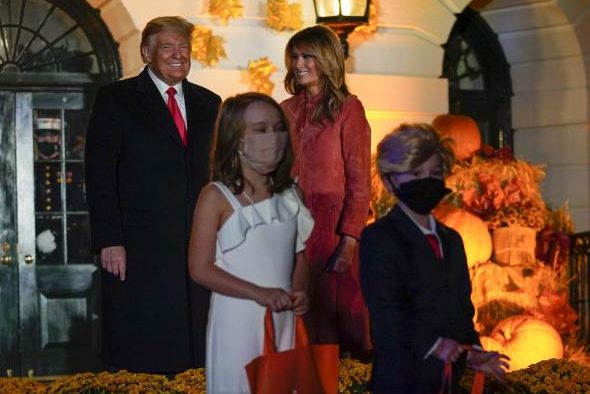 On the evening of the 25th local time, the White House held a Halloween celebration.
According to the report, Trump was particularly happy when he saw a little boy wearing Trump's head and a girl dressed as his wife Melania, and he motioned for them to turn around and pose for a photo.
However, due to the Coronavirus pandemic, Trump and Melania failed to personally distribute candy to the children like last Halloween. 
The White House has also taken additional preventive measures, such as requiring visitors over 2 to wear masks, maintain social distancing, and workers who distribute candies must wear gloves.
In early October, both Trump and Melania were infected with the corna virus, but the two have recovered.
Earlier, the US Centers for Disease Control and Prevention published a "Festival Guide", showing that during Halloween, knocking on the door and playing "Trick or Treat" activities or participating in crowded indoor parties are all "high-risk activities that can spread Coronavirusshould be avoided.