South Korean Prime Minister Ding Se-kyun takes the lead in vaccinating influenza on the 21st (Yonhap News Agency)
Overseas Network, October 26. According to Yonhap News Agency's latest news on the 26th, 59 people in South Korea have died after being vaccinated against influenza. The South Korean government has not suspended vaccination.
The Korean Agency for Disease Control said on the 23rd that the association between deaths after influenza vaccination and vaccination has not been confirmed and it will continue to carry out influenza vaccination.
Since a 17-year-old boy in Incheon died 2 days after getting the flu vaccine on October 16, there have been cases of deaths after flu vaccination in various parts of Korea. Most of them are people over 70 years old. The shortest is after vaccination. Died in hours.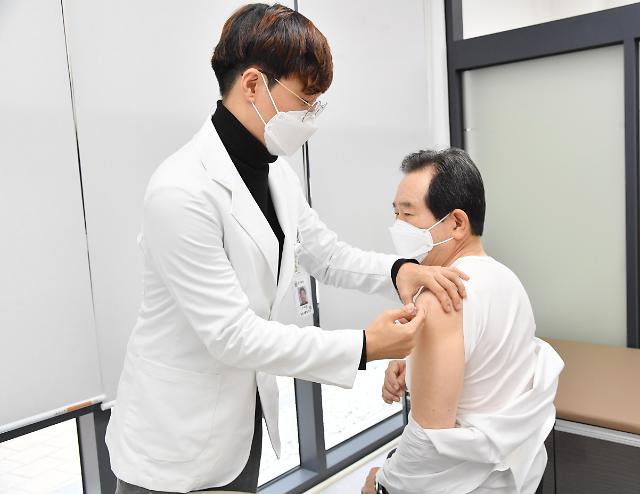 On the afternoon of the 21st, South Korean Prime Minister Ding Shijun personally went to the Sejong City Health Center to receive the flu vaccine, so that the public can be assured of the vaccine. As people's concerns about vaccine safety continue to increase, on the 23rd, he called for a thorough investigation of related deaths and expressed deep condolences to the families of the deceased.
In order to prevent the possible dual infection of influenza and new crown pneumonia in the fall and winter this year, in September this year, the South Korean government decided to vaccinate free influenza vaccines for people under 18 and over 65, covering 19 million people. 
However, just one day before the free vaccination program was ready to start, the Korean Agency for Disease Control urgently halted the free vaccination program and recovered 480,000 vaccines due to the cold insulation of the vehicle transporting the flu vaccine and the vaccine was exposed to room temperature. Another pharmaceutical company also voluntarily recalled 615,000 vaccines that had white particles in circulation.
It is reported that the influenza vaccine used in the free vaccination program in South Korea is supplied by five pharmaceutical companies, namely the local GC Pharmaceutical Company, SK Biotech, Yiyang Pharmaceutical Company, France's Sanofi Group, and British GlaxoSmithKline.
Distributors include South Korea's LG Chemical Company and Boryeong Pharmaceutical Company. (Overseas Network Liu Qiang)