April 18th "Russia Today" television said on the 17th, the United States Minneapolis police shooting black man Wright caused riots, the local government imposed a curfew, the National Guard patrol the streets.
In recent days, a video has emerged on social media of a group of heavily armed soldiers ordering several women to get out of their cars at a local gas station and using guns to force them to kneel and put their hands behind their heads. Netizens excoriated the U.S. military for turning gas stations into live-fire war zone checkpoints.
Video from the scene showed that it was dark and that several women had been asked to get out of their cars by heavily armed National Guard soldiers at a gas station. All held their heads in their hands, knelt on the ground, and were pointed at the head by soldiers.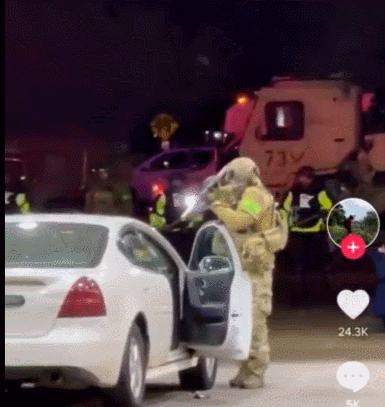 Screenshots of social media
Different media did not release the process and details of the incident. Some netizens speculated that the women had been treated as thugs by the National Guard for illegally going out to refuel their cars during the curfew. Others said that even so, the civilian women should not have been treated so badly.
According to one comment, the U.S. police "turned a gas station into a live-fire war zone checkpoint simply because people refueled during curfews." Another commented, "The U.S. Guard is simply an occupying force!" It's no different from what the U.S. military did in Kabul!