Extremely cold, low temperature, blizzard… Under the extreme bad weather, turtles can't stand it.
Thousands of turtles in Texas were "frosted out" according to the Associated Press on the 17th.
According to the report, at least thousands of turtles in Texas were "frosted out" due to unusually cold weather, and due to the lack of heating or infrastructure in their homes, many local residents who have been saving frozen turtles sent turtles to a convention center in a resort in southern part of the state to concentrate on the rescue of turtles.
"A different truck or SUV parked here every 15 minutes or less." "Someone will send a turtle or two from time to time, and some will send more," Ed Caum, executive director of the Texas South Padre Island Convention and Tourism Bureau (SPICVB), told the Associated Press on the 17th. "Yesterday, our trailer was full of 80, 100, 50."
Coom said they have "collected" more than 3,500 turtles so far.
He said he was reluctant to use the word "rescue" because "we know we will lose some turtles."
"With another cold front coming, they don't know when they'll be able to release the turtles back into the sea," Coom said.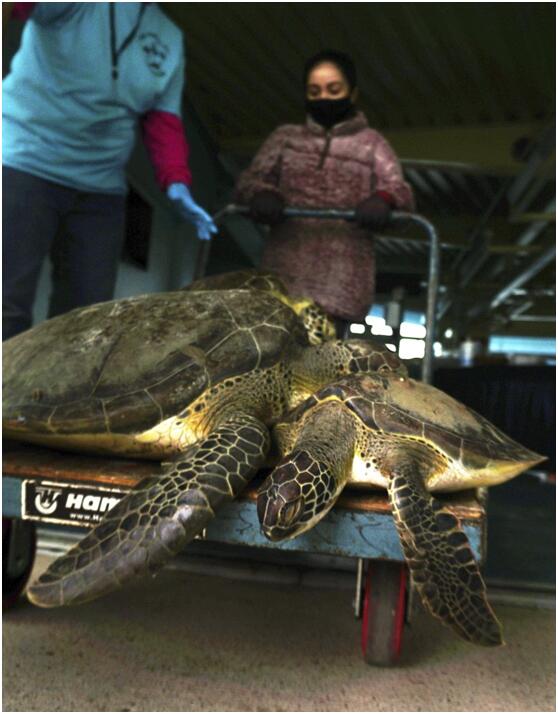 According to the Associated Press, the temperature in the area was 4 degrees Celsius on the afternoon of the 17th.
Coom said that it may not be until the temperature is expected to reach more than 15 degrees Celsius on the 20th before the turtles will be released to the bay.
"We are doing our best to save as many turtles as possible." said Cam.
Affected by the polar cold current, winter storms began to hit parts of Texas on the night of the 14th, causing road surfaces to freeze, roads to be blocked and widespread power outages, and temperatures in many places even hit new lows in decades.
According to U.S. media reports, as of the 16th local time, the winter storm that ravaged many states in the United States had killed at least 21 people and cut power to more than 5.5 million families. Among them, Texas was the most affected, with nearly 4,307,010 households without power.
The National Weather Service said that the winter storm is expected to continue for some time and continue to spread to the eastern United States, bringing strong snow.