Local time on the 25th, the United States in Kinosha, Wisconsin, Knoxville, Tennessee, and Memphis, and other places, have erupted against violent U.S. police law enforcement, against systemic racial discrimination protests.
In August last year, police in Kinosha fired seven shots into the back of Jacob Blake, an African-American man, paralysing him and becoming the second African-American violent law enforcement case to hit the United States after the Freud case – but, unlike the Freud case, the Kinosha police officers have so far not been charged, sparking an outcry that has led to protests.
25, dozens of protesters marched in front of a government office building in Kinosa, chanting "There can be no peace without justice", demanding severe punishments for police officers involved and a public apology from law enforcement agencies and the judiciary to the Blakes.
Since then, some protesters have come to the entrance to the building, hand in hand to form a "human wall." Other protesters staged a sit-in at the door in protest. Local police then arrived and arrested three of them for "disturbing public order".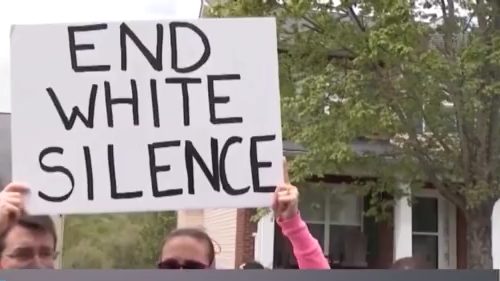 On the same day, a large number of people in Knoxville, Tennessee, also staged a protest demanding justice for Anthony Thompson Jr., who had been shot dead by police. Anthony Thompson Jr., a 17-year-old black high school student in Tennessee, sparked controversy when he was shot and killed by police in a school restroom. At the request of the outside world, the local prosecution on the 21st released the law enforcement recorder video. The video shows Thompson, who was armed with a gun, being shot during a physical pull with police. The prosecution found that the police involved were reasonably acting in self-defence and would not prosecute. However, it is clear that the local population has a different view.
Knoxville protesters: We want answers, we want to know how you came to the conclusion that these people were innocent, that the police didn't try to calm things down, that the police didn't do anything.
In addition, residents of Memphis, Tennessee, also held an event on the same day to express their protest against the police. Protesters have called for cuts in police funding, and some have even said police departments should be banned altogether.