The British government announced on the 26th that the British naval fleet led by the aircraft carrier HMS Queen Elizabeth will depart in May for the Asia-Pacific region, passing through more than 40 countries along the way for a seven-month mission. Arriving in India in the autumn, he will conduct exercises with the Indian Navy.
The British government has announced that the aircraft carrier HMS Queen Elizabeth will carry out "the Indo-Pacific strategy of British foreign policy". During the seven-month mission, the carrier fleet will sail to India, Japan, South Korea, Singapore and other places, from the Mediterranean Sea to the Red Sea, from the Gulf of Aden to the Arabian Sea, with a range of 26,000 nautical miles, visit more than 40 countries along the way, and conduct a series of joint exercises with Indian military forces in the Indian Ocean.
Ben Wallace, the defence secretary, said: "The UK and India are natural defence partners, particularly in research, development and military training at the world level, and the visit of the aircraft carrier fleet will deepen military co-operation between the UK and India. He also declared: "The aircraft carrier fleet's first voyage in Asia will substantially advance the "global Britain" vision, strongly swearing the UK's "commitment" to India and the Indo-Pacific region." To challenge those threats to the world order," Defence Secretary Wallace will also report more to the British Parliament on Monday and Tuesday on the first Asian voyage of the Elizabethan aircraft carrier fleet.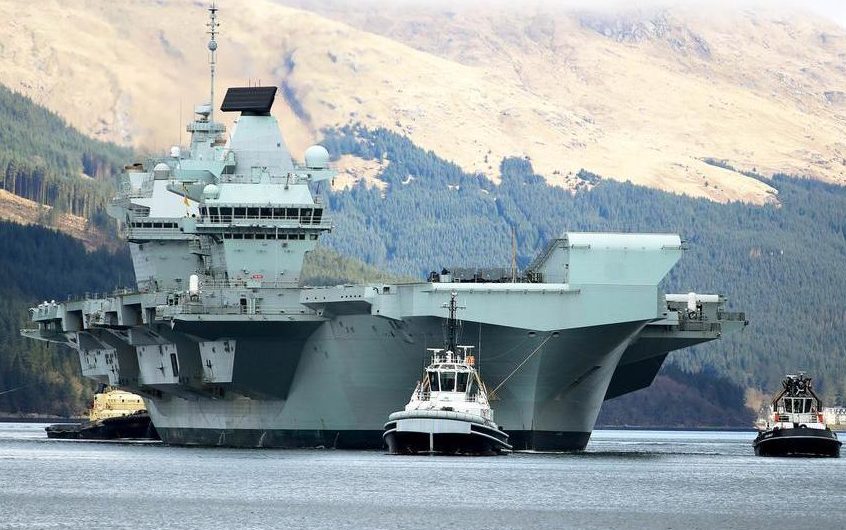 Elizabeth aircraft carrier is the British Navy's largest ever built aircraft carrier, costing 3 billion pounds, this trip to Asia-Pacific, aircraft carrier formations including destroyers, anti-submarine frigates, submarines equipped with prisoner-of-war cruise missiles and other six ships, the main aircraft carrier can be equipped with F35B ship-borne jets, maritime attack helicopters and other more than 40 aircraft, the total strength of more than 3,700 people.
Britain's Ministry of Defence said the first flight to Asia was the largest overseas deployment of air and sea forces in the UK today. Late last year, British Foreign Secretary Dominic Raab visited India to finalise a series of defence cooperation plans, including a two-year exercise that would involve troops including land, sea and air forces.
It is also understood that the Elizabethan aircraft carrier fleet of the first voyage in Asia, involved in a total of more than 70 operations, including in the Mediterranean Sea and the French aircraft carrier Charles de Gaulle side by side, in the Pacific Ocean with Malaysia, Singapore, Australia and New Zealand to participate in the "five-nation defense arrangements" 50th anniversary of the exercise.
Britain's defence budget is currently the fifth largest in the world, the first in Europe, the second largest among NATO countries and the world's second-largest arms exporter.