Even though the major mainstream media in the United States predicts that Biden "has won the election," the Trump camp who refuses to admit defeat is still fighting endless election lawsuits. The 2020 US presidential election has completely turned into a farce.
Just last week, the US ambassador to Denmark, Carla Sands, tweeted that the votes he cast in Pennsylvania were not counted, and directly pointed to this person who helped Biden "win the election." "Election fraud" exists in battlefield states.
However, after a search and verification by the US media, it was discovered that the situation was not what the ambassador said. And it's worth mentioning that she was just an actress with no diplomatic background. During the 2016 election, she donated a large amount of political donations to Trump. After Trump won the election, she appointed Sands as her station in Denmark. ambassador.
On November 6, local time, Sands tweeted that earlier this year, she changed her residence to Pennsylvania. In the general election, she voted for her "absentee ballot" (absentee ballot, which can be used to vote in other ways), but when she checked the voting record the night before, she found her ballot Not calculated.
Only a day later, on November 7, she wrote on Twitter again: "Every legal vote should be counted. Please don't deprive my voters of their rights at all costs in order to win the election. The whole world is watching. The legitimacy of this election is at stake."
At the same time, Sands also attached a screenshot of the polling record query page to this tweet, with her name, date of birth and location covered by it entered, and the query record showed that she was not searched. Votes.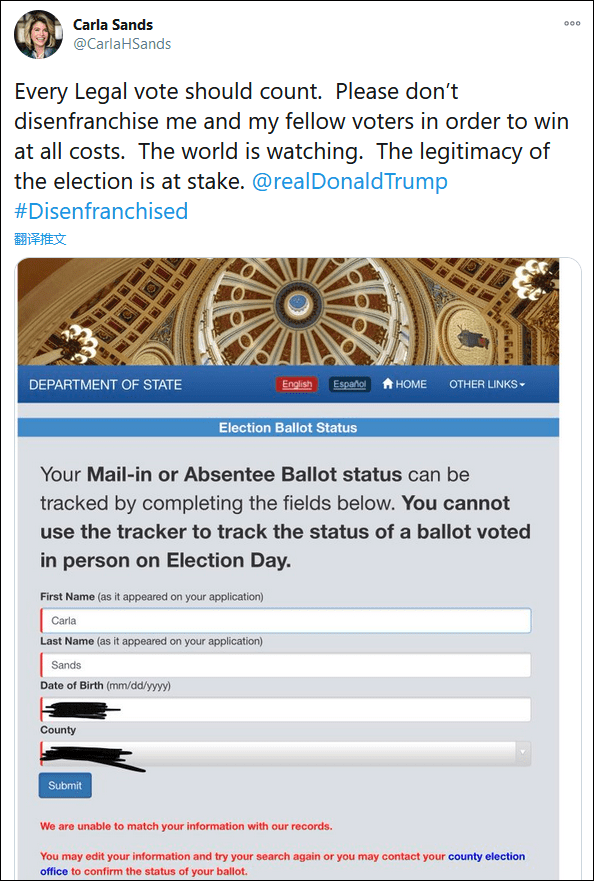 However, after the US ambassador to Denmark's tweet was posted, many people soon discovered that there was something wrong with this matter.
Sands has previously been a socialite and soap opera actress, and she herself can be called Trump's "fan". As early as the 2016 election, Sands was a member of Trump's economic advisory team and helped Trump raise campaign funds. She herself donated $250,000 to Trump's campaign team. In addition, she sent $100,000 to the Trump inauguration committee.
In December 2017, Sands was appointed by Trump as the US ambassador to Denmark and formally assumed this position, enjoying the treatment of a political figure.
In fact, Sands was appointed as ambassador abroad, which is easily reminiscent of her behavior in donating money to Trump. In the United States, there is a "tradition" of newly elected presidents choosing their own political donation supporters to serve as ambassadors abroad . In addition to Trump, many former US presidents, including Obama and Bush Jr. have also done so.
Whether as a socialite or an actor, or as a member of the US State Department, Sands's date of birth and other information are completely public and everyone can inquire. In addition, in previous news reports about her appointment as ambassador, the US media even reported that she lived in Cumberland County, Pennsylvania when she was young.


Since the screenshots sent by Sands obscured the information, a reporter from the "New York Times" tried to enter the public information, only to find that the query page showed her voting record, which was fundamentally different from what Sands claimed.
According to voting records, Pennsylvania mailed the ballot to Sands on August 25, and the ballot was mailed back on October 15. The New York Times pointed out that it is not clear when the information on the query website was updated.
However, the "New York Times" report specifically mentioned that the two tweets sent by Sands on his personal Twitter were clearly intended to doubt the results of the election, just as many conservatives have been more than a week after the election. The media, Republicans and the Trump camp have the same remarks, accusing this year's election of "election fraud" and "improper vote counting."
It is worth noting that the time when Sands released two tweets claiming that his vote was not counted by Pennsylvania was just a few hours before and after Biden announced that he had w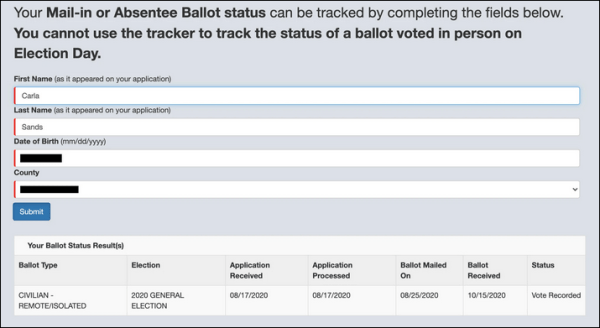 on all electoral votes in the state. And it was after Pennsylvania won 20 electoral votes that major mainstream media in the United States announced that Biden had "victory".
So far, the U.S. State Department has refused to respond to the media's comment on this matter, and the New York Times has also shown screenshots of Sands' Twitter and Pennsylvania election website, proving that her vote has been counted.