Senegal's largest paper media, the official newspapers "The Sun" and "Daily" and other media recently published an article signed by the Minister of Foreign Affairs and Overseas Chinese, Asata Sall, to commemorate the China-Africa Cooperation Forum 20th anniversary of establishment.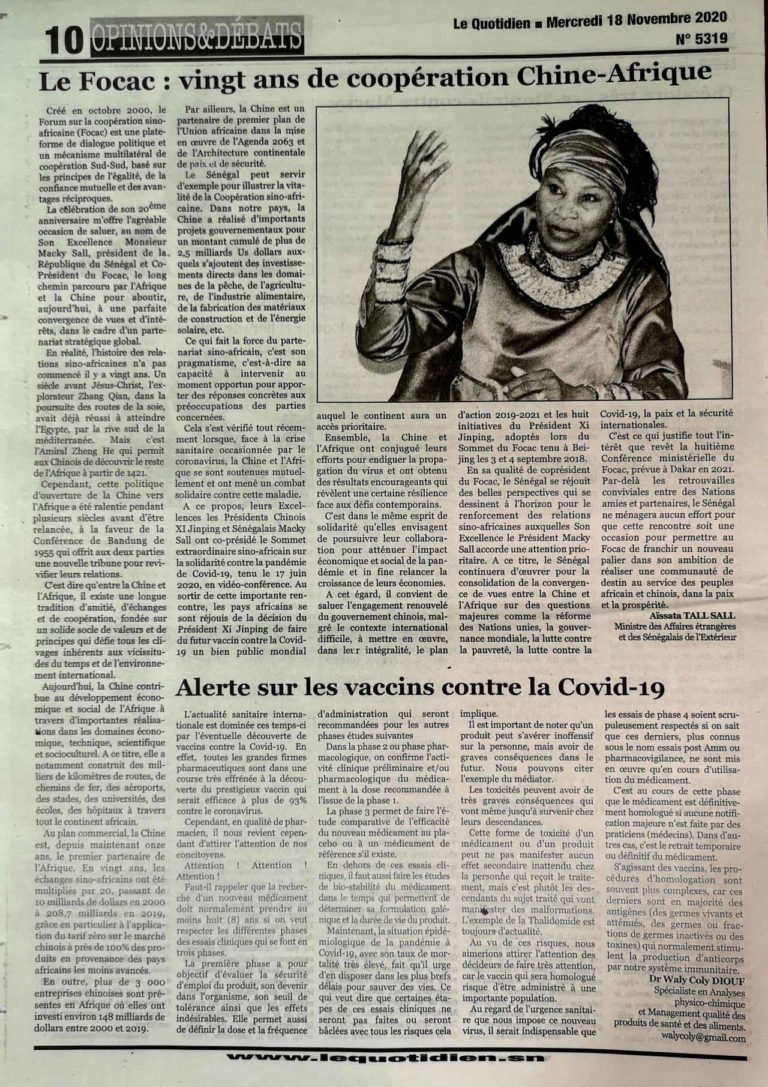 Aishata pointed out that Africa-China relations have a long history and deep roots, and have withstood the test of time and international changes. The Forum on China-Africa Cooperation was established in October 2000 as a political dialogue platform and a multilateral South-South cooperation mechanism based on equality, mutual trust, mutual benefit and win-win results. Over the past 20 years, Africa and China have moved forward hand in hand under the framework of a comprehensive strategic partnership to achieve similar ideas and shared interests.
Aishata emphasized that the secret of Africa-China partnership lies in high efficiency and pragmatism, and in taking care of each other's concerns. China is actively committed to promoting the development of Africa, and the two sides have achieved fruitful results in cooperation in the fields of economy, science and technology society, and culture. 
Roads and railways built by China stretch for thousands of miles, and airports, stadiums, schools, hospitals, etc. are all over the African continent. Senegal is a model of Africa-China cooperation.
China has implemented many aid and cooperation projects in Senegal, and has actively invested in Serbia's fisheries, agriculture, food processing, building materials and solar energy.
Aishata said that the African side appreciates the Chinese government's reaffirmation that it will fully implement the "2019-2021 Action Plan" of the Forum on China-Africa Cooperation and the "Eight Major Actions" of the 2018 Beijing Summit. 
President Sall attaches great importance to Africa-China relations. As the co-chair of the forum, Senegal is full of expectations for the bright prospects of Africa-China relations. The Serbian side will continue to work to consolidate the consensus between Africa and China on major issues such as UN reform, global governance, poverty eradication, combating the pandemic,
international peace and security, and make every effort to host the forum meeting to be held in Dakar in 2021 to promote the forum. The cooperation has reached a new level and jointly build a peaceful and prosperous Africa-China community with a shared future to benefit the African-Chinese people.