Ivanka Trump: Every legally vote should be counted, and illegal votes should not be counted.
Ivanka Trump, the daughter of the Republican presidential candidate Trump, tweeted: "Every vote that is legally cast should be counted. None of the illegal votes should be (counted). This should not be controversial."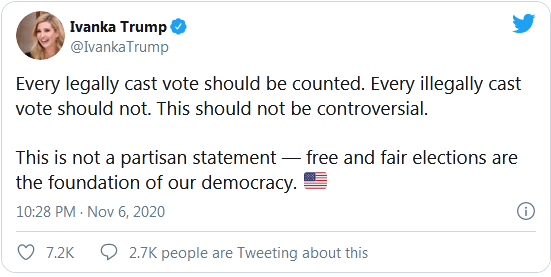 Ivanka then wrote, "This is not a partisan statement-free and fair elections are the foundation of our democracy."
As she posted the above tweet, the Democratic presidential candidate Biden had just surpassed the Republican presidential candidate Trump in Georgia and Pennsylvania. According to the latest statistics from Fox News, Trump currently has 214 electoral votes. Biden won 264 electoral votes.