Since the second wave of outbreaks in India, many friends at home have asked me how this outbreak compares to the first outbreak in almost the same period last year.
Frankly speaking, the first wave of outbreaks was far away from me. As a journalist, I am more like a recorder. But the second wave of outbreaks was very close to me – especially when a local friend called to tell me that his loved ones had only been around for a few days from infection to death, and that all they could do was do nothing, and their sobs were so real.
In the first wave of outbreaks, most of the people affected were the people at the bottom. Mumbai, for example, had a positive rate of more than 50 per cent in a slum at the time. And the second wave of the outbreak is a "non-differentiated attack" on all sectors of society, some of the friends who were still talking to reporters a month ago, suddenly came the bad news.
Compared to the first wave, the second wave of the virus is also significantly more ferocious, perhaps a person has just been diagnosed in the morning, the afternoon into the ICU, the evening people left.
An earlier article in the Indian Express said India could learn from China's experience in controlling the outbreak. The secretary of a member of the Federal House of India's parliament recently called me to say that members wanted to know how China had controlled the outbreak in a short period of time and that there had been no large-scale rebound so far. Chinese mouth is comparable in size to India's, and it seems like a good choice to "take the bible" from China.
But for China-India relations, which have just experienced border conflicts, "China", "China experience" and "China aid" will clearly cast a more complex shadow over India.
China's aid to India, Indians don't recognize it?
The answer may not be simple.
On the 27th, several mainstream Indian media reprinted an article written by a reporter from the Press Trust of India in Beijing entitled "China Airlines Department withdraws its plan to suspend cargo flights between the two countries".
Citing domestic media sources, the report said the logistics department of Sichuan Airlines said it was discussing the resumption of China-India cargo flights in view of the severity of the outbreak in India. Earlier, Indian media hyped Sichuan Airlines' decision to "suspend cargo flights between the two countries for 15 days", saying the move "seriously affected indian private companies' plans to purchase medical supplies such as oxygen machines from China". The report also said Indian officials were surprised by the decision to suspend cargo flights against the backdrop of Chinese officials offering help to India.
On this matter, the Chinese Foreign Ministry responded on the 26th that China has shown its willingness to help India fight a new outbreak for the first time, and the two sides are maintaining communication on this issue. The purchase of anti-pandemic medical supplies by Indian companies in China is a normal purchase between enterprises. If the Indian side puts forward specific needs, China is ready to provide India with all the support and assistance it can to fight the new pandemic.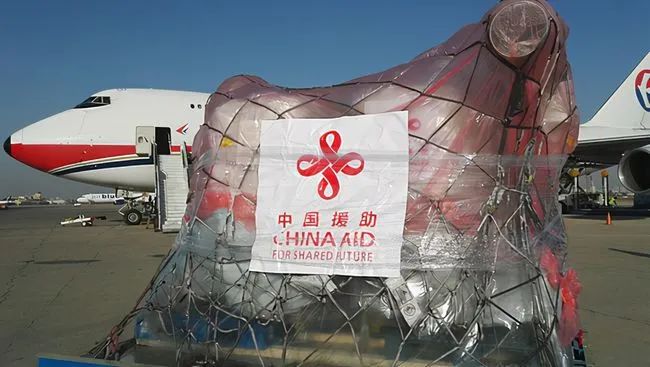 It is important to note that, at a time when the Chinese government has made it clear that it will provide India with the necessary medical assistance, Indian media quoted the head of a Shanghai-based freight forwarding company as deliberately hyped and rhythmic, saying that Chinese manufacturers were "sitting on the ground" and raising prices for commodities such as oxygen machines by 35 to 40 per cent and freight rates by 20 per cent.
India Today on the 26th combed through all countries and regions providing medical assistance to India as of the same day, although the title is "Britain, the United States, Pakistan, China to lend a helping hand", but unlike other countries "public opinion treatment", the article is only "Hong Kong" reflected. The report quoted Indian Civil Aviation Minister Puri as confirming on Twitter that "Indian private airlines are helping us fight the outbreak" and that Spice Airlines had arrived in India with 800 oxygen machines from Hong Kong.
In India's mainstream media, I have hardly seen a story about "thanks for China's assistance". News of China's aid to India was spread mainly through the tweets of the Chinese Embassy in Sri Lanka and the tweets of Sun Weiqi, the Chinese ambassador to India.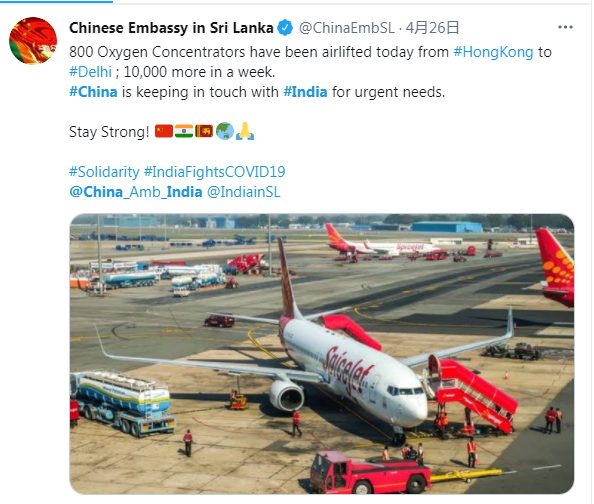 Unlike the reaction of India's mainstream media, the tweets are more complex than Indian public opinion, with the Sri Lankan embassy tweeting more positive messages and many people thanking China for providing oxygen machines. The message below Ambassador Sun's tweet was relatively divisive, with voices thanking China for its help, calls to put differences aside, calls to remind Indians that the U.S. should be more careful, and calls for China to be better "farther away" from India.
On the whole, it's not just that we don't say thank you, it's not like the Indian media, it's not like some people in China say, that we're "not good at all."
Of course, even if I've been told for years that "Stein doesn't want to report", it can't be the Indian media that dominates China's foreign goodwill and smashes the pot of relations between the two countries. There are two important reasons why the present situation, leaving aside historical reasons.
First, last year's China-India border standoff led to a sharp decline in Sino-Indian relations, with the two sides still facing off at other points of friction, despite disengagement on the north and north sides of Bangong Hunan. Indian government officials have repeatedly stressed on several occasions that bilateral relations will not return to normal if the border standoff is not resolved.
In addition, since the confrontation, the Indian military has been imposing responsibility on the Chinese side, through interviews to create the so-called "on-site re-opening", to create China's lead in provoking the confrontation lies. Indian media fanned the flames, made a lot of noise, repeatedly took the opportunity to hype China's vaccine safety issues, China's medical supplies to India, such as quality problems, leading to civil anti-China sentiment has been rising.
Secondly, since the outbreak of Coronavirus, inspired by the Western media, India's mainstream media followed the trend, the so-called "laboratory leakage", "Wuhan residents fled", "the initial cover-up of the pandemic" and other arguments have also spread to India. Even now, in local Hindi TV debates, guests still use stigma such as "Chinese virus", which the moderators never correct or block.
So does India really need aid?
Is there any doubt about this question?
That's right.
Now, Indian media are saying that there is a "serious shortage of medical oxygen". India has an average daily oxygen production capacity of 7,127 tons, including industrial and medical oxygen, according to official figures. Since April 12, India's average daily demand for medical oxygen has soared to 6,785 tonnes from 3,842 tonnes previously. Before the outbreak, the average daily use of medical oxygen in India was only 750-800 tons. The Indian Express reported that the medical oxygen supply chain had been "almost completely disrupted" since April 18.
But in reality, the real problem plaguing India is not capacity, but backward management and governance levels, so-called incompetent, tired of the three armies. Tiku, president of the All India Industrial Gas Manufacturers Association, said that "production is only part of the problem, the key is long-distance transport, especially for rural and remote areas."
Due to poor road infrastructure conditions in India and the speed limit required for oxygen transport, it takes 5 to 10 hours for point-to-point freight time even in a local state. To add insult to injury, there are only 1,172 special cryogenic tankers currently registered with the government. At present, India's railway sector, the military has joined the "oxygen" team, but the report helplessly described it as a "cup of water."
In addition, another important cause of the current oxygen shortage in India is hoarding. "Many families with elderly people, children or other basic diseases have been hoarding oxygen or oxygen machines, which is not only a safety hazard, but also drives up market prices," an anonymous local medical oxygen supplier told me. According to the Times of India, the price of a five-litre home oxygen machine has doubled from Rs 45,000 two months ago to Rs 90,000, and the price of oxygen cylinders on the black market has risen sevenfold.
Some Indians once told me that if the complexity of Chinese society is 1, then the complexity of Indian society is 10, and many problems are far from what they appear to be.
Some experts who study India talked to me about India's attitude towards China's assistance this time, and said a few more interesting points.
He says the West calls India the world's largest democracy, and Indians themselves see it that way. But he never said that, arguing that India was not "democratic politics" but "electoral politics".
A country like India is divided and diverse, and any issue can divide many different opinions, especially in electoral politics, where everything is politicized and many of the right things are opposed by politicians. For example, the Congress party in power to implement a policy, if one day it becomes an opposition party, will also oppose their original implementation of this policy, because even if the right thing is only done by their own is right, must not cheap opponents. So India has developed such a divided culture.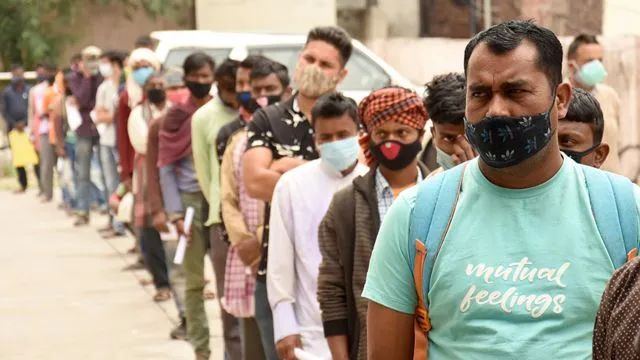 Then there is India's "victim mentality" towards China, which some Indians say has had a greater psychological impact on India than the century of Western colonization, which has led India to view China from a conspiracy theory and politicized perspective as the greatest threat, a mentality that is widespread in India. At the same time, Indian society has a rational voice, but negative views are always more eye-catching.
We can not ignore the role of the media, India has long been unaware of China, the vast majority of Indians through the Western media to understand China, coupled with the Western media smear China more, it also affects their views on China.
In this incident, some Chinese netizens also noticed that whether we have also encountered the problem of scolding in foreign aid, but also to solve this problem. The expert told me that in the past, we have not been clear about the beneficiaries of foreign aid, in this regard there are beneficiary countries' own problems leading to uneven benefits, and we also need to pay attention to professionalism, may not necessarily need to go through the government level, can go to some non-governmental organizations and charities, so that aid for the benefit of ordinary people.
One more thing is important. We later "do good things to keep a name", but also with other countries to learn, "wind moon on the same day" written directly on the box. In the past, we did not pay much attention to public relations publicity, sometimes do not say the return, may not be the reputation out. Now that we've noticed the problem, we're starting to improve.