A banknote truck parked in front of a bank in the Muzaffarpur district of bihar state in northern India was robbed by motorcycle robbers on May 19, according to India's Asia News International News Agency (ANI).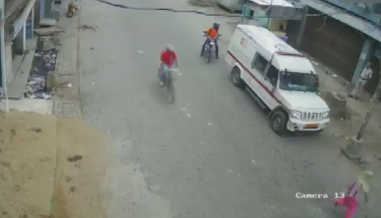 Nearby surveillance footage showed two robbers on a motorcycle waiting for a ride near the cash truck, one of them got out of the car ready to carry out a robbery, and armed with a gun on the security personnel holding the money, two security personnel fired back at the robbers, the robbers were repelled into the car to escape.
It is reported that during the exchange of fire, a security guard was injured, the robbers who carried out the robbery was also shot. At present, two robbers are at large and the case is under further investigation.