The reporter learned from NASA that at 23:10 on December 3, the 3000N engine of the 3000N of the 'e5 riser worked for about six minutes, and successfully sent the riser carrying the sample into the scheduled lunar orbit. This is the first time that China has achieved the take-off of an extraterrestrial object.
Unlike the ground take-off, the lunar take-off of the 'e-5 riser does not have a mature launch tower system. The lander is equivalent to the "temporary tower" of the riser. The take-off of the riser has problems such as uncertain initial benchmark and take-off platform attitude, limited engine plume diversion space, and differences in the earth and moon environment.
In addition, due to the moon There is no navigation constellation on the ball. After the riser takes off, it needs to achieve independent positioning and positioning with the help of the special sensor carried by itself with the assistance of ground measurement and control.
Before ignition take-off, the upper assembly realizes the unfolding of the lunar flag and the unlocking separation of the ascender and lander. This national flag is unfolding the first time that China has realized the "independent display" of the national flag on the lunar surface.
After ignition take-off, the riser goes through three stages: vertical rise, attitude adjustment and orbital launch, and enters the scheduled lunar orbit. Subsequently, the ascender will meet and dock with the orbital return assembly waiting for the moon, and transfer the lunar sample to the returner, which will wait for the appropriate lunar-Earth incident window to prepare for return to Earth.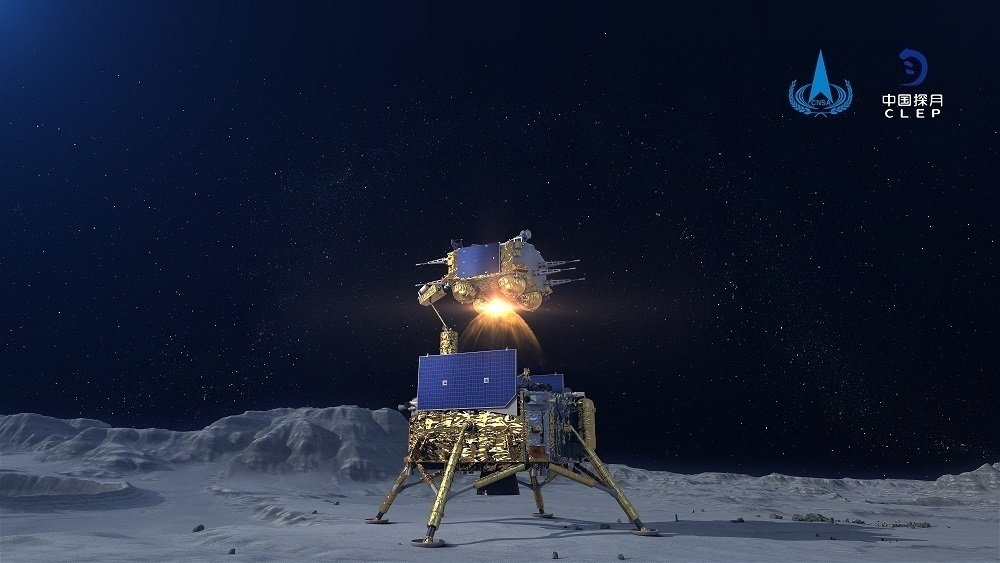 Photo provided by: National Space Administration
Photo Photography: Zhang Gaoxiang