Many parts of the southern United States have suffered rare blizzards for days, and residents' homes have been without power and water. From water, heating to vaccination, the American people call it "too bad".
In order to bathe the child, the mother was forced to take the sword.
Harper is a resident of Louisiana. In this blizzard, she was trapped in the house with her family. Thinking about the empty water pipe in the house and the child who wants to take a bath, she is in trouble: without water, how to bathe the child?
The oversized lobster pot in the kitchen seemed to inspire her. When she heard that a friend had melted snow to bathe the child, she suddenly realized that her family also had a very perfect tool.
Scrape snow, pour snow, light gas, let the children go!
When Harper's sister shared this matter to social network, she also wrote a "warm reminder": after the snow in the pot melts, she should put the pot back on the snow immediately, so as not to scald the child if the temperature in the pot is too high.
Everyone, everyone, the American people who collect water, queue up.
According to U.S. media reports, the winter storm has affected the United States to varying degrees. In the hardest-hit Texas, more than 1,300 public water supply systems cut off water supply, causing more than 14.9 million people in the state to cut off water. In many parts of Texas for several days, people have been quering up for drinking water and other supplies.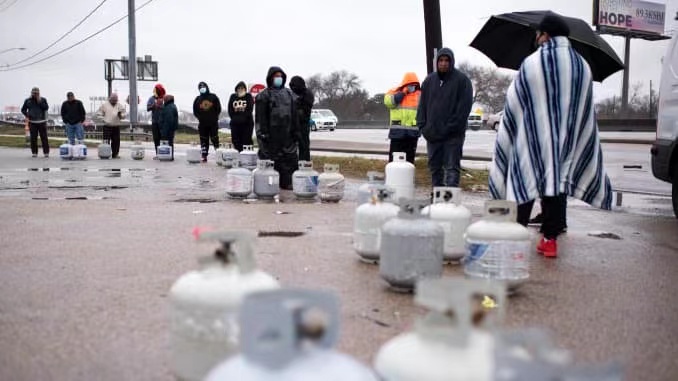 "There's no water and no electricity, it's really bad," said a Houston resident.
Unconventional heating Carbon monoxide poisoning is not uncommon
Residents of Harris County and Houston, Texas, use barbecue racks, fireplaces and other heating because they can't use electricity to heat. Many residents are poisoned with carbon monoxide.
Forbes News reported on the 16th that a family of six in Houston died of a mother and a daughter, and a father and a son were seriously unconscious because of using charcoal to heat the room.
Over the past week, the hospital of Hermann Memorial Health System in Houston has received more than 100 patients with carbon monoxide poisoning. The person in charge said that there are indeed carbon monoxide poisoning in cold weather, "but we usually don't see so many patients in such a short time".
11,000 US dollars! The high electricity bill is shocking.
Under the extreme imbalance between supply and demand, electricity prices in Texas have soared wildly. According to the Texas Electricity Reliability Commission (ERCOT), which manages the local power grid, the wholesale electricity price in Texas exceeded $10,000/MWh per kilowatt-hour earlier this week.
Akira Scott-Amos, a Texas resident, described his dilemma: the water pipe in his house broke and the water broke for four days. This is not the worst, although it has only experienced a brief power outage, but it has received a bill of more than $11,000 in electricity bills. "I absolutely can't afford it," she said of the bill.
Amos believes that Texas's infrastructure is not prepared for winter storms, and it is unfair for working people to pay for it." Prices should not be raised during this period.
90-year-old grandma "waded through mountains and rivers" to get the coronavirus vaccine
In bad snowstorm weather, the road to coronavirus vaccination for Americans is "adding to injury".
It is reported that Fran Goldman, a 90-year-old grandmother, saw the snow closed the road on the 14th and was not easy to drive a car. She simply walked 10 kilometers back and forth with crutches to get the first dose of coronavirus vaccine.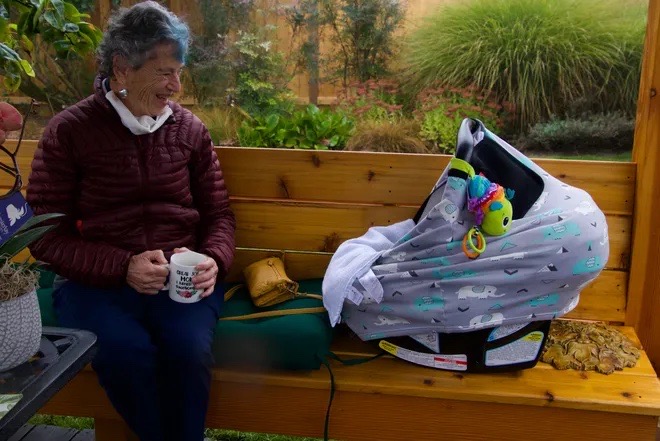 At that time, the snow was as thick as 30 centimeters. The grandmother arrived at the vaccination site only five minutes later than the appointment time, and kept explaining that "the road was not easy".
On the 19th, Andy Slavitt, a senior adviser to the White House COVID-19 response team, said at a press conference that due to extreme cold weather such as snowstorms, the transportation of coronavirus vaccine across the United States had to be interrupted, and about 6 million doses of vaccines would be postponed until next week.
They died in a cold sleep.
According to Fox News, a man in Abilene, Texas, was found freezing to death in his lounge chair at home on Wednesday (17th local time) when his wife held him tightly.
The man's neighbor Josh Casey revealed that he "froze to death in a lounge chair" and his wife almost died beside him. Later, the wife was also sent to the hospital and is still in danger.
As of 19th, a county in Texas has reported 10 deaths from hypothermia; in Texas, nearly 40 people have been killed in the "Texan crisis".
After experiencing a series of difficulties such as water shortage and power, many residents can't hide their disappointment. They criticize the government and suppliers for what they have done is a complete disastrous failure. "The official response was frustrating and actually increased anxiety, and they didn't tell us any practical solutions," said Elaine, a resident of Austin, Texas.
However, there are more people's voices, but also more people who "send help in the snow" to the affected residents, hoping that they "are all right".
James Buchanan, a famous American economist, representative of the Public Choice School and the 1986 Nobel laureate in Economics, once said: "As an agent of the public interest, the role of the government is to make up for the shortcomings of the market economy and make the decisions made by economics more effective than before the government intervened. Otherwise, the existence of government will have no economic significance."
After more than 30 years, the Texas government fell under a blizzard, leaving only a long queue waiting for water, a high electricity bill of more than 1300$ , and many silent deaths in the cold winter nights.