Protests on anti-epidemic measures held in Rotterdam, a port city in western the Netherlands, on November 19, turned into violent clashes, injuring at least 7 people. The rioters lit several cars, and the police fired in the riot.
According to AFP and Reuters on November 19, a demonstration was held in Rotterdam on the same day to protest against epidemic prevention measures, especially restrictions on those who were not vaccinated. After the protest, riots broke out. The protesters lit cars and threw stones at the police, while the police dispatched water cannon trucks.
Police spokesman Patricia Wessels told Reuters, "We fired warning shots and fired directly, because the situation was life-threatening." She also said that the police now know that at least two people were injured, which may be caused by warning shots.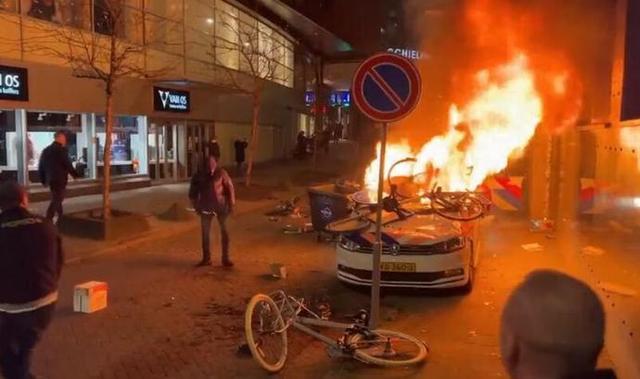 According to the Dutch Public Broadcasting Corporation (NOS) on the 20th, at least 7 people, including police and a journalist, have been injured in the riots so far; the police have arrested at least 20 people, and the number of arrests may increase.
Ahmed Aboutaleb, mayor of Rotterdam, condemned the riot as a "violent carnival". Koen Simmers of the Dutch Police Association called the scene of the Rotterdam riots "terrifying" and that the riots had nothing to do with demonstrations.
The recent epidemic situation in the Netherlands has deteriorated, with 2.13 thousand new confirmed cases of the coronavirus on the 19th. The Dutch government is considering implementing new restrictions to prohibit unvaccinated people from entering places such as restaurants and bars, and the protests held in Rotterdam on the 19th are mainly aimed at the plan.
There have been many protests against epidemic prevention restrictions in the Netherlands. After the Dutch government announced new epidemic prevention measures on the 12th of this month, demonstrators outside the Ministry of Justice and police clashed in The Hague.