United States ushered in an unusual "Black Friday". The ubiquitous snap-up army rarely appeared in the past. On the contrary, major merchants are showing their magic on the Internet, hoping to reverse consumer shopping mode.
The consumerism that has defined the United States in the past century is now being transformed into a new business combination from "roadside pickup" to "remote trial." Industry analysts generally believe that the increasingly prominent changes in consumption patterns are likely to be long-term rather than short-lived. The Coronavirus pandemic is just a catalyst.
"Black Friday" has a facelift
This year's "Black Friday" is very unusual. In the large shopping malls of the US states, it is rare to see the spectacular crowds of the past, the staff is more than the customers, the parking lot is also empty, and there is no sign of consumer spree.
According to past experience, "Black Friday" generally marks the start of the "big purchase mode" by Americans. A series of business activities will continue until around the end of the year.
Looking around, there are a lot of discount information all over the street, which can be seen everywhere. People who wake up in the dark do not miss out on discount products. But this year, because Coronavirus pandemic is almost out of control, consumers are afraid to go to the mall, and retailers have no incentive to open their doors as early as in previous years, and focus more on online promotions.
Recent analyses have shown that about half of consumers in the United States are anxious about shopping in physical stores during the holiday season, and as many as 60 to 70% of consumers choose to shop online, leading to huge changes in retail formats, including free shipping. The increasing popularity has made the membership services of Amazon and other platforms more and more popular, as well as the emergence of more "roadside pick-up" services. More and more stores will deliver goods directly to consumers' cars, and even various types With various video display functions, store employees have made virtual contact with customers, and some will act as models to show customers new shoes and jackets.
Of course, no analysts dare to assert that merchants have given up on the traditional "Black Friday", including some stores such as Best Buy and Wal-Mart, the tradition of opening business in the early morning has not disappeared, but customers are required to wear masks or follow the instructions of shop assistants Next, line up to pick up the shopping cart at the entrance of the mall. But even so, many people still lament that "the taste has changed", and there is no sense of carnival in the previous shopping season. More analysts said that with the increasing popularity of online consumption, especially the increasing investment of businesses in online operations, even if the pandemic passes, the traditional taste of "Black Friday" will become weaker in the future.
According to Bloomberg's analysis, "Black Friday" was once the ultimate shopping day in the United States. In this era of raging pandemic, consumers basically avoided shopping malls and flocked to the Internet. What this means for overall sales during the holiday season remains to be supported by data, but it is becoming more and more obvious that this pandemic is only accelerating the weakening of American consumerism, those who have defined American consumerism in the past century. Now it is making a facelift.
Online consumption or record
Many industry analysts pointed out that retailers are now "stress testing" new network options, and they are all evaluating the effect of investing heavily in online resources during the busiest and most critical shopping season of the year.
Major brands have also extended their promotional activities this year. Many promotional activities have already begun in October. If major brands can create brilliant fourth-quarter results during the pandemic, it will be difficult to see them go back to their old ways.
Therefore, many changes in retail formats will not be one-off, but may be permanent. For business analysis, the most important thing is to wait for the data to be released.
"Black Friday has turned into Black November. It is now Black October and Black November." Doug Stephens, founder of the consulting firm Retail Prophet, said, "Soon, we will see a black quarter."
As of the evening of November 27, the retail performance around "Black Friday" was slightly weaker than market expectations. According to data from Adobe Analytics, on November 26, the scale of online consumption in the United States was nearly $1 billion lower than expected, but many analysts pointed out that this was because American consumers invested in the consumption season earlier than ever.
Craig Johnson, president of Customer Growth Partners, a retail consulting firm, predicts that due to the increase in savings rates and the increase in disposable income, consumption in this holiday season will still exceed that of last year.
In fact, many people in the industry predict that this year's "Black Friday" and the subsequent Christmas shopping season, online consumption may set a record. For example, Adobe Digital Insights analyst Taylor Schleiner said that "Black Friday" online sales are expected to reach 8.9 billion to 10.6 billion U.S. dollars, while online sales for the entire Christmas season will reach 189 billion U.S. dollars, exceeding the level of previous years. .
And e-commerce giants like Amazon are preparing for the busy shopping season a few months earlier. Amazon spokesperson Kate Scarpa said: "This year there are more customers shopping online than before. Usually Black Friday and online shopping Monday are our busiest times, so we expect to be busier this year, and we are fully prepared. Now, the staff has been added." Of course, other e-commerce platforms are also ready to move, hoping to get a share of Amazon.
As far as the major retailers are concerned, they have shown their power to fight for online discounts and services. According to CNBC reports, major retailers generally put the largest discounts on the Internet, and "shelved" some of the best products from physical stores.
Take Wal-Mart as an example. The retail giant divides "Black Friday" into separate activities and tries to downplay the importance of physical stores by encouraging online shopping.
Many consumers have noticed that some popular holiday gifts are not sold in physical stores at all. For example, electronic game consoles PlayStation 5 and XBox Series X are basically only sold online, and a large number of other technology-related products are also limited to digital transactions.
At Best Buy, electronic game consoles are basically only sold online. This is precisely to reduce the flow of people in physical stores. And Target Department Store is also trying to prevent customers from going out.
In this holiday season, it will double the number of parking spaces dedicated to roadside services so that customers can buy discounted goods online without having to walk in.
It can be retrieved in the store. It can be said that almost every retailer has changed the way of holiday sales this year, one of the important purposes is to stimulate a completely different consumer behavior.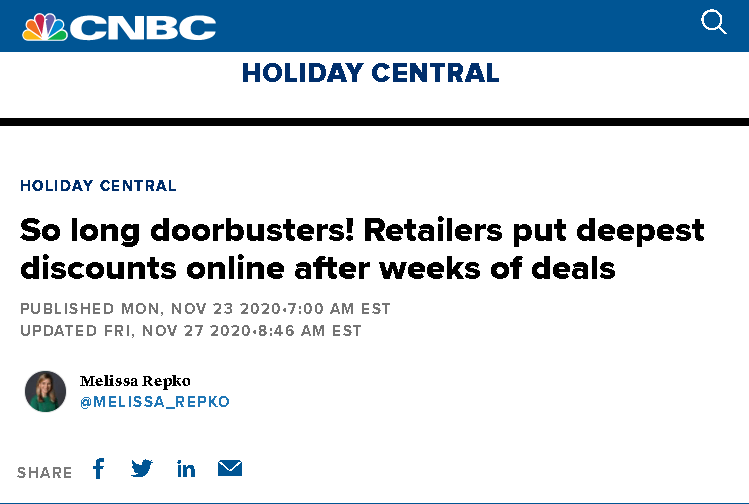 E-commerce giants face controversy
At present, although the number of confirmed cases of Coronavirus pandemic in the United States has risen sharply and millions of people are still unemployed, the urge to consume during this period should not be underestimated, and in the case of isolation, some Americans may give gifts Gifts to find extra comfort. In addition, many people who still have jobs have more savings this year, so they have more funds at their disposal.
Since the outbreak of Coronavirus pandemic, where people have been spending money may be a good indication of where their holiday spending will go.
Data previously released by the US Department of Commerce showed that personal spending in October rose 0.5% from September, which was better than the 0.3% rise expected by economists. Specifically, durable goods spending increased by 15.2% from February. Durable goods include long-used items such as cars and even game consoles, while non-durable goods spending increased by 4% driven by food consumption.
The Wall Street Journal believes that spending on durable goods may continue to perform well during the holidays, because people will spend money on gifts to make the life at home easier.
But some of these expenditures may have been advanced. For example, some families may have bought a new TV set when they are not going out.
At the same time, service spending may continue to be hit, and it seems that families going out to watch movies or giving spa gift vouchers this year will not be so popular.
Of course, some people questioned that e-commerce platforms and related analysts, as a "community of interest," may have consciously or unconsciously exaggerated the effect of online shopping this year.
For example, even though there were more sellers claiming to have sold out on Black Friday, many sellers said that they were just "accompanying the prince to read books". The sales volume on that day was the same as usual, and the overall performance was worse than last year.
In addition, the demonstrations of some e-commerce platform practitioners cast a shadow over the prospects of online shopping this year. According to multiple media reports, some Amazon warehouse workers conducted strikes and protests on "Black Friday". These demonstrations are not limited to the United States, but also spread to the United Kingdom, Mexico, Brazil, India, Australia and other countries.
According to the organizers, the demonstration is aimed at asking Amazon to respect workers' rights, stop evading tax laws, and promise to raise environmental standards.
Many protesters also claimed that Amazon made a lot of money during Coronavirus pandemic, and founder Bezos became the first person in history to accumulate a fortune of 200 billion US dollars, but these achievements are based on grassroots employees.
Especially the health and safety of warehouse workers, so Amazon must give back to those who helped it soar, rather than patronizing the shopping season to continue to spur employees to help it make a lot of money.
Online consumption of the "Black Friday" in the United States hits a record high
Washington, November 28 According to the data released by Adobe Analysis Company on the 28th, on Black Friday, the online consumption in the United States surged 21.6% year-on-year to $9 billion, a record high in the same period.
Affected by the coronavirus epidemic, the number of American consumers who chose to shop in stores this year has plummeted compared with last year. According to the data released by Xianxun American Solutions Company, which is engaged in retail analysis, on the 28th, the passenger flow of "Black Five" physical stores decreased by 52.1% year-on-year, which was higher than previously expected.
In addition, large retailers such as Target Department Store, Best Buy and Dick Sports Goods in the United States have encouraged consumers to adopt online shopping and offline pick-up during the epidemic. On the day of the Black Friday, the demand for such pick-up services increased by 52% year-on-year.
Adobe Analytics said that this year's Black Friday has become the second largest online consumption day in U.S. history, second only to Cyber Monday in 2019. Adobe predicts that online consumption on Cyber Monday on November 30 this year is expected to increase by 15% to 35% year-on-year to $10.8 billion to $12.7 billion, becoming the largest online consumption day in history.
Adobe Analytics synthesizes the transaction data of 80 of the top 100 online retailers in the United States to explore the new consumption pattern of the "Black Five" in the United States. On the same day, consumers spent an average of $6.3 million per minute online and 27.5 dollars per person. Consumers' favorite online shopping are toys and electronic devices, of which the consumption of online smartphones increased by 25.3% year-on-year to $3.6 billion, accounting for 40% of total online consumption.
The American holiday shopping season begins after Thanksgiving. Thanksgiving is on the fourth Thursday of November every year. The day after that was called "Black Friday" and was a climax of physical retail sales; the first Monday after Thanksgiving, Cyber Monday, was the peak of online sales.