Fox News, on the afternoon of the 26th, in western Philadelphia, police shot and killed a black man who was allegedly armed with a knife. This incident triggered violent protests there. 
The police said that on the second night of the protest, 1,000 robbers began targeting the store and taking various commodities from the shelves.
According to US media reports, on the afternoon of the 26th, the local police received a report that someone was brandishing knives in the street in a predominantly black neighborhood in western Philadelphia. 
Two police officers went to the scene and shot and killed a 27-year-old black man during a confrontation. Witnesses later uploaded the video to the Internet. The father of the deceased told the local media that his son had mental problems and was taking medication.
He estimated that the police had fired 10 shots at his son.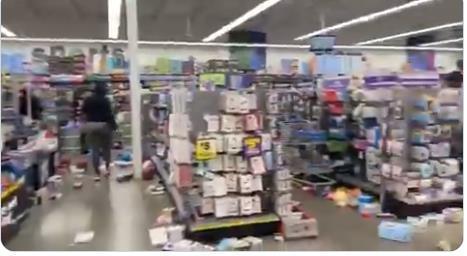 From the evening of the 26th to the early morning of the 27th, people gathered near the scene of the incident to protest. The police armed with riot shields confronted and clashed with the demonstrators. 
The police clashed with the demonstrators. About 91 people were arrested and 30 policemen were injured in the violence. Some shops were vandalized and looted, and at least one police car was burned. Other videos showed protesters clashed with police.
The Philadelphia Police Department warned people to avoid the Port Richmond area of ​​Philadelphia, where at least 1,000 looters are looting stores, including Burlington stores, Target department stores and a chain of American grocery stores.
Videos posted on social media showed crowds running out of Wal-Mart with clothes, electronics and other goods. Some photos showed that the looters left after taking various items from the shelves, and the store was in chaos. Someone saw someone drag what looked like a washing machine.
According to a report from the Philadelphia Inquirer, on the evening of the 27th, protesters again gathered near a police station to demonstrate, and some people saw them marching east. Some people jumped onto a news truck and started shouting to a growing crowd.
The police department asked residents in several areas not to go out unless necessary. A tweet from the city's emergency management office wrote: "These areas are experiencing large-scale demonstrations, which have evolved into violent robberies."