Young mother in South Korea sell babies in second hand websites
Young mother in South Korea sell babies in second hand websites Haiwai.com, October 20th, "36 weeks baby seek adoption!" On October 16, a post on a Korean second-hand trading website that sold babies attracted social attention.
 The poster was priced at 200,000 won
(USD 190)
marked in Seogwipo, Jeju-do.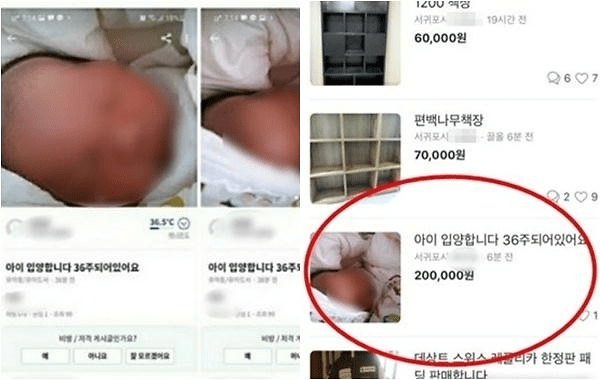 "36 weeks baby seeking adoption" post on second-hand websites
According to South Korea's "Asian Economics" report, South Korea's Jeju
Provincial Government reported on the 20th that after investigation
it was found that the posting woman
A was a young unmarried mother who placed her child online to seek adopters due to financial difficulties. 
When A was investigated by the police, he said that because he and the
biological father of the child did not have the financial ability to raise the child, he decided to give the child away. 
A also claimed that she had asked the relevant adoption agency before posting on the Internet, but due to the complicated procedures and harsh conditions, she had to put her child on a second-hand trading website.
Due to the perennial sluggish birth rate, the South Korean government has introduced a number of preferential policies to encourage people to have more births.
while also introducing relevant measures to protect the rights of single mothers. 
However, as the "second-hand website selling babies" incident continues to ferment, the government's policies on raising children for single mothers have been constantly criticized.
The governor of Jeju Province, Won Hee-ryong, posted on social networking sites on the
18th that in the future, the system for protecting women will be
improved and the obstacles to the legal adoption process will be found.