I believe that many people often want to buy some ingredients to cook for themselves, but when the ingredients are bought, they feel that cooking is too troublesome. 
So the ingredients stayed in the refrigerator for a period of time, and finally they could only go to the trash can. In order to solve the problems of these people, some manufacturers have begun to develop intelligent cooking robots.
Recently, Xiaomi Crowdfunding has launched a "Circular Kitchen Intelligent Multi-purpose Cooking Robot". The retail price of this cooking robot is $999. The current crowdfunding price is only $599, which is $300 cheaper.
The intelligent multi-purpose cooking robot is not large and easy to place, but the functions are very comprehensive. It is reported that the intelligent cooking robot can replace rice cookers, wall breakers, slow cookers, juicers, ice crushers, sauce machines, hot water bottles, meat grinders, dough kneaders, egg beaters, stirring rods, yogurt machines , Fermentation machines, electronic scales, grinders, electric steamers and other electrical appliances, supporting functions such as stir-frying, braising, steaming, kneading, mincing meat, shaved ice, juicing, etc., which can be used in 1 machine.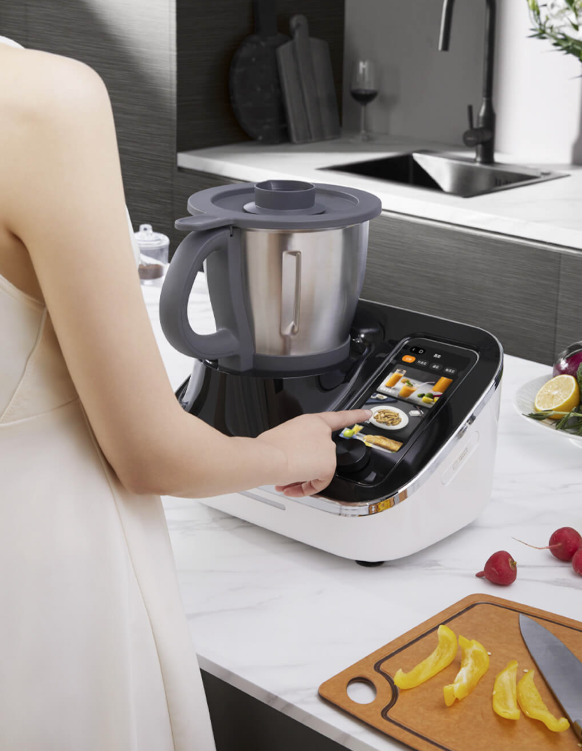 In order to facilitate the user's operation, the intelligent multi-purpose cooking robot is also equipped with a 7-inch large screen. 
On this screen, users can view video previews, smart recipes, video teaching, and voice guidance. Huanchu's intelligent multi-purpose cooking robot not only has a large number of built-in recipes, but also can be operated on the Internet to continuously update the content of the recipes, and there are chefs who continue to develop new recipes. According to the recipe and voice guidance, users can easily make delicious food.
The fully intelligent multi-purpose cooking robot for cooking and cooking is equipped with a large-capacity double-layer steamer, which uses a superimposed structure design and can produce three dishes at the same time. For people who don't like to eat takeaways and go to restaurants, this cooking robot is indeed an artifact.
From the point of view of functions, the intelligent multi-purpose cooking and cooking robot of Huanchu has considered the needs of users in detail, and all the basic functions needed for cooking are available. 
However, both the smart cooking robot and the automatic dishwasher have a problem, that is, cleaning is more troublesome. Especially after operations such as ground meat, kneading, etc., a lot of debris will be generated, which is difficult to clean. 
The product page of Huanchu's intelligent multi-purpose cooking robot does not introduce cleaning-related functions.
A few hours after the start of crowdfunding, Huanchu's intelligent multi-purpose cooking and cooking robot has won the support of 318 people, raising more than $200k, reaching 127% of the target amount. What is the quality of Huanchu's intelligent multi-purpose cooking robot, we still need to wait for the delivery, after the actual experience of the user, we can know.