On October 29, local time, the Meteorological Organization released a new version of the "Global Seasonal Climate Update" that pointed out that the La Niña phenomenon has already formed.
It is expected that the La Niña phenomenon will be moderate to strong this year and will continue until next year, affecting the temperature, Precipitation and storm patterns.
The La Niña phenomenon refers to the large-scale cooling of the ocean surface temperature in the central and eastern equatorial Pacific, accompanied by changes in tropical atmospheric circulation (ie, wind, pressure, and rainfall). 
Its impact on weather and climate is usually the opposite of El Niño.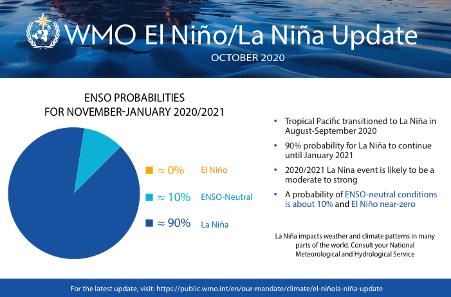 Meteorological Organization
Meteorological Organization The latest seasonal climate forecast from the World Meteorological Organization shows that the tropical Pacific sea surface temperature is likely to remain at
La Niña level before the end of 2020 (with a 90% probability) and may continue until the first quarter of 2021 (with a 55% probability) .
The most significant precipitation anomalies related to the La Niña event in 2020 will occur in the Greater Horn of Africa and Central Asia where the rainfall is below normal, while the rainfall in Southeast Asia, parts of the Pacific islands and northern South America will be above normal.
The Meteorological Organization pointed out that it should be noted that El Niño and La Niña are not the only factors that promote global and regional climate development. 
Each La Niña or El Niño event is different, and their impact on the regional climate may vary depending on the time of year and other factors. Therefore, decision makers should always pay attention to the latest seasonal forecasts to obtain the latest information.
Governments can use the La Niña event global announcement to mobilize
Governments can use the La Niña event global announcement to mobilize climate-sensitive sectors such as agriculture, health, water resources, and disaster management to carry out planning. 
At the same time, as the response capacity is affected by the new crown pneumonia epidemic, the Meteorological Organization is vigorously strengthening its support and consultation to international humanitarian agencies, striving to reduce the impact on the most vulnerable groups.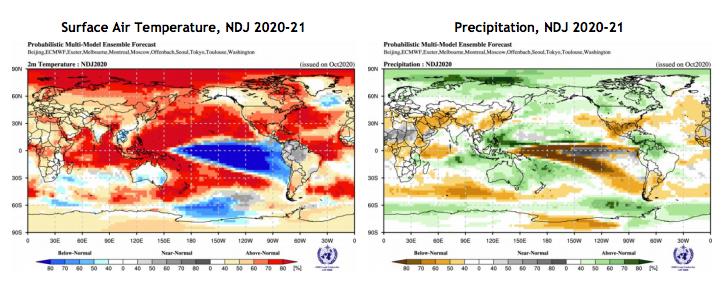 The Secretary-General of the Meteorological Organization Talas stated that El Niño and La Niña are the main natural driving factors of the Earth's climate system
but all current naturally occurring climate events occur under the background of human-induced climate change, which exacerbates extremes. The weather has affected the water cycle.
Taras also pointed out that the La Niña phenomenon usually has a cooling effect on global temperature, but the heat retained by greenhouse gases in the atmosphere is enough to offset this effect. 
Therefore, 2020 will still be one of the warmest years on record, and 2016 to 2020 is expected to be the warmest five years on record. The current La Niña vintage is even warmer than in the past with strong El Niño.