Data map (Source: Getty)
Overseas Network, October 31. The Philadelphia police recently attacked an African-American woman, smashed her car window, forcibly arrested her, took her child away, and later used her child to make false propaganda. .
According to a report by Business Insider.com, 28-year-old Rickia Young (Rickia Young) was driving home with her son and teenage nephew on the evening of the 27th local time, and accidentally drove close to the protest against police violence.
Earlier in the day, the police shot and killed the African-American Walter Wallace Jr. (Walter Wallace Jr.).
Videos on social media showed that when Ricia was about to turn around and leave, the police surrounded her car, smashed the window glass, and took her away. 
Lichia's lawyer Kevin Mincy said that after the police pushed Lichia to the ground, her head was bleeding and her body was bruised. Richia was then taken to the hospital for treatment and then taken to the police station. Richia was eventually acquitted. 
"She was covered with blood and looked like she was beaten by a group of people on the street," Mingxi said. "The injury on her body is not healed."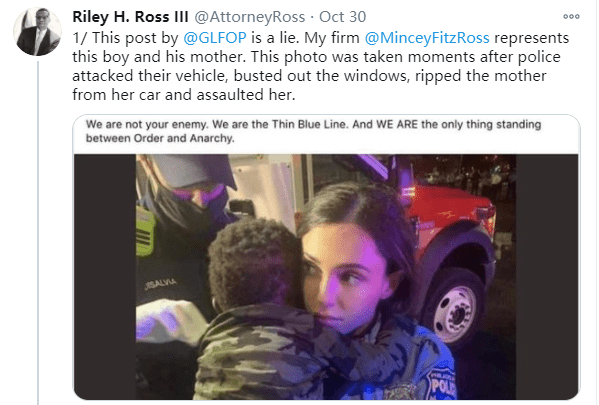 Minsi said that they not only hurt Ricia, but also used her son as a propaganda tool. On the 29th local time, the National Brotherhood of Police (National Brotherhood of Police), a US police union, posted a photo on a social platform.
In the photo, a Philadelphia police officer was holding an African-American boy. The organization stated in the post, "This child was lost in the violent riots in Philadelphia. He wandered barefoot in a chaotic area. At that moment, the only thing the Philadelphia police cared about was to protect the child."
 "The National Brotherhood of Police took this photo, put it on social media, and fabricated the story, which is actually a lie."
Minsi said that Ricia's son and nephew were also injured in the accident and separated from her for several hours. Ricia called her grandmother while in custody, and her grandmother took the children away. 
At present, Richia has not been told where to retrieve the damaged car and the son's hearing aids left in the car. A representative of the Philadelphia police said that the police department has begun an internal investigation into the incident.