January 24th local time, the United Nations Conference on Trade and Development released the Global Investment Trend Monitoring report, which assesses the full year of 2020 FDI flows, including official data from 111 countries in 153 economies, accounting for 98% of the total global FDI.
The report pointed out that global foreign direct investment fell sharply in 2020 to only $859 billion, down 42% from $1.5 trillion in 2019 and 30% lower than the trough after the global financial crisis in 2009.
The decline was concentrated in developed countries, and foreign direct investment inflows to developed countries fell by 69% to only $229 billion, the lowest level in the past 25 years.
Foreign investment inflows to developing economies fell by only 12% to about $616 billion, accounting for a share of global foreign direct investment of 72%, a record high.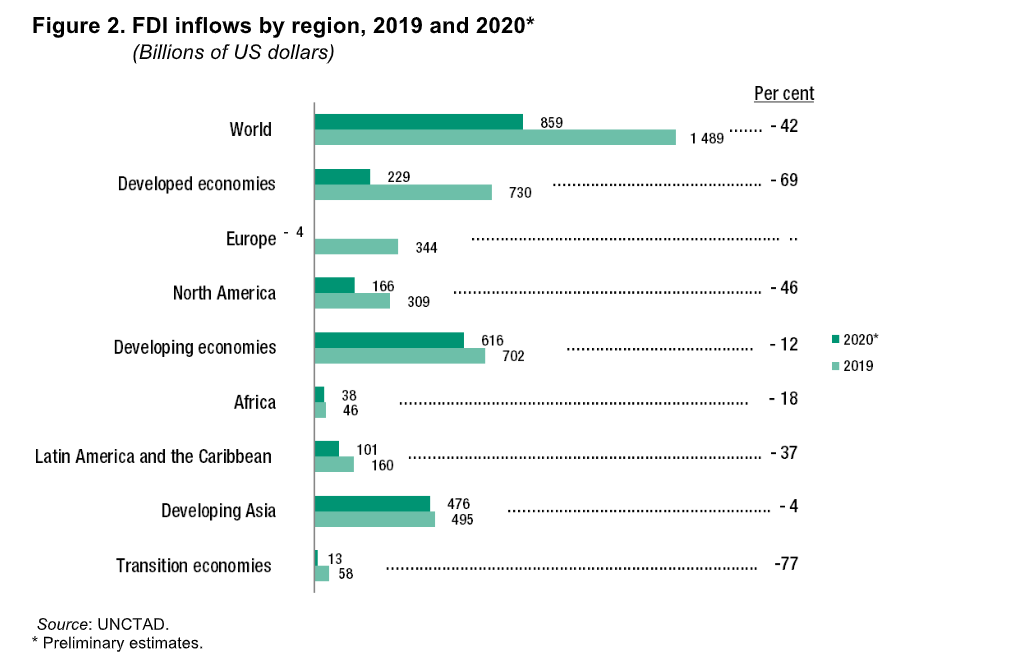 Foreign direct investment flows to the EU fell by two thirds in 2020, from more than $370 billion to $110 billion.
Foreign capital inflows to Latin America fell by 37%, foreign capital flows to Africa fell by 18%, and foreign capital in Asia fell by only 4% to about $476 billion.
Foreign direct investment flows to economies in transition fell sharply to $13 billion, a 77% decline, the lowest level since 2002.
Director of the Investment and Enterprise Division of UNCTAD, said that the outlook for global investment is not optimistic.
Global direct investment growth will remain weak in 2021.
It is expected that the decline in investment will bottom out in the second half of 2021 and start to recover in 2022.
The risks caused by the latest wave of the pandemic, the slow progress of vaccination programs and economic support programs, the fragile macroeconomic situation in major emerging markets, and the uncertainty of the global investment policy environment will continue to affect the global investment recovery in 2021.