In other words, as U.S. President Joe Biden has been in office for 100 days, pollsters across the country have also conducted surveys on how well he has fared in his 100 days in office.
But the results of these polls give the exact opposite result….
A recent Washington Post-ABC News poll, for example, found that after 100 days in office, U.S. President Joe Biden's approval rating was only 52 percent, the third-lowest among U.S. presidents since 1945, and only higher than Ford (48 percent) and his predecessor, Trump (42 percent), who took office after Nixon.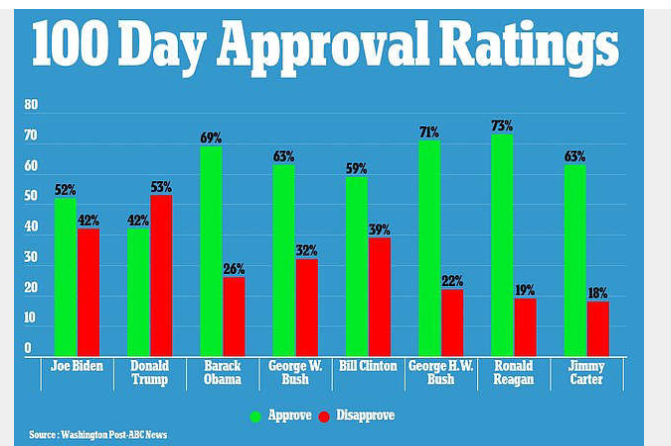 And the poll found that the vast majority of 42 percent who disapprove of Biden's job are extremely disapproved of him, with as many as 35 percent disapproving of his job and nearly 7 percent saying little about him.
Ironically, data from Pew, a US pollster cited by the Guardian, shows that Biden's 100-day job approval rating is not only "very strong", but also the "third highest" of the nearly seven us presidents, behind Reagan and Barack Obama.
However, since Biden has always been "third" because of whether it is "third low" or "third high", we have given this article such a "Biden, third" title … (Does this make you think of an English football club that is often ranked "fourth"?) )
That said, it's not surprising that these polls on Biden's 100th day in office will be so different. Because of the different mathematical models used, different pollsters do come up with quite different results on the same thing. A New York Times poll of Biden's 100th day in office also shows that in a country where political ideology is deeply divided and polarizing, people of different factions have a very different view of Biden on many things.
As for whose home is more accurate, it is a kind of "metaphysics".
So, more than these polls, Mr. Geng admires the Associated Press's assessment of Biden's 100-day tenure: see how much of his campaign promises Biden has delivered.
According to the Associated Press, Biden has been quick to implement policies to repeal Trump, but that's largely because many of Trump's policies bypass presidential executive orders signed directly by Congress, and scrapping them would be best for Biden.
Biden's work has been slow, even hampered, or simply abandoned, on issues that require congressional support and the persistent problems that plague the United States all year round, such as gun control, stopping violent police enforcement, systematically changing America's racism problem, and reforming america's refugee-reception system.
While it is "difficult for a strongman" to ask a president who has only been in office for 100 days to complete the thorny reforms in the United States, the challenges facing Biden will only get harder in the current political environment.