A week before leaving office, US President Trump, who was banned by social media, looked extremely quiet.
From January 11 to 15, Trump made only two public speeches. By the afternoon of the 19th the day before he left office, the White House released a video of Trump's farewell speech.
In his speech, Trump refused to mention Biden's name and replaced it with "the next government". As he wished the "next government" good luck, he continued to appeal to supporters to maintain confidence: "The campaign we launched has just begun."
The White House issued a brief statement regarding Trump's last day of work: "President Trump will make a lot of phone calls and attend many meetings from early morning to late at night."
By the end of the 19th, Trump, who participated in many meetings, had mainly completed two things: pardoned and commuted sentences for 143 people, including the "former national teacher" Bannon, and authorized the Department of Justice to decrypt some documents related to the "Russia" investigation.
On the day of Biden's inauguration on the 20th, Trump will not welcome the new owner of the White House at the White House or attend Biden's inauguration ceremony.
He will take a special presidential plane to Andrews Air Force Base for the last time to attend his farewell ceremony amid the sound of 21 salutes. Vice President Pence, who accompanied Trump to the end, couldn't be present.
Pardon for 143 people commuted sentences
Late Tuesday night, the White House issued a statement announcing Trump's pardon and commutation of sentences for 143 people. Among them, 73 were pardoned, including Bannon, a "former national teacher" who opposes Trump.
Trump pondered for many days whether to pardon Bannon or not, quoted White House officials. On Tuesday, the staff did not know whether Trump would temporarily change his mind.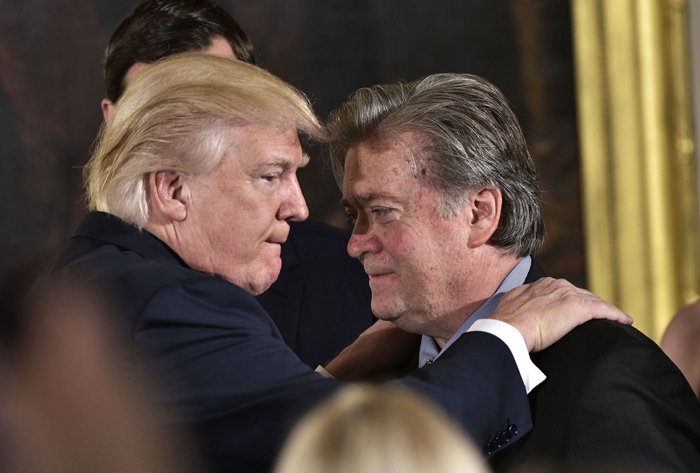 Bannon, known as the "national teacher", served as the chief strategic adviser of the White House, and was in a timely fashion. Bannon is shadowed from the withdrawal of the United States from the Paris climate agreement to the withdrawal from the Trans-Pacific Partnership Agreement. He is also regarded as the spokesman of populism.
In 2017, Bannon resigned after losing the White House infighting. After resigning, Bannon exposed Trump's "black material" in the new White House Insider book published by columnist Wolf, and the two officially broke up.
Bannon was arrested last August on suspicion of fraud in fund-raising activities for the construction of the U.S.-Mexico border wall. He is currently on bail and has not yet been tried.
It was before the U.S. election that Bannon's relationship with Trump began to warm up.
When Trump was first impeached, Bannon spoke for Trump in public; according to sources, Bannon talked to Trump last summer about the campaign, and he also talked with Trump's personal lawyer Giuliani frequently.
It is reported that on Tuesday, Bannon talked to outgoing Trump.
In addition to Bannon, three former Republican congressman and rapper Lil Wayne, including Elliott Broidy, a former fundraiser of Trump's campaign funds, and former Republican Congressman Duke Cunningham, are also in Trump's In the amnesty list.
Former Detroit Mayor Kwame Kilpatrick, who was sentenced to 28 years in prison for corruption and extortion, was commuted. Also commuted are Sholam Weiss, a fraudster sentenced to 835 years in prison for insurance fraud.
But unlike media predictions, Trump's adult children, female Kushner and private lawyer Giuliani are not on the pardon list, and Trump has not pardoned himself. In addition, Trump supporters who participated in the Capitol riots were not pardoned.
U.S. media previously reported that Trump is considering using the presidential pardon power to pardon himself. But after Trump's second impeachment, some staff reminded Trump that pardoning himself would anger some Republican establishments and make them look guilty.
The impeachment bill launched by the House of Representatives against Trump also needs a Senate trial. The Republican and Democratic seats in the Senate are 50 to 50, and at least two-thirds of senators' support is needed to convict Trump.
The U.S. Constitution empowers the President to grant pardons to those who violate federal laws except for impeachment. However, the pardon cannot include those who have been prosecuted by the state.
Pardoning relatives, friends and staff before leaving office is a traditional operation of the President of the United States. The Constitution does not stipulate how many people the president can pardon.
Trump pardoned 94 people before Tuesday's 143 people. And he is not the president who issued the most pardons and commutations of sentences.
Former President Carter issued 566 pardons and commutations, 450 Clinton, Ford 409 and Reagan 406.
Among Ford's pardons, the most controversial is the pardon of former President Nixon.
Nixon faced impeachment due to the Watergate incident, but resigned voluntarily before the impeachment was officially launched. After Ford took office, he pardoned Nixon to avoid Nixon's trial in court for the "Watergate incident".
Clinton issued more than 140 pardons and commutations before leaving office, pardoning his brother Roger, former CIA director Deutsch and Marc Rich, the founder of Glencore, who has been wanted by the judiciary for more than ten years.
In addition to issuing a pardon, Trump authorized the Department of Justice on Tuesday to request the declassification of some documents related to the "Russia" investigation.
Before the election, Trump repeatedly requested to make documents related to the "Russia" investigation, but they were rejected. He has been accusing the Democratic Party of using "communicative" investigations to carry out political persecution against him.
It is not clear which files will be decrypted, and whether the decrypted files will be made public.
Farewell ceremony
Trump, who did not want to mention Biden's name in his farewell speech, is not prepared to welcome Biden at the White House.
Early Wednesday morning, Trump will fly to Andrews Air Force Base from the White House on a special "Navy One" plane to attend a farewell ceremony for himself.
White House officials revealed that about 200 soldiers will attend Trump's farewell ceremony. During this period, soldiers will fire 21 salutes, and there will be honor guards at the scene.
Trump may speak at the ceremony.
Previously, the White House had extended invitations to Trump supporters, officials and former officials. The invitation also lists prohibited items, including ammunition, guns, explosives, toy guns, etc.
But Vice President Pence will remain in Washington for Biden's inauguration.
Officials previously revealed that due to time constraints, Pence was unable to attend Trump's farewell ceremony at Andrews Air Force Base before the inauguration ceremony.
Pence's office announced Pence's official itinerary for the 20th on Tuesday. The itinerary only lists Biden's inauguration, and there is no farewell ceremony for Trump.
Pence has been called Trump's "faithful deputy", and before the House launched a second impeachment, Pence refused to use the constitutional amendment to oust Trump.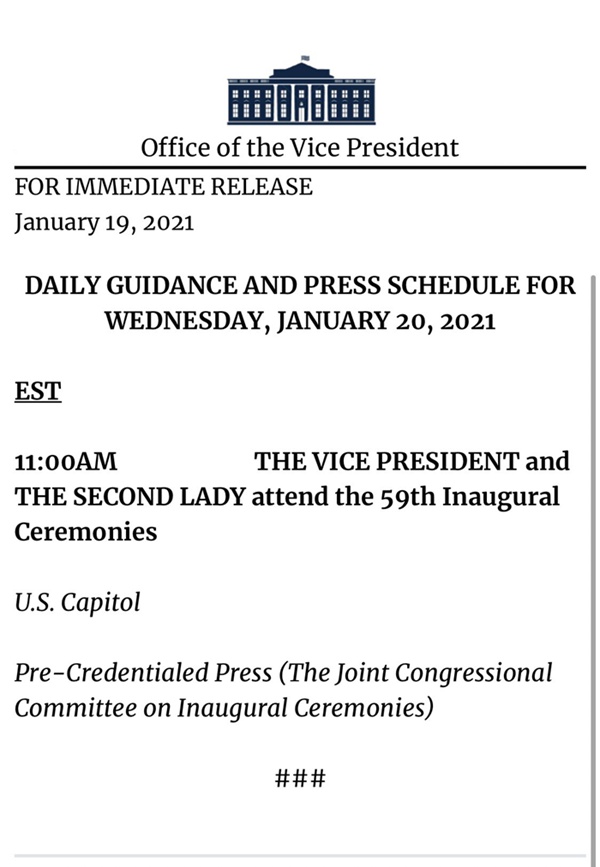 After the farewell ceremony, Trump will take the "Air Force One" back to his Mar-a-Lago estate in Florida for the last time, where he will start his retirement.
Trump will be disqualified from using Air Force One after Biden is sworn in. This also means that if Trump leaves the White House after Biden takes office, he must get Biden's permission to go home in Air Force One.
And as he said to supporters in his farewell speech, "the movement is just beginning", Trump does not intend to be silent for too long after retirement.
Sources said that Trump is already preparing to raise funds to build the President Trump Library.