"Me, I don't know how to turn it off… I'm live here, I'm not a cat."
According to the Washington Post, on February 9th, local time, at an online hearing in the U.S. District Court of Texas, a lawyer named Rod Ponton mistakenly opened the cat filter but did not turn it off. He was busy explaining to the judge that he was not a cat.
"Mr. Ponton, I think you might have turned on the filter function in the video settings, maybe you can…" Judge Roy Ferguson, who presided over the hearing, tried to remind Punton.
"We are trying…" Unexpectedly, the open-eyed and worried "cat" Ponton interrupted Ferguson and said, "Can you hear me, Judge?"
After Judge Ferguson said he could hear clearly and pointed out that it was the effect of using a filter, the kitten nodded and agreed.
"But I don't know how to turn off this filter," explained Ponton, who was trying to restore the filter-free effect with his assistant. "I'm ready to continue, clarifying that I'm live here, I'm not a cat."
"Well, I understand…" Ferguson replied.
Eventually, with the help of his assistant, Ponton returned to normal video mode, and the rest of the hearing went on as usual.
"In this difficult time, people really need something to share with some laughs," Ferguson told The Washington Post. This brings laughter to the world, which is innocent.
Meanwhile, Ferguson reminded parents on Twitter, "If your child uses your computer, please check the video option before you join the online discussion to make sure that the filter is turned off. Because this kitten has just been involved in our case.
The video quickly became popular on social media, with more than 18 million views as of the night of the 9th.
Some netizens commented that he was right. He was indeed not a cat, but a "cat lawyer".
Some people even presented such an illustration: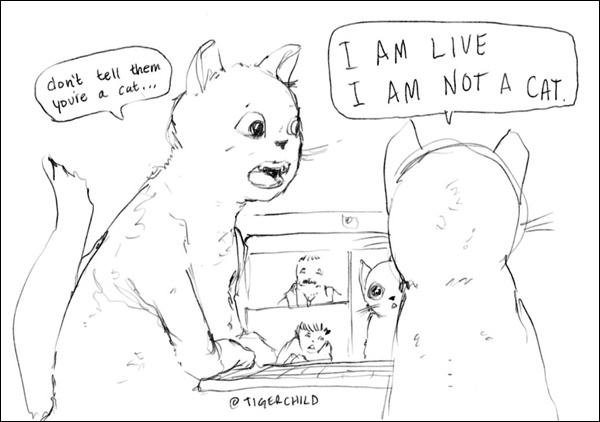 Therefore, Punton, a lawyer famous for the Oolong incident, responded, "If I can make this country laugh for a while, I am willing to sacrifice myself, but don't forget that what happened to me today is likely to happen to you tomorrow."