The number of new confirmed cases of coronavirus has fallen slightly in recent days, but the overall situation of the outbreak remains critical. From the decision-making level of the government to the supply market, there are still problems.
A leading Virologist in India recently resigned from a team of government scientific advisers without revealing why, but some experts believe it may be related to pressure from the government.
And the black market for oxygen and medicines has emerged because of shortages of supplies. But the black market is not only expensive, its quality is a considerable uncertainty. Indian police have recently seized several cases of fraud.
Resigning virologists have criticised the government's anti-pandemic measures
Shahid Jameel, India's top virologist, told Reuters on May 16th that he had resigned from the government-set advisory panel to monitor new variants of the virus on The 14th. A few weeks ago, Jamil questioned the Indian government's response to the coronavirus outbreak.
The advisory group, called the Indian coronavirus Genomics Alliance (INSACOG), is chaired by Jamil, Reuters reported on May 17. He declined to say why he resigned: "I have no obligation to give reasons. Another EXPERT ATSACOG SAID IT WAS NOT CLEAR WHAT DIRECT DIFFERENCES JAMIL HAD WITH THE INDIAN GOVERNMENT. Another scientist at INSACOG, who asked not to be named, said Jamil's departure would not affect INSACOG's efforts to monitor virus variants.
But a May 16 report in the Hindu newspaper revealed that one expert on the advisory panel believed that "government pressure" could be a potential reason for Jamil's resignation. Jamil has been critical of the Indian government's handling of all aspects of the coronavirus outbreak, and on May 13th, in an op-ed for the New York Times, Jamil summarized India's response to the multi-wave outbreak and the country's uneven vaccination campaign. "Evidence-based decision-making faces stubborn resistance," he wrote. On April 30th more than 800 Indian scientists asked prime minister (Modi) for data to help them further study, predict and contain the virus. With India's coronavirus outbreak out of control, data-based decision-making is another victim."
The B.1.617 variant of the virus, which spread rapidly in the second wave of outbreaks in India, was discovered by INSACOG. In early March, INSACOG warned the Indian government that the country had a new, more contagious variant of the coronavirus. Asked by Reuters why the Indian government had not taken a stronger response to the findings of its advisory panel, such as restricting mass gatherings, Jamil replied that he was concerned that the government had not paid sufficient attention to the evidence in formulating its policies.
Politicians have attacked the "coronavirus as having the right to exist"
Trivendra Singh Rawat, a former chief minister of North Akand state and leader of the Bharatiya Janata Party, said on May 13th that the coronavirus was also an organism and had the right to live. His comments prompted accusations, taunts and mischief from opposition parties and netizens.
"From a philosophical point of view, the coronavirus is also an organism, and it has the right to live like us," Rawat said, according to India Today on May 14. But we (humans) think we're the smartest and we want to destroy it, so it constantly mutates itself. Rawat also said that humans should act faster than the virus can spread to keep themselves safe. He also warned people to keep proper social distances to prevent the infection of the new coronavirus.
Mr Rawat's comments quickly went viral on social media, with the Indian edition of the International Financial Times reporting on May 15th that Suryakant Dhasmana, vice-president of the Congress Party in North Akand, had accused Mr Rawat of "losing his mind" and was "totally stupid".
Indian netizens also lashed out at Mr Rawat's comments. Someone tweeted that it was no wonder that "our country today faces the worst human tragedy in the world" because such people are in charge of political affairs. Others sarcastically said India needed to pass legislation banning "criminals and uneducated people from entering parliament".
This is not the first time Rawat's comments have caused controversy, according to Pakistan's ARY TV. In 2019, he also said, cattle are the only animals that can suck in and exhale oxygen.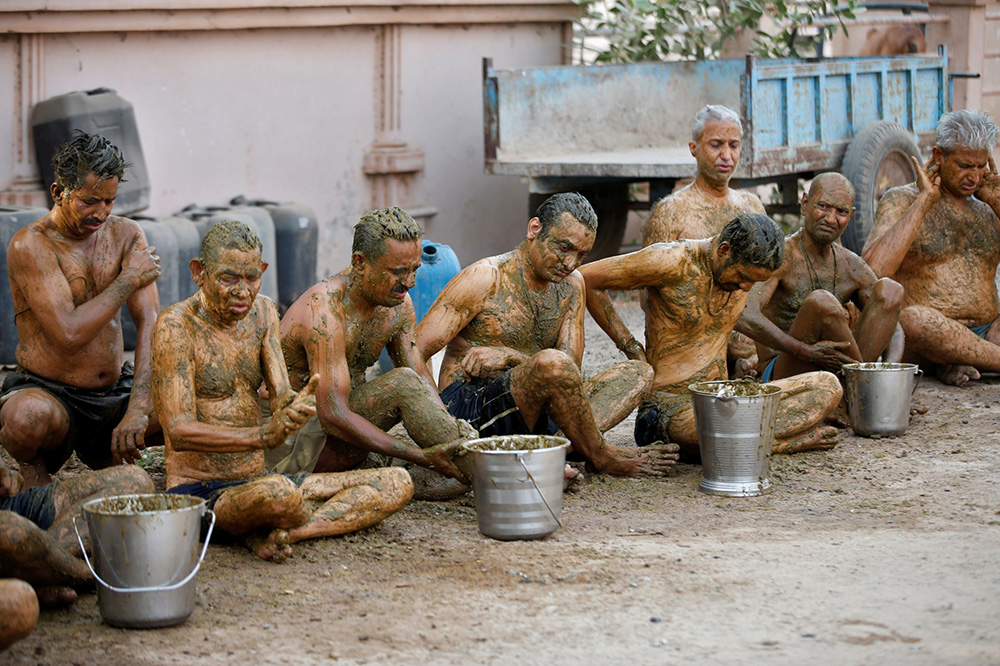 Shortages of supplies trigger black markets and fraud
In India's severe outbreak, many treatment necessities, such as oxygen and medicine, are in short supply, and the black market and fraud are on the rise. Many people were forced to seek help online, but became victims of speculative traders.
When a company called Varsha Engineering more than doubled the price of oxygen tanks and sold them for about Rmb1,200 a unit, an Indian charity reported the incident to the police, the New York Times reported on May 16. Police later discovered that the business was originally a waste recycling yard, but had been repainting fire extinguisher tanks and selling them as oxygen tanks. However, fire extinguishers that are not robust, if filled with high-pressure oxygen, can explode, resulting in death and injury.
Mukesh Khanna, a volunteer at the charity that reported the Varsa Project, has been jailed for "playing with life" and should be "prosecuted for manslaughter."
At the same time, Several CaseS Of Drug Counterfeiting Have Been Detected In India. Police in the western Indian state of Gujarat seized thousands of counterfeit bottles of Redsiwe in a raid this month. Police led the informants to a factory and found 3,371 bottles filled with glucose, salt and water. Gujarat police say many other counterfeit drugs have been sold, posing an unknown risk to public health. Uttar Pradesh police have also seized more than 100 bottles of fake Redsiwe.
The wife of Anirudh Singh Rathore, a 59-year-old New Delhi businessman, died after being injected with Redsiwe, which he bought from the black market. He also feels that some people in India are using the current outbreak for their own benefit, "it is a moral crisis".
New Delhi police have arrested more than 210 people in the past month on suspicion of involvement in fraud, hoarding or premeditated crime in connection with the new outbreak. Uttar Pradesh also indicted a gang last week for stealing the clothes of the coronavirus dead and resold them, New Delhi TV reported.
Vikram Singh, a former head of Uttar Pradesh's police department, has been a police officer for 36 years, claiming to have seen "all types of looting, all forms of depravity" but has never seen such a level of "predatory and depravity".