A woman in Alaska was attacked by a bear who was in the toilet when she was using an outdoor toilet.
February 13th, Shannon Stevens, together with his brother Eric and his brother's girlfriend, drove a snowmobile to a wilderness in the Haynes area of southeast Alaska.
They lived in a felt room with a toilet about 45 meters outside the felt room. Shannon went to the toilet.
She said, "I went in and sat on the toilet. As soon as I sat down, something bit my buttocks. I jumped up and screamed.
Eric ran quickly when he heard the scream. He wore a headlight, so he wanted to see what was in the toilet.
At first, they thought that the toilet would be filled with squirrels or mink, or other small animals.
 Eric opens the lid of the toilet and finds a bear's face in the toilet. He is looking up at him.
Eric said, "I quickly covered the toilet lid.
I said, there is a bear in it. We have to get out of here immediately.
Then we ran back to the felt room as fast as possible. In the felt room, they used the medicine in the first aid kit to deal with Shannon's wounds.
Shannon said, "The wound is bleeding, but it's not very serious."
The next morning, they found that the footprints of the bear were everywhere nearby, but the bear had left.
From the footprints, the bear crossed the snow and came to the toilet.
They believe that bears enter the toilet through a door at the bottom of the back of the toilet.
Shannon said, "It may think of it as a winter nest."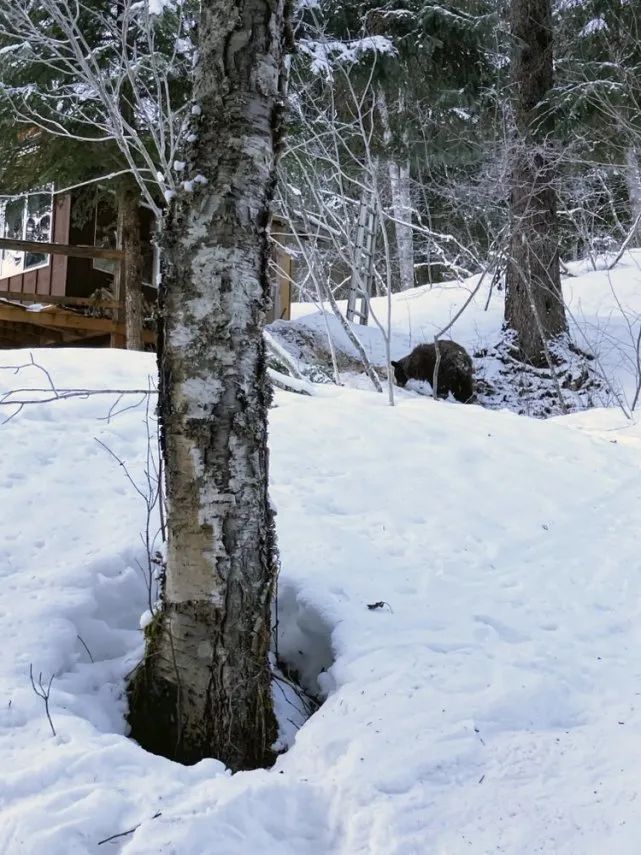 According to Carl Koch, a biologist at Alaska's Wildlife Management Department of Fisheries, it may be a black bear based on footprint photos and a photo analysis of the bear taken by another family.
Koch believes that Shannon's wound may have been scratched by the bear with his paws, not biting, but, anyway, "She may be the first person on earth when she was injured by a bear's buttock while sitting outdoors in the toilet in winter."
From now on, Eric said that he will always carry the bear spray with him when he goes to the wild.
Shannon also said, "Before going to the toilet in the future, I will definitely take a good look inside before sitting down."