On November 16, local time, Estonian National Radio and Television (ERR) reported that on Friday, November 13, the US Air Force Special Operations Wing conducted a joint military exercise with the Estonian Air Force at the Estonian Defense Forces Central Training Ground. The focus is on air support provided by F-15 Eagle fighters. The Chief of Staff of the Estonian Defense Force announced on the 16th that the exercise was part of a large-scale joint exercise conducted by Sweden and the United States in the Baltic Sea.
The U.S. Special Forces arrived at the central training ground with a CV-22B Osprey tilt-rotor. The helicopter is currently located at Satenäsi Air Force Base in Sweden. In addition, the fighters are supported by MC-130J tankers belonging to the 352nd Special Operations Wing of the US Air Force. The American F-15E fighter jets participating in the exercise are from the Royal Air Force base stationed at Lakenheath, England.
The Estonian chief of staff pointed out that these exercises will improve NATO's training level, which is necessary to deal with a potential global crisis.
The F-15 Eagle fighter participating in the exercise is considered to be one of the most successful fighters today. The flying distance of the aircraft refueling in the air is 5,600 kilometers, and the maximum speed is more than twice the speed of sound.
The MC-130J tanker is a special operations aircraft based on the Lockheed C-130 transport aircraft, which can perform the refueling function of other aircraft and supplement the weapons of fighter jets.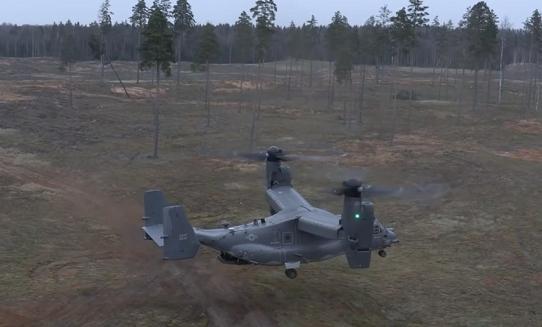 The CV-22B Osprey tilt-rotor aircraft is a multi-functional aircraft with tilt rotors that combines the vertical take-off, flight and landing capabilities of a helicopter with the high speed, long range and low fuel consumption of the helicopter. Mainly used to infiltrate special operations (in the enemy's territory) and supply missions.