President of Azerbaijan kneels and kisses the flag
November 17th. According to Turkish tv100 TV station Azerbaijani President Aliyev and his first lady personally drove to the Naka area recovered from Armenia, and kissed the national flag on his knees in front of media reporters. Raise it.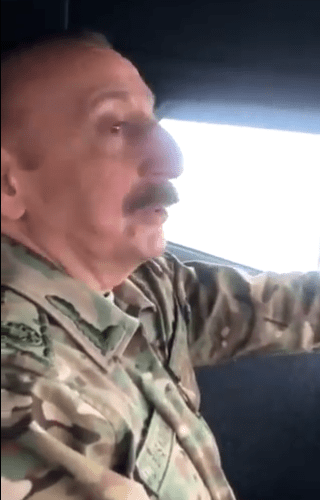 On November 9, Russian President Vladimir Putin, Azerbaijani President Aliyev, and Armenian Prime Minister Pashinyan signed a joint statement announcing a complete ceasefire in the Naka region from the 10th. The statement stipulates that the Azerbaijani and Armenian forces will stay in their respective positions, and Russian peacekeepers will be stationed in Naka to supervise the ceasefire.
According to the ceasefire agreement, Armenia will hand over the Kelbajar, Agdam, and Lachin districts to Azerbaijan in the near future. On the 14th local time, the Armenians in these areas began to evacuate urgently. They burned their houses to avoid falling into the hands of the Azerbaijanis.