New York police said 8, Times Square, the same day a shooting incident, resulting in two women and a 4-year-old girl was injured. The suspect has not yet been charged and the case is under investigation.
A spokesman for the New York City Police Department told AFP that the shooting occurred around 17:00 local time at the intersection of Seventh Avenue and 44th Street.
A 46-year-old woman was shot in the foot and a 23-year-old tourist was shot in the leg. The injured also included a 4-year-old girl who was sitting in a pram with a shot in the leg while her family was buying toys.
New York City Police Commissioner Dermot Shay said at a news conference that two to four men were involved in an altercation at the time of the incident, and at least one of them opened fire. The injured are being treated in Manhattan for non-life threatening injuries.
As of the evening of the 8th, the police have not made any arrests. Police are looking for witnesses to release surveillance video of one of the suspects.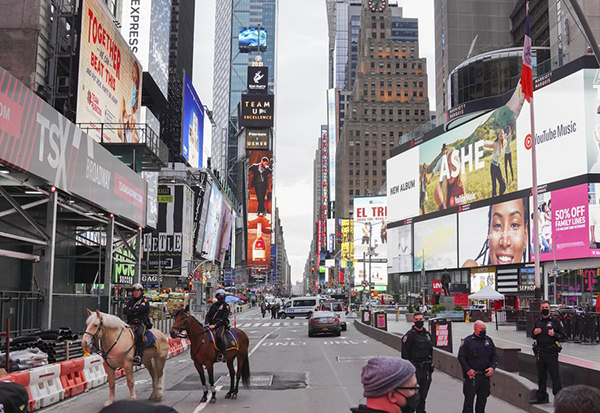 Before the outbreak, Times Square was one of New York's most popular tourist attractions. In March last year, the theatre near the square was completely closed and is scheduled to reopen on September 14 this year.
A recent report by the Times Square Alliance, a private organization, showed that there were 25 violent crimes in the area around Times Square in the first quarter of 2021, up from 17 in the same period last year. In late March, a man attacked a 65-year-old Asian-American woman on the streets of Manhattan, knocking her to the ground and repeatedly kicking her in the head. After the video came to light, police conducted a "carpet search" of the Manhattan neighborhood to arrest the man involved.
New York shootings have risen sharply since last summer, with overall crime rates rising 30 percent over the same period, official figures show.
Shootings have also been frequent in other parts of the United States so far this year. Maryland state police said Wednesday that four people were killed and at least one other injured in a shooting and fire in a Baltimore suburb early in the morning. The suspect was shot dead by the police. The cause of the incident is not yet known.
On the same afternoon, a fight broke out between two groups at a Florida shopping mall, resulting in a shooting, in which shoppers fled and three people were injured. The injured were taken to hospital for treatment of non-life threatening injuries. The police detained several suspects.