The latest data released by the Ministry of Health of India on the 20th showed that as of 8 a.m. local time on October 20 (10:30 Beijing time), the cumulative number of confirmed cases of coronavirus pneumonia
in India has risen to 7,570,063. Among them, 115197 cases died. In the past 24 hours, a total of 46,790 new cases were confirmed in India. According to the "India Today" website, this is the first time that the number of new confirmed cases in a single day in India has fallen below 50,000 in the past two months.
On July 29, India added 48,513 confirmed cases in a single day. Since then, it has been increasing. On September 17, the number of new cases in a single day reached more than 97,000, setting the highest number of new cases in a single day in the world. 
Since then, it has gradually fallen back. Media analysis believes that this shows that the epidemic in India has eased.
However, on the same day, Indian Prime Minister Narendra Modi issued a national televised speech once again calling on the public to still not relax their vigilance.
 Modi said, "We need to remember that the blockade may be over, but the coronavirus epidemic still exists." 
He urged the public to take all precautions to curb the spread of the covid-19 and not to relax their
anti-epidemic efforts during the upcoming holiday season.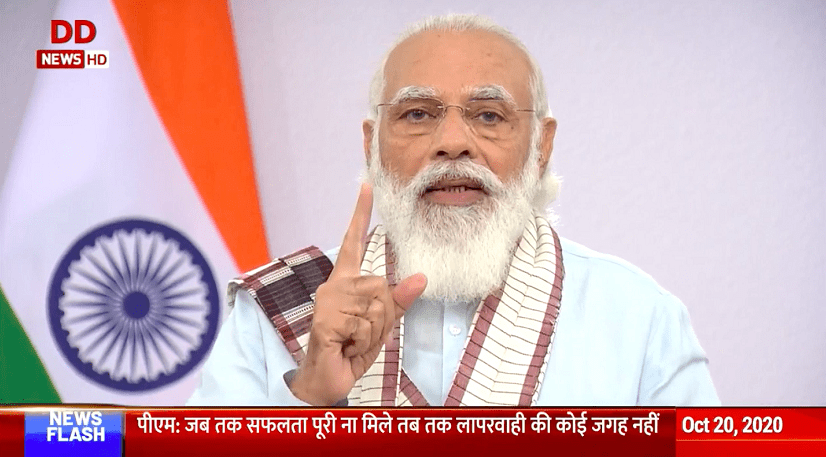 This is the seventh time Modi has delivered a televised speech since India entered the national blockade at the end of March. In order to save the economic slump, the Indian government has gradually loosened the ban from June.
On the 18th, a 10-member medical expert committee established by the Indian
government submitted a report on the development trend of the epidemic to the Indian Ministry of Health.
The report stated that the coronavirus epidemic in India had reached its peak in September.
under control in February, when the cumulative number of confirmed cases in India may reach 10.5 million. 
The committee stated that "the number of new coronavirus cases and deaths
has declined in the past three weeks, but we cannot rule out
the possibility of a second wave of infections in India in winter".
With the arrival of winter, many medical experts in India expressed concern about the epidemic situation. On the one hand, increased air pollution may worsen the coronavirus.
Secondly, from October to November each year, India will usher in a series of festivals such as Nine Nights Festival,
Tokachi Festival, and Diwali Festival. During the holiday season in previous years,
people would go shopping, go out to gather, visit each other, etc.