On the afternoon of February 24 and the morning of February 25, Li Jie, Counselor and Consul General of the Embassy in Cambodia, on behalf of the embassy, went to the Phnom Penh Mayor Xiashe Medical Center and the Cambodia-Soviet Friendship Hospital to visit Chinese citizens who have been quarantined and diagnosed with COVID-19 on the spot. Phnom Penh Mayor Kun Sheng, Deputy Director of the Consular Department of the Ministry of Foreign Affairs of Cambodia, You So Kailin, and Director of the Overseas Chinese Department of the Embassy, Hu Wei, attended.
Li communicated with some confirmed patients in China by phone on the spot to understand their relevant demands. He said that the embassy would continue to actively provide necessary assistance to help solve their concerns. At the same time, he asked everyone to strictly abide by the Cambodian government's epidemic prevention policy and the relevant regulations of the hospital during isolation or treatment, and fully cooperate with the hospital to strive for an early recovery. .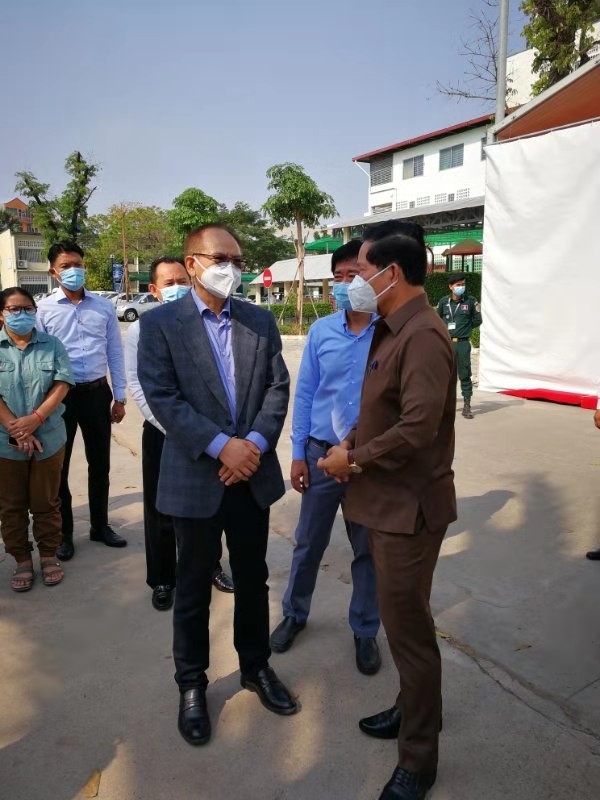 Since the third community epidemic spread incident in Cambodia, the embassy in Cambodia has attached great importance to the health and safety of Chinese compatriots in Cambodia, especially confirmed patients, coordinated and promoted Cambodian health departments and hospitals to fully treat confirmed patients, maintained contact with patients, gave masks, alcohol-free lotion and other epidemic prevention items, and actively assisted in solving their problems. Practical difficulties.