February 22, Cong Peiwu, Ambassador to Canada, gave a live online interview to the Canadian Public Affairs Channel on the passage of the Xinjiang-related motion by the Canadian House of Representatives.
Ambassador Cong said that we strongly condemned this motion. I want to point out that spreading lies and defending human rights are contrary. Some people in Canada and Western countries hype up the lies of the century on border-related issues.
There is no so-called "genocide" in Xinjiang. Over the past 60 years, the average life expectancy in Xinjiang has increased from 30 to 72 years.
From 2010 to 2018, the Uighur population increased from 10.17 million to 12.72 million, an increase of 2.55 million, or 25%, higher than the 14% increase in the population of Xinjiang and significantly higher than the 2% increase of the Han population.
Where did the "genocide" come from? We welcome foreigners who truly adhere to the principle of impartiality and objectivity to visit Xinjiang.
At the same time, we also firmly oppose any country or anyone to interfere in internal affairs under the banner of human rights, and anyone advocating to carry out a presumption of guilt in Xinjiang so-called "investigation".
Since 2018, more than 1,200 people from more than 100 countries, including United Nations officials, foreign ambassadors to China, journalists and representatives of religious groups, have visited Xinjiang.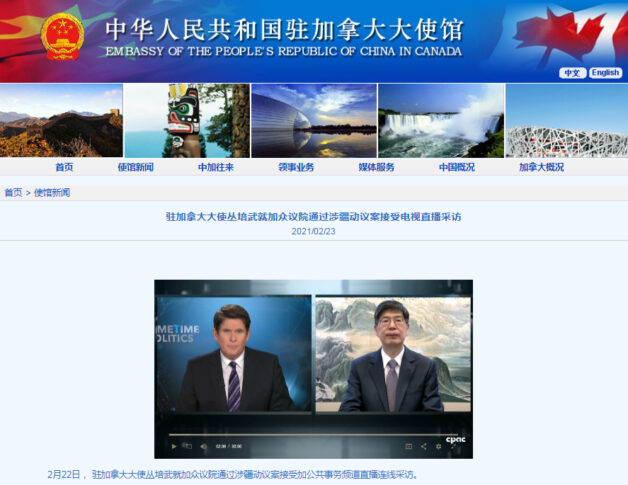 They have witnessed the good situation of stability, prosperity and development in Xinjiang. We also strongly oppose the content of the motion involving the Beijing Winter Olympics.
Some people in Canada and Western countries politicize sports, contrary to the spirit of the Olympic Charter.
The Beijing Winter Olympics has been highly recognized by the international community, including the International Olympic Committee. Canada and the U.S. Olympic Committee both expressed support.
Ambassador Cong said that the Chinese people have the most say in what the human rights situation in China is. China's human rights situation is in the best period in history.
According to the survey report of international authorities, the Chinese people have more than 90% trust in the Chinese government. What Canada and Western countries need to reflect on their own human rights situation, such as unfair treatment against Aboriginal people.
Ambassador Cong said that China urged Canada to give up prejudice, respect facts, correct mistakes, stop interfering in China's internal affairs through Xinjiang-related issues, and avoid taking actions that further undermine China-Canada relations.
China will take resolute measures to safeguard national sovereignty, security and development interests. The plot to hinder China's development through Xinjiang-related issues will never be met.
Launched in 1992, Public Affairs Canada is a television channel dedicated to public and government affairs and parliamentary agendas, with a audience of about one million.