The Somali Ministry of Foreign Affairs issued a statement on the evening of November 29, local time, saying that the Federal Government of Somalia has taken note of the attempt by the Kenyan government to violate the sovereignty
territorial integrity, political independence and unity of Somalia, and deeply regrets the continued intervention of the Kenyan government in Somalia's internal affairs, and therefore requests Kenyan Ambassador to Somalia, Lu Cas Tombo left the country and recalled the Somali ambassador to Ken.
In a statement, the Somali Ministry of Foreign Affairs pointed out that the Kenyan government has exerted great political pressure on the regional leader Madobé, the southern semi-autonomous state of Jubaland in Somalia, in recent weeks to achieve Kenya's political and economic interests in Somalia.
Due to the intervention of the Kenyan government, Jubaland's regional leaders rejected the election agreement reached in Mogadishu, the capital of Somalia, on September 17, 2020. The Somali Ministry of Foreign Affairs said that Kenya's intervention in Sonei has the potential to hinder stability, security and development throughout the region.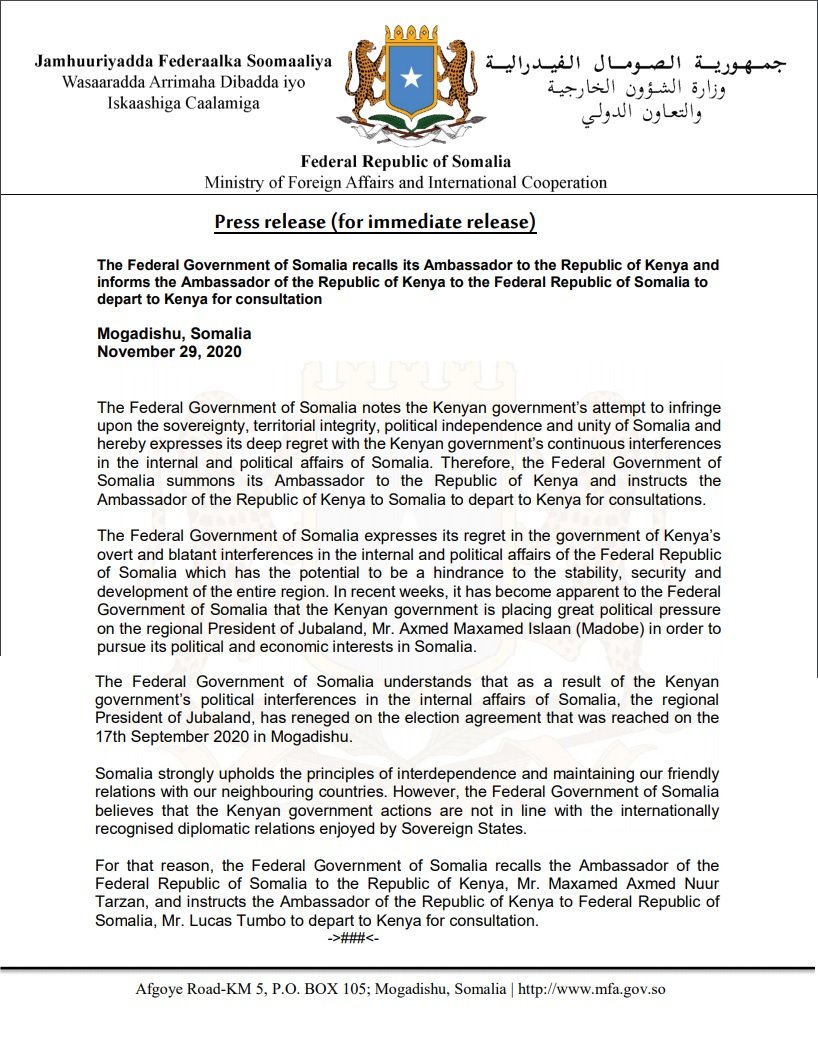 It is reported that the Jubaland region in southern Somalia is adjacent to Kenya and occupies an important position in the offshore oil and gas field of East Africa and the Horn of Africa.
The Kenyan government issued a statement in February 2019 that in view of Somalia's oil exploration activities in disputed areas, it decided to recall the ambassador to Somalia and Request the Ambassador of Somalia to Kenya to leave the country.