February 7th – Foreign media said that recently, the sandstorms in the Sahara Desert have blown to France, the sky in many places has turned orange, and the ski resorts have also been dyed yellow.
According to the Sun on February 6, the dust in the Sahara Desert swept across the African continent and came to France again.
The snow in the Alpine ski resort is also dyed yellow, while the Chamoni Blanc Gorge is orange.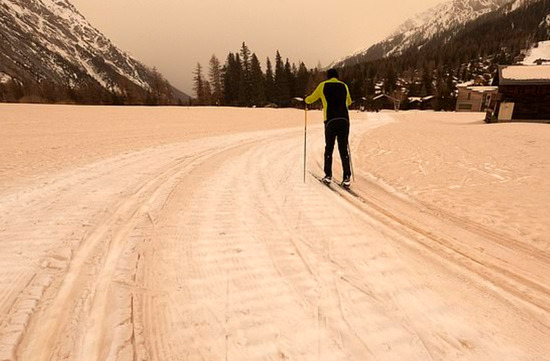 French meteorologists say this phenomenon is related to a strong south wind, which brings spring temperatures, but also brings a large amount of Saharan dust suspended in the atmosphere and covers most of southern France.
The French National Meteorological and Climate Service tweeted satellite maps and wrote: "From space, the low-pressure system in the Iberian Peninsula organized a strong southerly wind, bringing the sand of the Sahara Desert to France."
Despite the abnormal weather, the sand and dust concentration from the African desert has increased, skiers are still skiing, and local residents are sharing pictures of the scene.