On October 26, local time, according to a report from the US Centers for Disease Control and Prevention, the number of deaths in the United States has exceeded expectations by nearly 300,000 since 2020. Of these "excess deaths", two-thirds are directly attributable to Coronavirus pandemic. 
The report shows that between late January and October 3 this year, the number of "excess deaths" in the United States was 299,028, of which 19,081 deaths were due to new Coronavirus.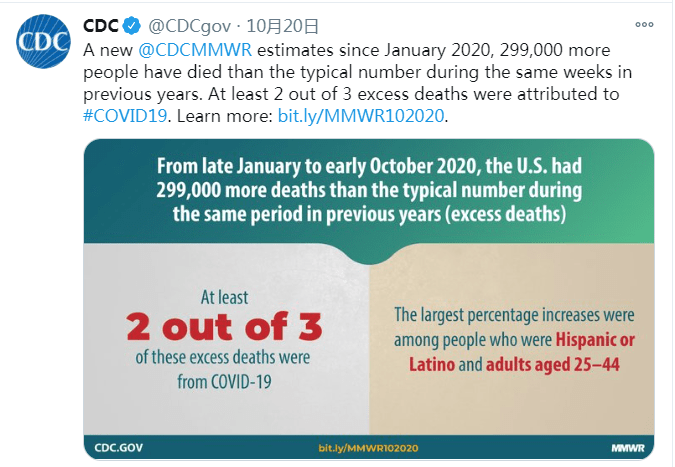 At the same time, the age and ethnicity trends in the CDC report also reveal how the Coronavirus pandemic hits minority ethnic groups. Statistics show that compared with the average number of deaths per week, the number of "excess deaths" in Hispanic, black, and Asian communities is higher than that of whites, reaching 53.6%. 
According to age demographics, "excess deaths" mainly occur in the elderly. However, at the peak of the Coronavirus pandemic in July, there was a significant surge in the number of "excess deaths" between 25 and 44 years old. This shows that the Coronavirus pandemic is not only dangerous to the elderly.
Earlier in October, research from the Virginia Commonwealth University School of Medicine showed that by the end of 2020, the number of "excess deaths" in the United States may exceed 400,000.
"Excess deaths" is an indicator that is often used to assess the impact of abnormal events. It calculates how many deaths are higher than the expected average.