February 3rd – Pakistan launched the coronavirus vaccination work on the 2nd local time.
A Pakistani doctor was vaccinated against the Chinese coronavirus at the vaccination launch ceremony.
Pakistani Prime Minister Imran Khan and other officials witnessed the process, and Imran Khan thanked China.
According to Pakistani newspaper Dawn and other media on the 2nd, Imran Khan, Asad Omar, Minister of Pakistan's Federal Ministry of Planning and Development (Asad Umar), Faisal Sultan, Special Assistant to the Prime Minister for Health Affairs, and other ministers attended the vaccination ceremony on that day.
A doctor from Islamabad was vaccinated with the first vaccine, and Imran Khan, Sal Sultan and others witnessed the process.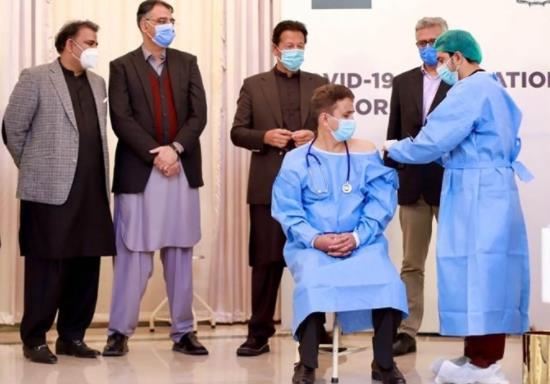 At the ceremony, Imran Khan thanked the Central Government for providing vaccines to Pakistan. He reiterated that the vaccines will be provided first to front-line medical personnel serving COVID-19 patients, and secondly to the elderly.
Imran Khan wants all healthcare workers to be vaccinated because they are at the greatest risk. He also called on people to wear masks and continue to abide by epidemic prevention regulations.
Pakistan's Drug Administration approved the emergency use authorization of the national drug coronavirus vaccine on January 18. On January 21, State Councilor and Foreign Minister Wang Yi talked to Pakistan's Foreign Minister Qureshi by telephone at his request.
Wang Yi said that the Chinese government has decided to provide vaccine assistance to Pakistan and actively coordinated Chinese enterprises to accelerate the export of vaccines to Pakistan.
Qureshi, on behalf of the Palestinian government and people, thanked the Chinese government for its decision to provide vaccine assistance and procurement facilities to Pakistan.
A batch of coronavirus vaccines donated by the Chinese government to Pakistan was officially handed over to Pakistan on February 1 at Nur Khan Air Force Base near Islamabad.