American media monitoring organization "American Media Research Center" released a survey on American social media. According to the survey, since May 2018.
US President Trump has been censored 65 times by Twitter and Facebook, but Democratic presidential candidate Joe Biden has never received censorship from social media giants.
As soon as the investigation came out, it once again aroused American society's attention to the current reality of social media differentiation. 
Public opinion believes that the current division of social media in the United States is becoming more and more intense, which has contributed to the intensification of the tearing of the entire society.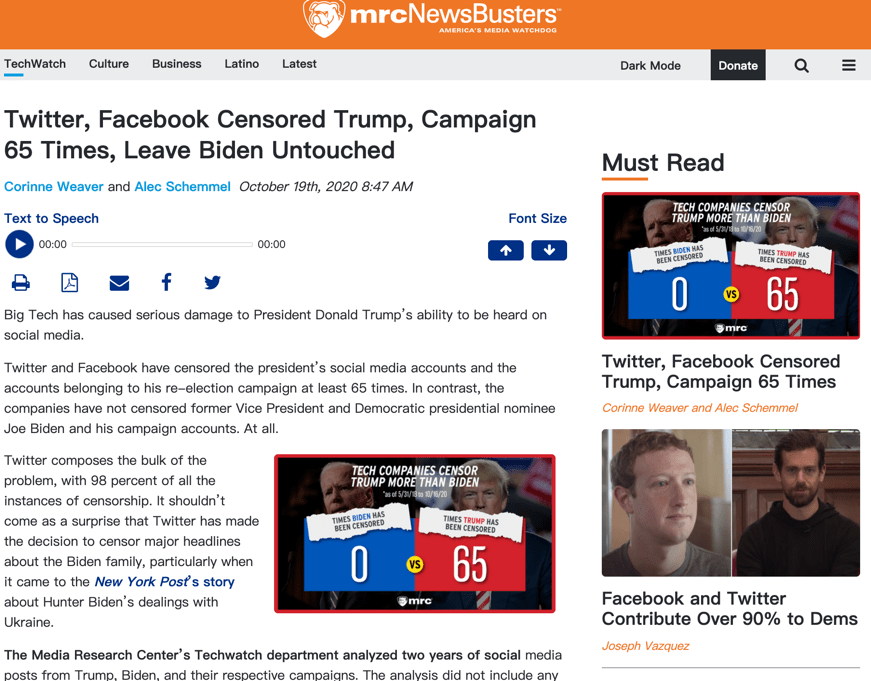 Facebook Twitter "deleted posts" was criticized, social media squad aroused concerns
A few days ago, the US "New York Post" reported that it obtained information from the computer abandoned by the Democratic presidential candidate, Biden's second son, Hunter Biden, and discovered sensitive communications between Hunter and a senior executive of a Ukrainian energy company.
Involved in corruption. At the critical moment when the general election is entering the countdown, the report naturally attracted widespread attention immediately. But surprisingly, Facebook and Twitter have restricted the spread of this article on social media, and many Twitter accounts that repost this article have even been frozen. 
This move was criticized by many conservatives as "speech censorship."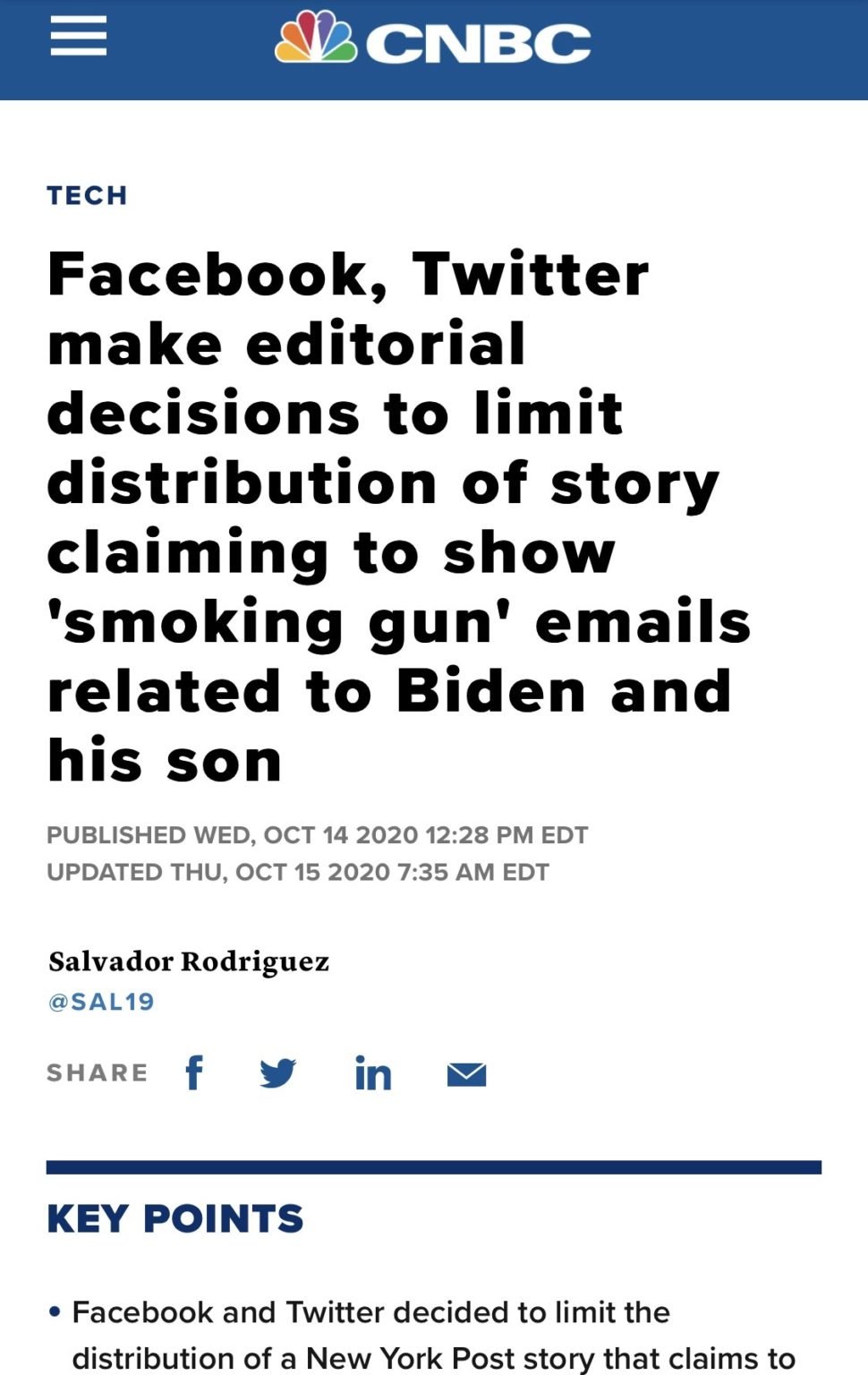 After being criticized and pressured by all parties, Twitter stated that it prohibits users from forwarding and sharing the link to the report because the report violated the relevant regulations of the platform and disclosed the private email address and phone number without permission.
Such information violates platform policy. Facebook also stated that the reason for restricting this article is to conduct fact-checking through a third-party agency to ensure the accuracy of the information contained in the report and avoid the spread of false information.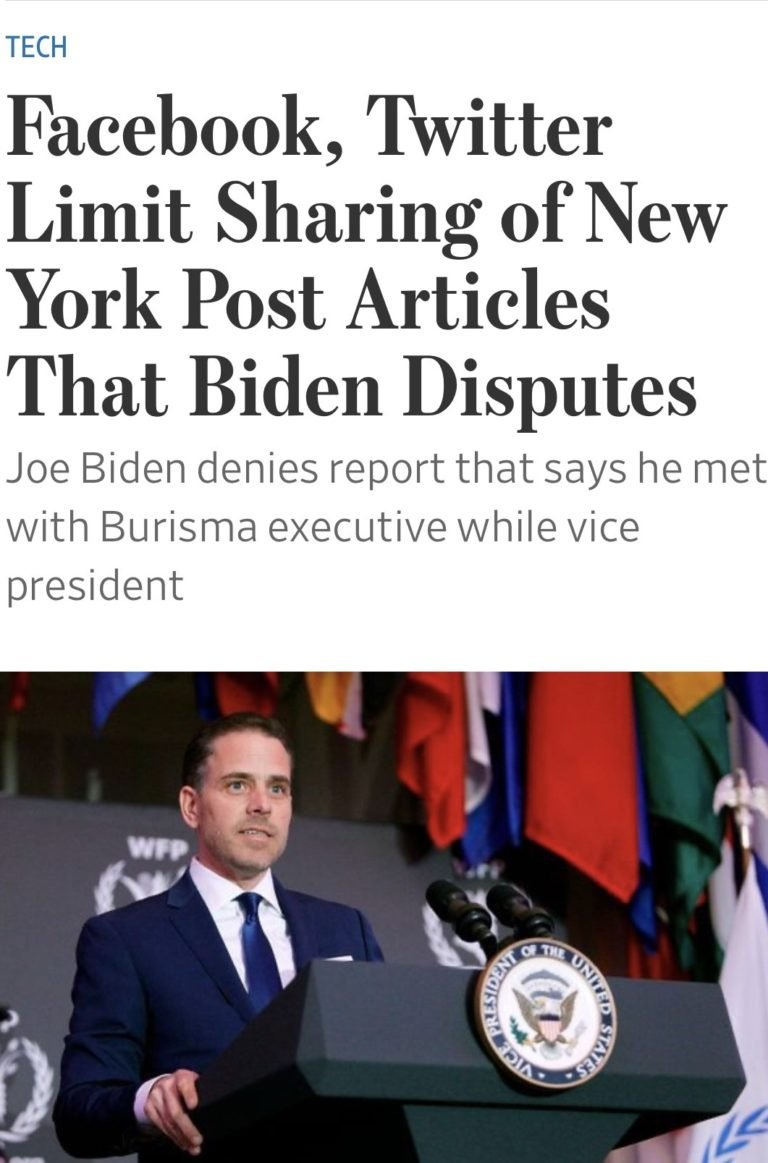 Regarding the "deleting" behavior of Facebook and Twitter, the liberal media are generally calm and gentle, but the conservative media represented by Fox is furious. 
Fox News stated that Facebook and Twitter's move was completely endorsing the Democratic Party to cover up the "questionable behavior" between Biden and his son and Ukraine.
"52% of people in the United States think Biden is very frank. Because when he lied, the media of the democratic parties would totally ignore and cover up his lies. This is really irritating and disappointing."
Regardless of how the two media "protect the shortcomings" or "swagger" the "deleted posts", Facebook and Twitter have aroused criticism from rational people in American society. 
Many people questioned the behavior of the two major social platforms just because they have always been "side-by-side Democrats" and this time it was just to maintain the image of the Democratic candidate Biden. 
Even the chief executive of Twitter, Jack Dorothy, had to admit that when Twitter initially restricted the New York Post's coverage, it did not give a reasonable explanation, which was "unacceptable".
social media giants all flowed to the Democratic Party, and the political tendency appeared one-sided
A recent survey conducted by the American Media Research Center in October showed that since 2020, Facebook and Twitter employees have donated millions to the Democratic Party through personal donations or donations to the Political Action Committee of the United States. Dollar.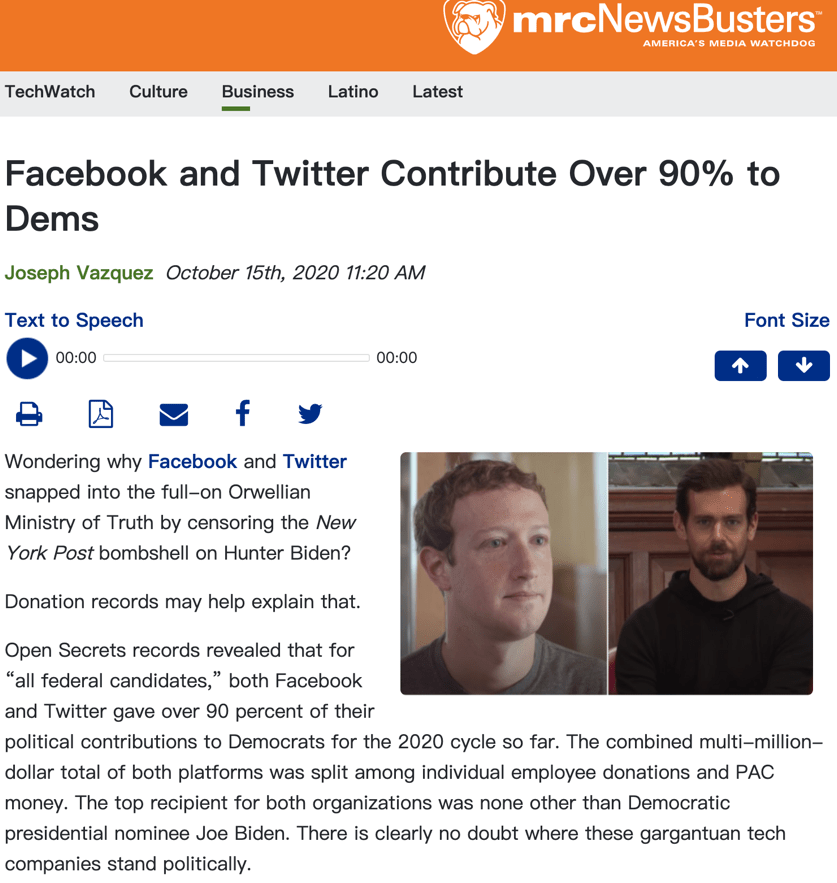 Among them, Twitter employees donated $347,270 to the Democratic Party, accounting for 98.99% of the company's total federal donations. 
However, the company's donation to the Republican Party was only $3,556, only 1.01% of the company's total federal donations.
Similarly, Facebook employees have donated $2.4 million to the Democratic Party, accounting for 91.68% of the company's total federal donations. 
The company's donation to the Republican Party was only about $30,000, accounting for only 8.2% of the total donation.
The Democratic candidate Biden has also received more than $700,000 in donations from employees of Twitter and Facebook.

It can be seen that most employees of American social media giants have left-leaning political leanings. According to Vox News, some Republican employees in Twitter have stated that the "too leftist" political stance of the entire company often makes them "unable to express their views and ideas at ease" and feel invisible pressure within the company.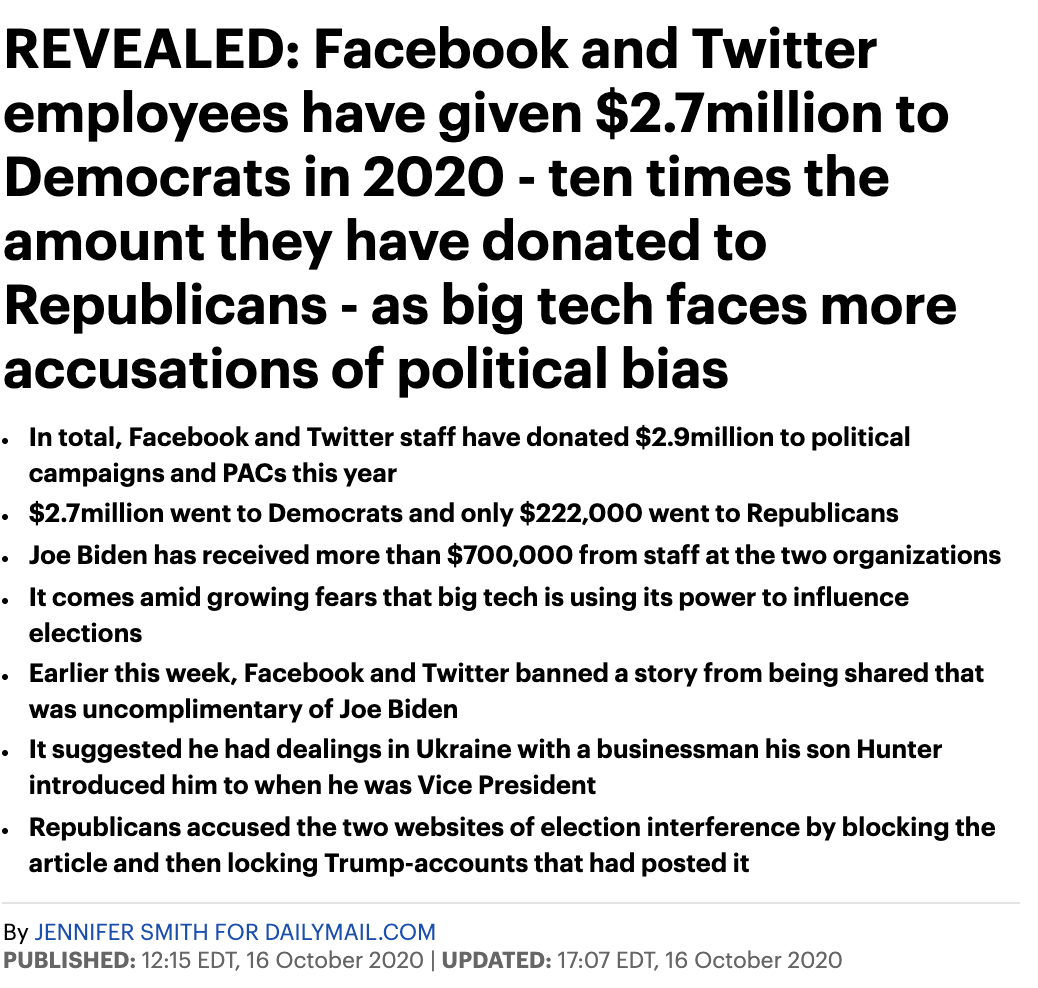 Twitter CEO Jack Dorothy also said: "Like most technology companies in Silicon Valley, Twitter has far more Democrats than Republicans."
Nowadays, the "Left Deviation" phenomenon of American social media giants is attracting more and more attention from the society. The Pew Research Center investigated the influence of technology giants on the United States as early as last year. 
The results showed that respondents, whether from conservatives or liberals, are declining positive reviews of technology giants. Among them, positive reviews have dropped from 71% to 50%, and negative reviews have risen from 17% to 33%.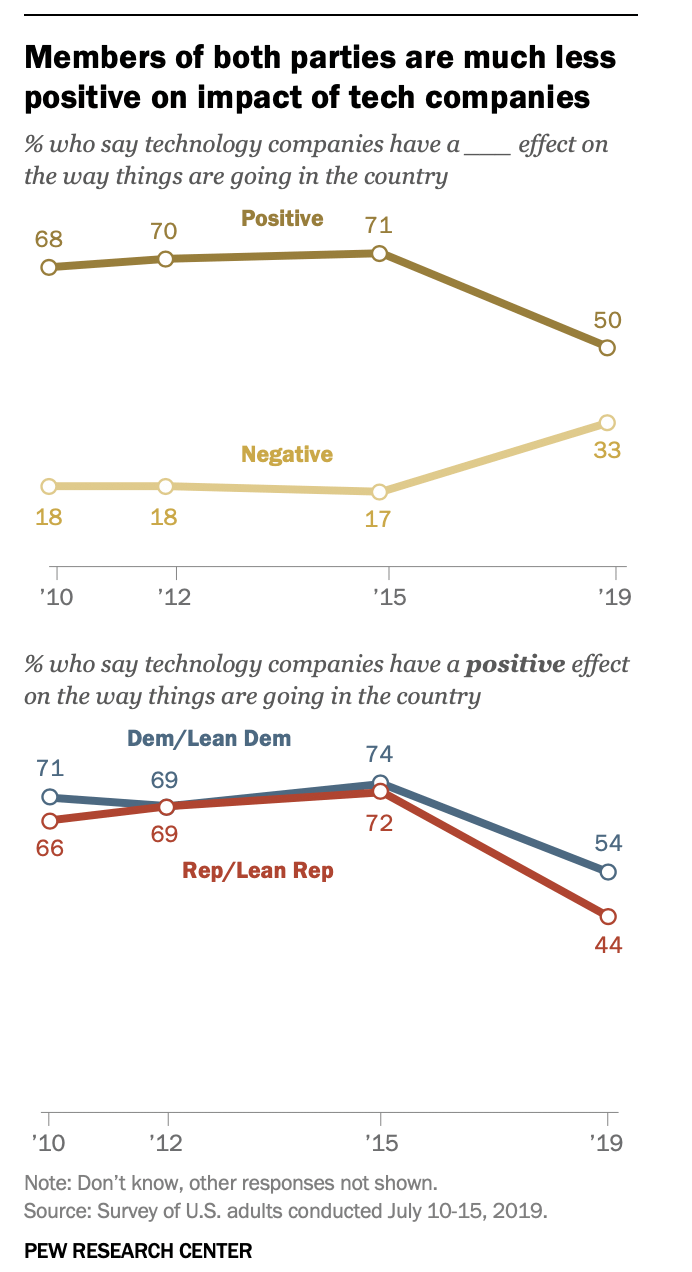 In particular, the excessive influence of technology giants on American politics has attracted more attention. 
Another survey conducted by the Pew Research Center in July this year showed that 72% of adults in the United States believe that the current social media giants have too much power to "dominate national politics"; whether they are liberals or conservatives, It is believed that the current social media giants have too much power, and few respondents believe that the current power held by social media is appropriate or insufficient.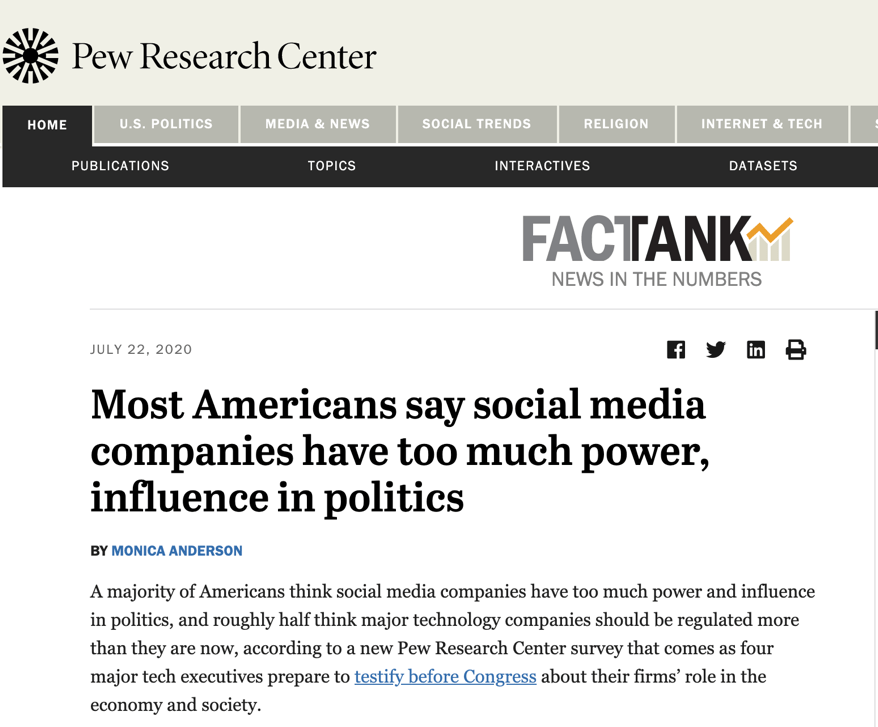 The survey shows that 47% of Americans support the government's stricter measures to strengthen the supervision of technology giants, 39% think that the current supervision can be maintained, and only 11% of Americans think that supervision can be reduced.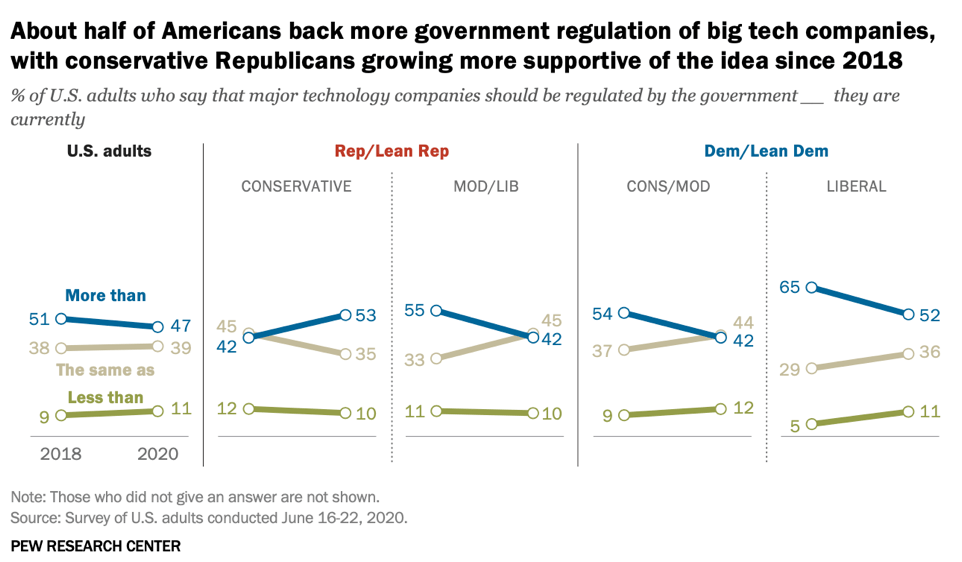 Some public opinion said that social media should not "stand in line" on political issues. They should be honest, transparent, and stop screening "appropriate information" and censorship. 
The American Media Research Center stated that Americans should unite to resist the excessive influence of social media giants on national politics.
Deterioration of the network environment, false and hatred intensified social division
As social media enters public life more and more deeply, Americans' criticism of social media has also increased. A latest survey conducted by the Pew Research Center in October this year showed that 64% of people in the United States believe that social media has a negative impact on the United States. Respondents generally believe that the selection of sides on social media has not only intensified the division of the two parties, but also intensified the division of the public.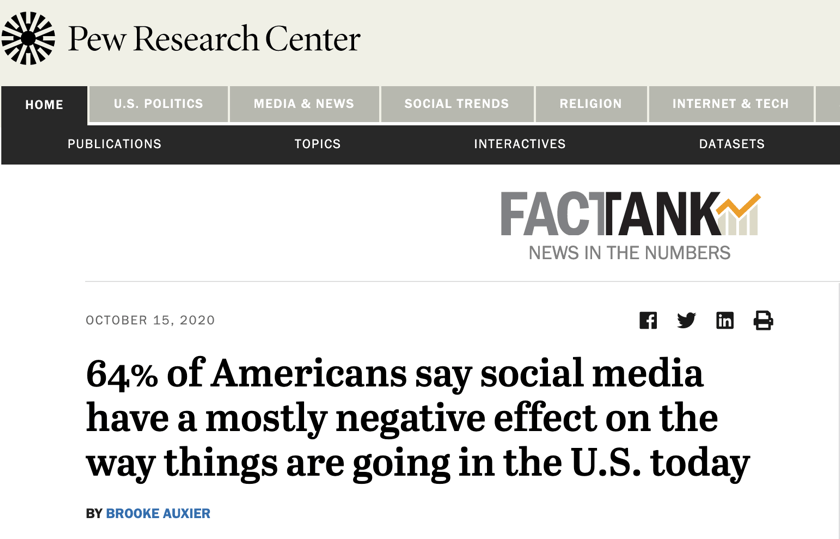 First of all, because social media often uses algorithms to push users close to content that meets their ideas and interests, this makes users spin around in their own information field and fall into the "echo wall" cycle. 
Compared with other people who get news and information from various channels, people who rely on social media have more difficulty obtaining comprehensive, accurate, and objective information, and their judgments and decisions are inevitably biased.
Second, social platforms usually gather people with similar political opinions and positions, which makes it more difficult for them to break out of their inherent thinking patterns and listen to different opinions. 
People are often accustomed to only looking for people with similar views and attitudes, which in turn further solidifies their prejudices and propositions, and is easy to cultivate extreme political stances and false prejudices. 
Not long ago, a group of extreme-rights in Michigan conspired to kidnap the governor. They first communicated online and formed a gang.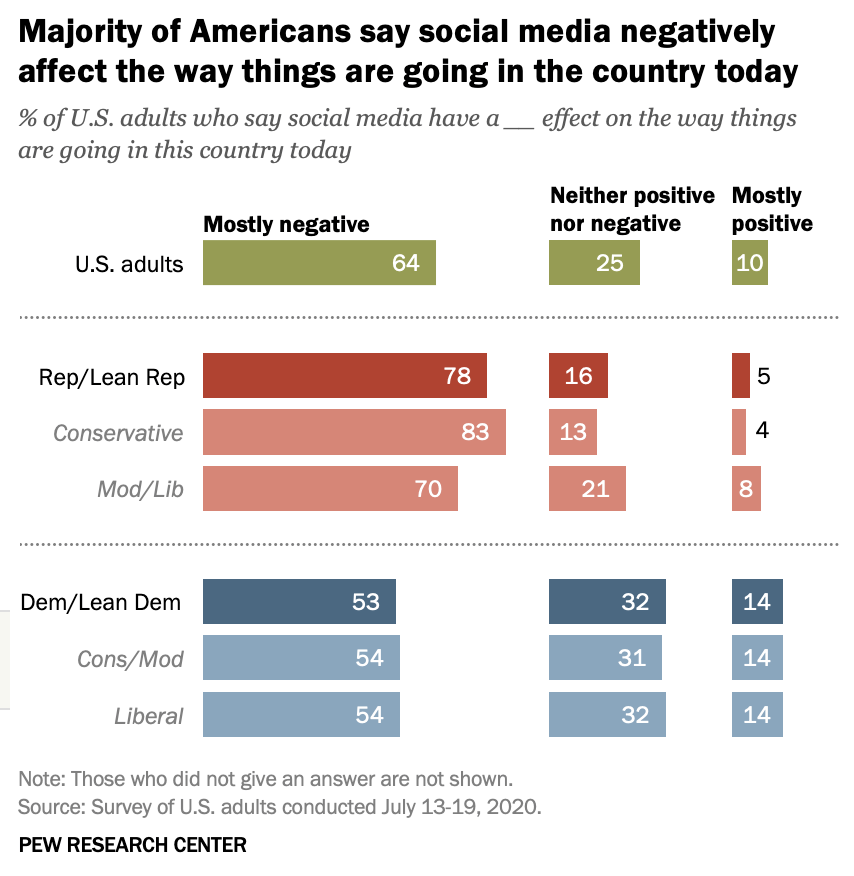 Finally, many people believe that social media often spread false information, not even transmitting information, but arousing or even stirring up the emotions of netizens, thereby intensifying political and social conflicts. 
Not long ago, in the nationwide protests against police violence and for equal rights for blacks, there were rumors on the Internet that protesters had poisoned the police coffee and even used cars to transport weapons to support the violent resistance, but they were all confirmed afterwards. False information. 
According to data from the Pew Research Center, 28% of people who have a negative view of social media listed "false information" as the primary cause of negative influence, and 16% listed hatred and extreme speech as secondary reasons All these have severely damaged the harmonious and healthy network environment, resulting in the current social platforms not only "full of political prejudice", but also "extremely unreliable".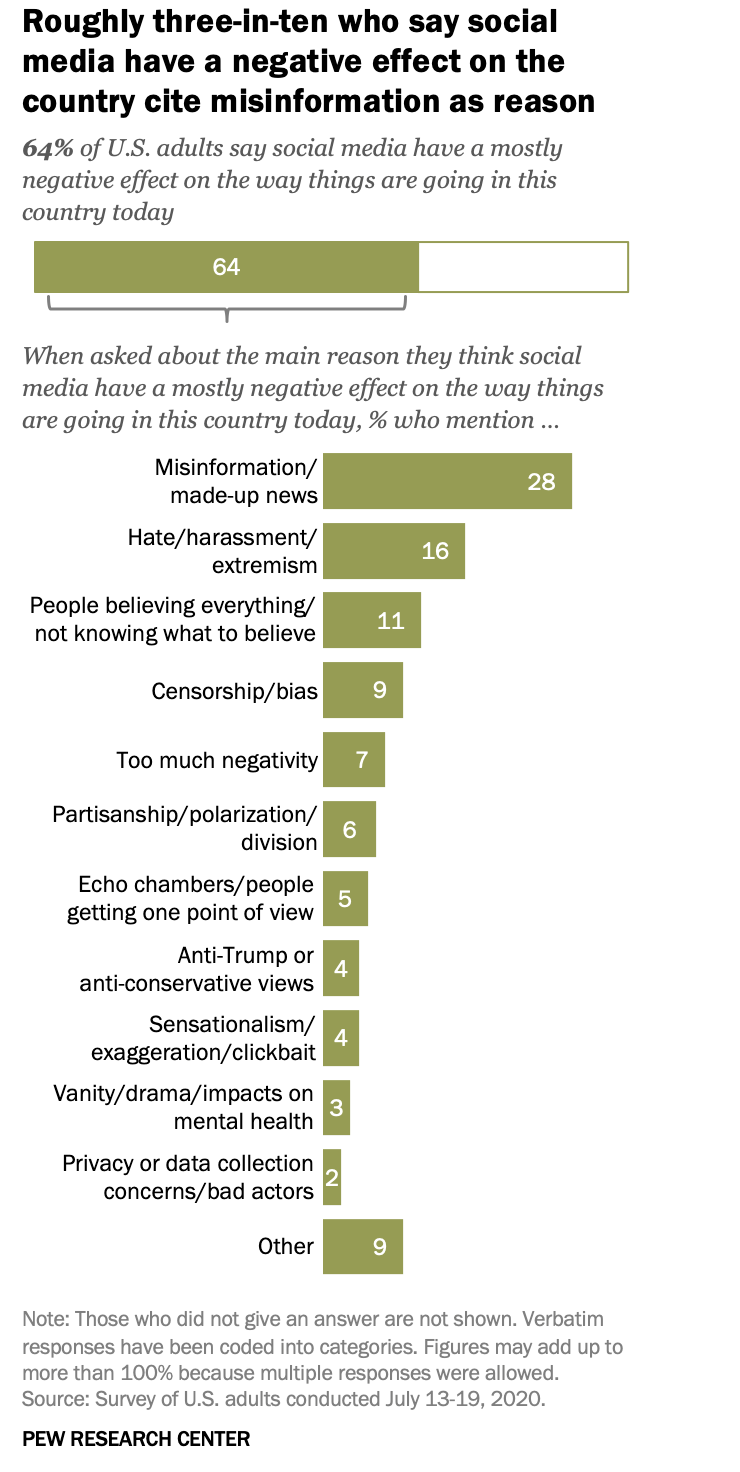 Many Americans said, "Nowadays, many people either blindly believe everything they see online, or they don't know what to believe at all." People are used to arguing and venting emotions on social media, even if they have a rational voice.
I was drowned in a battle of accusation and scolding. For this kind of increasingly serious division and tearing, many people express their concern but also feel helpless.