Microsoft : COVID-19 vaccine manufacturer has been attacked by hackers supported by foreign institutions
media reported that hackers suspected of being supported by Russia and North Korea have regarded manufacturing companies involved in the development of the COVID-19 vaccine as targets. 
Technology giant Microsoft said on Friday that it had discovered such attacks against seven companies in the United States, Canada, France, India, and South Korea. 
Unfortunately, although it has managed to prevent "most" attacks, Microsoft still admits that some of them have succeeded.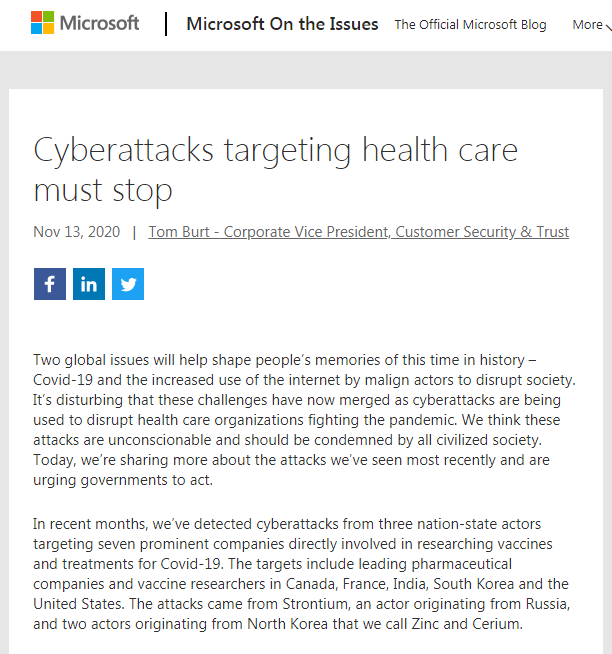 At present, Microsoft has sent a notice to the affected company, but refused to disclose the exact name. Tom Burt, head of customer security and trust at Microsoft, wrote in a blog: "We believe these attacks are unreasonable and should be condemned by all civilized societies."
It is reported that these attacks originated from three different hacker organizations, including Strontium (also known as APT28 or Fancy Bear), which has an unclear relationship with Russia.
Strontium uses Password Spraying to target victims, which usually involves recycling passwords.
The last time there was a big disturbance was the dissemination of false information and hacking operations during the 2016 US presidential election. At the same time, the organization was also accused of a series of other high-profile attacks on the media and companies.
The second hacker group is called Zinc (also known as Lazarus Group) by Microsoft. It is suspected of being connected with North Korea and is good at defrauding victims' password credentials through phishing emails.
It is said that the Sony hacking in 2016, the WannaCry ransomware in 2017 and other incidents have Lazarus behind the scenes.
The third hacker group is Cerium, which is relatively low-profile. Microsoft knows very little about this organization, which is suspected to be related to North Korea, but accuses it of using phishing emails disguised as representatives of the WHO to undermine the global efforts to fight the COVID-19 pandemic.
Tom Burt called on leaders from all over the world to take up legal weapons and participate in the protection of medical institutions. And within the permitted scope, take sanctions against relevant cybercriminal groups.