April 25 2021 These days, India can not stop the situation of the pandemic, people have a time to go back to the illusion of early 2020.
Nearly a million people were diagnosed in three days; one person died every five minutes in the capital New Delhi; patients were taken to hospital by ambulance without beds; helpless people had to witness the death of their loved ones…
Why did the country, which launched its vaccination programme early after Coronavirus vaccine, be torn down by the outbreak in just a few months?
– "Relax your guard" to fuel the outbreak
By the end of 2020, Indian officials announced that the country had turned the tide of the outbreak and that the situation appeared to be in good shape.
At the beginning of 2021, India's Coronavirus infection rate has steadily declined, with the number of new cases falling below 10,000 in a single day. By mid-February 2021, India had added an average of 11,000 new cases per day and less than 100 deaths in seven days.
The authorities and the public began to relax their vigilance, religious activities and political elections continued to be held, high-level officials, religious leaders attended large-scale gatherings of people, many people do not take basic protective measures, including wearing masks, keeping a distance.
On April 12, local time, more than 2 million Hindu pilgrims gathered on the banks of the Ganges River to bathe in the river to celebrate the "Big Pot Festival", most of them without masks. The indian police simply cannot impose restrictions because of the sheer size of the population.
Unsurprisingly, the number of new confirmed cases in India has reached new highs since the "Big Pot Festival". On April 24, local time, the number of new cases in a single day exceeded 300,000 for three consecutive days. On average, one person dies of neo-pneumonia every five minutes in the capital, New Delhi.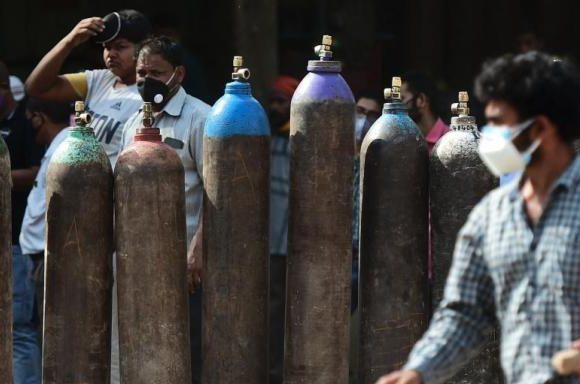 Lack of medical care and lack of medicine led to a surge in deaths
As a country with a population of nearly 1.4 billion, there has always been a shortage of medical care and medicine in the lower echelons of Indian society. The problem is exacerbated by Coronavirus outbreak.
Dr Gogia, a consultant at Sir Drigalam Hospital in Delhi, India, said there were no beds in the emergency room because of the surge in patients. "We don't have that much oxygen. The places where oxygen supplies are provided are already overcrowded. Patients are allowed to bring their own oxygen cylinders, but not necessarily oxygen. We all want to help them, but there are not enough beds and there is not even oxygen to provide them. "
"All our phone lines are full," he said. People have been calling the helpline. Outside the hospital was also chaotic: ambulances stopped and patients tried to get off, but the problem was that there were no beds. "
"After 20 years in the intensive care unit, I've never seen anything like it," said Sinha, an intensive care specialist in the eastern Indian city of Kolkata. "
Day and night are filled with helplessness, anxiety and fear, and there is relentless bad news.
All life-saving necessities are in short supply or can only be found on the black market. Gujarat, Uttar Pradesh and Haryana also face severe shortages. The Indian Air Force is delivering oxygen tanks and supplies to different parts of the country.
Indian Prime Minister Nare modi recently met with chief ministers and oxygen producers in the worst-hit states. He called on states to work together to stop hoarding and black-market trading, and said the government is also considering further conversion of industrial oxygen for use as medical treatment to ease the crisis.
Vaccination has a long way to go
For India, which is ambitiously planning vaccinations, there is a long way between ideal and reality.
As early as mid-January 2021, Prime Minister Narenot Modi launched a plan to vaccinate more than 1.3 billion people against Coronavirus, which he proudly told Indians showed the world India's capabilities.
By late April, however, India had received only about 130 million doses of the vaccine, far short of the "mass immunization" requirement. Moreover, early vaccination is limited to priority groups such as health care workers, front-line personnel and persons over 45 years of age.
Although India suspended exports of Coronavirus vaccines in late March, by mid-April, Indian media reported shortages of vaccines in several states, the closure of hundreds of vaccination centers and the stock of vaccines for only a day or two at the remaining open vaccination sites.
The Indian government said on April 19th that from May 1st all adults over the age of 18 will be vaccinated against Coronavirus. However, there are concerns that the existing gap in vaccine supply may further slow the pace of universal vaccination.
– Virus mutation or worse
More worryingly, unlike at the start of the 2020 outbreak, India's surging new coronavirus has mutated and mutated again.
India announced on March 25th that a new variant of the coronavirus "double mutation" had been detected in samples collected from different states.
The BBC quoted virologist Jamil as explaining that double mutations in key areas of the virus's protrusion protein could make the virus more contagious. Mutations in the virus are the only "reasonable explanation" for the surge in confirmed cases, he said.
Jamil also said India was "late" to screen for virus mutations, and that as of December 2020, only 5,000 samples had been genetically sequenced and "no concerted action" had been taken. He noted that in January, India took action to coordinate the accelerated pace of laboratories and began operations in February, but "unfortunately, a second wave (of the outbreak) has begun". Sequencing is important in a pandemic because it allows scientists to monitor changes in viruses.
Health officials in the UK are also investigating whether India's "double mutation" virus is more easily transmitted and whether it can circumvent the immune protection provided by the vaccine.
Dr. Camille, a virologist at Louisiana State University in the United States, said a mutation in a variant virus found in India is similar to a mutant virus mutation found in South Africa and Brazil. And the mutation may help the virus evade antibodies in the immune system that can fight the new coronavirus based on previous infections or vaccine experience.
"The situation in India is a painful reminder that viruses can be so rampant." The Director-General of the World Health Organization, Tan Desai, said. Scientists have warned that vaccination does not mean it can prevent infection. Even after Coronavirus vaccine, should do a good job of pandemic prevention measures, should not be taken lightly.