The situation in India's Coronavirus outbreak remains critical.
On May 12, India's Ministry of Health reported 348,000 new confirmed cases on the 11th. India has seen more than 300,000 confirmed cases for 21 consecutive days, but the number in recent days has fallen from last week. As of May 11, india had confirmed more than 23.34 million cases.
Meanwhile, India added 4,200 deaths on May 11. As of May 11, India had accumulated more than 254,000 new deaths.
India's central government on Monday asked local governments to stop dumping bodies on the Ganges river and its tributary, the Yamuna River, after dozens of bodies of suspected new champions appeared.
India's central government has spoken out about the Ganges floating corpse
India's central government on Monday asked states along the Ganges River to stop dumping bodies in the Ganges, the Press Trust of India and India Today reported.
Gajendra Singh Shekhawat, India's water minister, said the government had taken "serious note" of the matter and had taken steps to ban it. He added that relevant government agencies would ensure that all unidentified bodies were disposed of in accordance with the rules.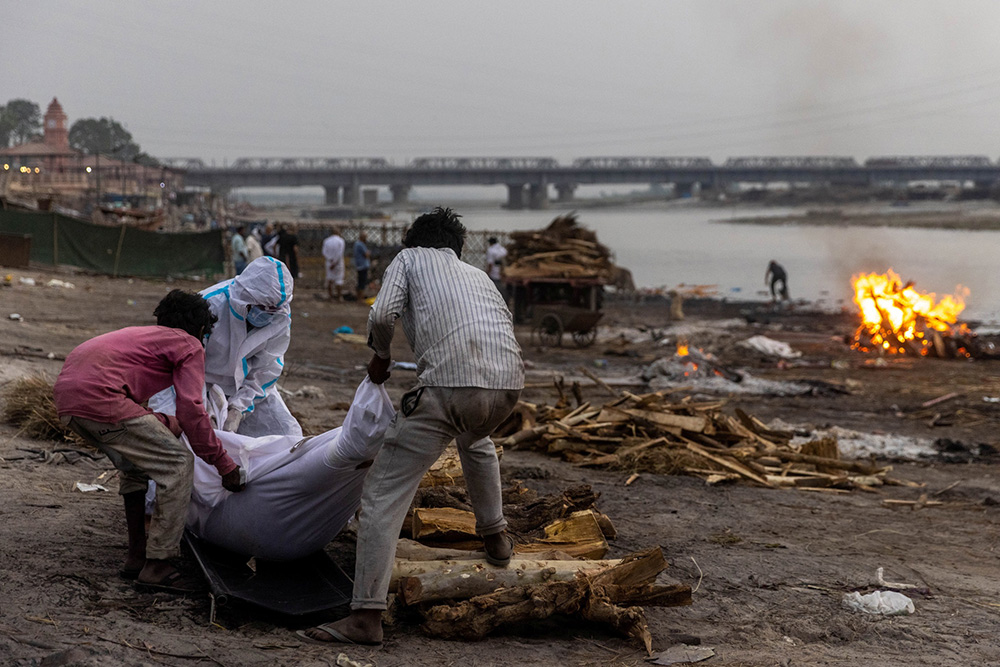 The National Clean Ganges Commission, part of the Ministry of Water Resources, has also asked authorities everywhere to be vigilant to prevent future acts of abandonment of the Ganges.
It has previously been reported that the Ganges and its tributaries, the Yamuna River, have emerged suspected of being the Coronavirus of the dead floating bodies, and the remains were washed up on the riverbank. At least 40 bodies were recovered on May 10 in the Ganges river section, 55km downstream of Gahmar, Uttar Pradesh, the BBC reported on May 11. The background and identity of the dead are not yet known, and it is not clear whether they are the Coronavirus deceased.
The Hindu newspaper reported on May 12th that at least 20 rotting bodies had also been found on the Ganges river in Ghazipur, Uttar Pradesh, on May 11th. Police are investigating whether they died of neo-pneumonia, but so far they have neither identified nor traced the source. Singh, a local official, said the source of the bodies was being traced, New Delhi TV reported.
The remains of suspected new victims have also been found along the Ganges River in chausa, Bihar state, where 71 bodies were recovered and buried by local authorities on May 11, and a post-mortem examination has been carried out to preserve DNA samples.
Wipe cow dung against the Coronavirus? Experts warn
In the western Indian state of Gujarat, people go to cowhouses once a week and apply cow dung and cow urine to their bodies, which they believe will boost immunity or help them recover from Coronavirus, Reuters reported on May 12.
As these people wait for their steaks to dry out, they embrace them or pay their respects, and practice yoga to "get more energy out." Finally they washed away the dirt with milk.
Indian medical experts have warned of the use of steak waste to ward off Coronavirus, saying there is no scientific evidence to prove its effectiveness and that it could spread other diseases. J. Jayalal, national president of the Indian Medical Association, said: "It's a good "There is no conclusive scientific evidence that cow dung or cow urine increases immunity to the Coronavirus, which is based entirely on faith," says A. Jayalal. "
Hinduism considers cattle to be a sacred animal. In the second wave of outbreaks, cattle-related "bias" is not the first to occur in India. A lawmaker from the ruling Bharatiya Janata Party in Uttar Pradesh, India, also released a video on May 7 calling on people to drink cow's urine to fight the Coronavirus outbreak.
According to the Indian Express, there is a Coronavirus treatment centre for patients with severe illness in Banaskantha county in northern Gujarat state. The centre was established on 5 May and currently treats seven patients. The center claims to follow traditional Ayurvedic medicine in India, treating patients with drugs made from milk and cow urine.