Indian officials reported a number
Indian officials reported a number According to the "India Express" report, an official in charge of epidemic forecasting in India said that the country's new Corona epidemic "peak has passed", the official also said that the final number of infections in India will not exceed 10.6 million.
According to reports, the above conclusion was released on the 18th by a scientific committee appointed by the Indian government. The committee is led by Professor Vidya Sagar of the Indian Institute of Technology, Hyderabad.
They claimed to have calculated through computer modeling and found that the new Corona epidemic in India reached its peak in mid-September, and the final number of infections is unlikely to exceed 10.6 million.
The committee also spoke highly of the blockade measures implemented by India in March, and believed that this played a vital role in controlling the spread of the new Corona virus.
They said their calculations showed that if there were no blockade measures, India would have died due to the epidemic. It may reach 2.5 million, while the number of deaths in India is currently 114,000.
However, the report did not clearly explain the specific circumstances of this analytical model in India, nor did it provide relevant information for verification.
India Statistics
Statistics show that India has continuously expanded its testing efforts since June
And the proportion of people tested per 1,000 people has increased significantly
and more confirmed cases have been screened.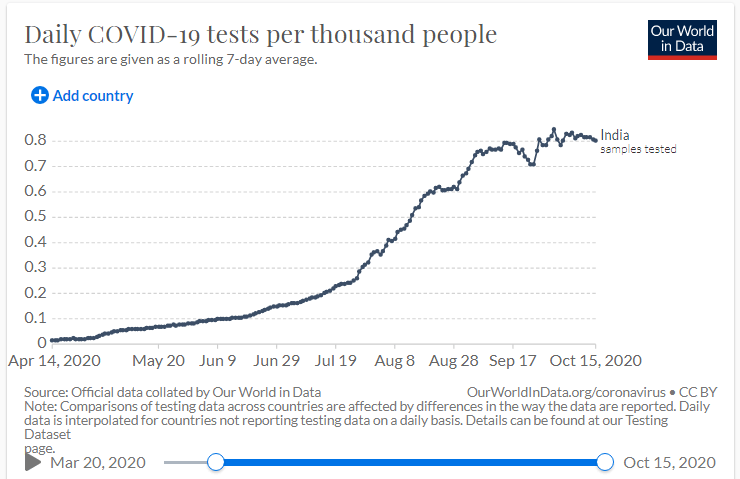 Source: "Our World in Data" data network
However, a BBC News report on October 6 pointed out that India has significantly increased the number of tests in recent months, largely because India chose to adopt a faster and cheaper antigen test method.
However, the test method The accuracy is also relatively low,
in some cases the accuracy rate is even lower than 50%.
Therefore, the report believes that in this case, although the growth of confirmed cases has slowed down
It is still difficult to determine whether the peak of the epidemic in
India has passed due to the problem of accuracy.
According to data from Johns Hopkins University, India added about 59,000
confirmed cases on the 17th. So far, India has a total of 7.53 million confirmed cases and a total of 114,000 deaths.