Over the past few days, winter storms have ravaged many states in the central and southern United States. Among them, Texas, Louisiana and other states are in serious condition. The temperature in Houston is lower than that in Alaska near the Arctic Circle, and the temperature in parts of Dallas is minus 45 degrees.
According to CNN, as of February 18 local time, the winter storm has killed at least 38 people in the United States, suffered continuous power outages for millions of homes and businesses, and greatly affected water and fuel supplies. In the hardest-hit Texas, hundreds of thousands of people have been out of power for four consecutive days.
However, while the American people are suffering from the cold and darkness, suffering and other government help, some American politicians play the game again.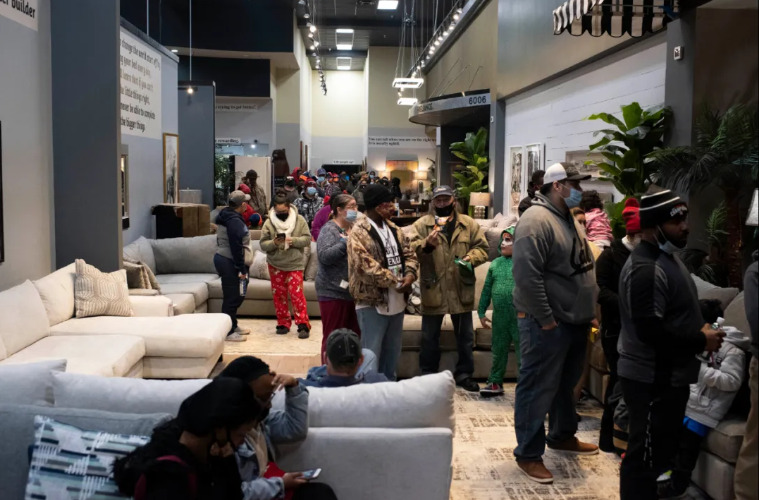 The mayor said strangely: the people's lack of electricity and water depends on themselves.
In the small city of Colorado, Texas, the lowest temperature is now more than minus 20 degrees. Nearly half of the residents of the small city suffered from power outages in the severe cold and had to do everything possible to warm themselves.
However, the mayor of the city, Tim Boyd, posted on social media on February 16 to completely shift the government's responsibility and attacked some people as "lazy and weak".
Boyd said on social media: "We don't owe you and your family anything, and it's not the responsibility of the local government to help you in these difficult times! Survival or death is your own choice! Government and power providers and other service providers don't owe you anything!"
The mayor also said that people without electricity and water should find their own way to survive, rather than "lazyly waiting for others to save them".
Boyd's fallacy has been fiercely criticized on the Internet. Some American netizens directly scolded Boyd for not being a mayor.
In the wake of strong public outrage, the mayor deleted the relevant remarks on social media and resigned.
Politician nonsense: Power outages are caused by clean energy
The collapse of Texas' electricity system has become an excuse for some politicians to attack clean energy.
In extreme cold weather, the capacity of some wind turbines in Texas was "frozen". Although wind power accounts for only 7% of Texas's winter planned electricity generation, some conservative politicians complain that Texas is overly dependent on renewable energy.
Texas Governor Greg Abbott threw the power outage pot to the Green New Deal in an interview.
The "Green New Deal" was proposed by the United Nations more than a decade ago to combat climate change, and has never been implemented in the United States. But Greg Abbott not only blamed the "Green New Deal", but also called it "fatal policy".
The act of throwing the pot was immediately criticized by Congressman Alexandria Ocasio-Cortez, known as the "vanguard of the Green New Deal" – "80% to 90% of Texas's energy comes from fossil fuels, and the real 'lethal policy' is Governor Abbott's failed leadership."
Ocasio-Cortez believes that the main problem in Texas is that officials are not fully prepared for cold weather, such as building ice prevention systems to help wind turbines operate in cold and low temperatures.
The Texas scenario is warning politicians who don't value climate change, he said on social media, "they're not prepared for the long term for a disaster, and in the long run, we must recognize that it's the consequence of inaction."
Texas Board of Agriculture member Sid Miller also "without hesitation" seized the opportunity to slander wind energy, proposing that "we should never build another wind turbine in Texas". He also made a more misleading statement in another article, saying, "Those ugly wind turbines are one of the main reasons for our power outage".
The judge said bluntly: the power crisis is man-made
ABC reports that Republican politicians are using Texas's widespread power outage to wrongly blame renewable energy, but they are not the culprit.
Daniel Cohan, an associate professor of environmental engineering at Rice University in Houston, said bluntly that politicians were "misleading the public".
Judge Lena Hidalgo of Harris County, Texas, admitted that the power crisis was a man-made crisis. The Texas Electricity Reliability Commission mishandled the crisis.
Lena Hidalgo: "We were hit hard by natural weather this week. But there is no denying that there are also human factors. After the electricity problem is resolved, the Texas Electricity Reliability Board should explain to the 5 million residents of Harris County, as well as the residents of the whole region and the whole state."
Heather Zichar, CEO of the American Clean Energy Association, believes that opponents of renewable energy are trying to divert attention from failures in other fields in an attempt to slow down the "transition to clean energy".
Zichar said: "It is shameful for these long-time opponents who want to attack clean energy, whether it is raining, snow or sunshine. Their obsession with this opportunistic political show is misleading Americans to be busy with things that have nothing to do with restoring electricity in Texas.