February 18th – According to a report by the European Times on the 18th, in order to restore the iconic spire of Notre Dame de Paris, French experts are currently searching for oak trees that have grown for hundreds of years in the forest.
A fire in April 2019 reportedly burned down part of Notre Dame de Paris building, causing the 96-meter-high Gothic spire, a landmark of the Paris skyline.
After the fire, French President Macron has repeatedly said that he would rebuild Notre Dame de Paris, and French rich people also said that they would donate huge sums to support the reconstruction.
However, the most scarce repair work is wood.
According to the report, to rebuild as-is, the restoration project requires up to 1,000 oak trees between 150 and 200 years old. These trees must be straight, between 50 and 90 centimeters in diameter and 8 to 14 meters high.
Moreover, these trees must be cut down by the end of March, otherwise the sap from the oak tree will make the wood too wet. Before it is cut into beams, the trunk has to be dried for 18 months.
Dominic de Verbonne, deputy director of the French National Forest Office, told the Parisien, "This matter is about France's ancient forestry heritage.
What is needed to restore is not the young trees of 20, but the very old trees, including the previous king's order to build ships, and to the French fleet.
Trees planted to provide security.
"At the same time, we're also planting new trees so that these offspring can create their own value at some point in the future," DeVillebon added.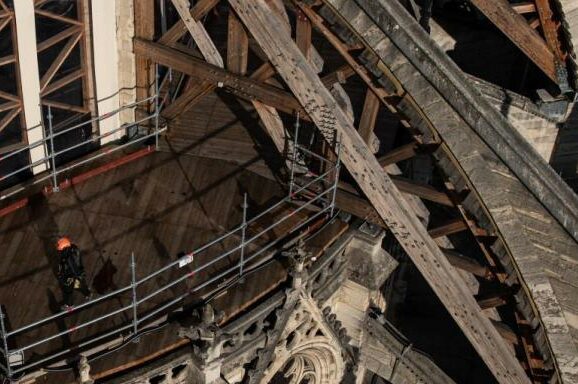 In addition, some private forest owners have also expressed their willingness to donate trees for reconstruction projects.
Jean-Paul Maeve has a 250-hectare forest in Brittany.
He said, "What a proud thing it would be if our tree could be used to restore Notre Dame de Paris."
On April 15, 2019, Notre Dame de Paris was hit by a fire.
The whole building was seriously damaged, most of the top was burned down, and the spire collapsed in the fire. Reconstruction has been repeatedly delayed due to the coronavirus epidemic, weather and lead pollution.
In July 2020, French Minister of Culture Báschero announced that Notre Dame de Paris would start reconstruction as soon as January 2021.