Two major transportation giants in the United States, FedEx and UPS, began to ship the first batch of coronavirus vaccines.
On December 13th local time, CNBC reported that trucks loaded with the first batch of vaccines left Pfizer's Michigan factory on the same day and are expected to arrive in 50 states on Monday local time.
Bloomberg News quoted people familiar with the matter as saying that US President Trump will be one of the first people to get the vaccine.
FedEx announced on the 11th that it was carrying out the transportation of the first batch of COVID-19 vaccines. The following day, UPS also announced that it would begin to participate in and fully support the delivery of the first batch of COVID-19 vaccines.
The U.S. Food and Drug Administration (FDA) announced on its official website on the 11th that following the previous positive results of the Advisory Committee on the Pfizer coronavirus vaccine, the FDA notified the applicant that it would quickly complete and issue emergency use authorizations.
US President Trump said that the first vaccine will be put into use within 24 hours.
FedEx said that after months of preparation, FedEx worked closely with Pfizer, other health care companies and federal and state government officials in the United States to plan that the first batch of COVID-19 vaccines will be shipped to various injection points in the United States.
The vaccine distribution task will be divided equally among several major freight companies. FedEx is working closely with healthcare customers to prepare for more vaccine shipments and vital vaccine-related supplies.
UPS said it would ship the first batch of coronavirus vaccines to designated states within the first few days. UPS revealed that the first batch of COVID-19 vaccines were stored in Michigan and Wisconsin.
Some of the COVID-19 vaccines carried by UPS will be shipped to UPS Worldport in Louisville and will be expedited the next day to designated destinations, including hospitals, clinics and other medical services. Facilities for medical staff to vaccinate.
FedEx said that its network is fully prepared for the global transportation of COVID-19 vaccine, with temperature-controlled transportation solutions, near-real-time monitoring capabilities and professional health care teams, supporting the express transportation of vaccines and bioscience shipments.
Among them, in terms of technical preparation, FedEx disclosed that FedEx SenseAware ID is a low-energy Bluetooth sensor device. Installing this device on temperature-sensitive vaccine shipments can help ensure that the shipment passes through FedEx Priority. Overnight service enables rapid and secure transportation through FedEx's network in the United States.
Professional customer support staff of FedEx Priority Alert service can track vaccine shipments from the place of shipment to the destination in near real time using SenseAware monitoring technology.
Complementing this technology, the FedEx Surround platform uses artificial intelligence and forecasting tools to proactively monitor the environment in which the package is located, and can intervene through customer support personnel when weather or traffic delays may hinder express delivery time.
FedEx and UPS did not disclose the specific temperature control details of vaccine transportation.
The approved Pfizer and BioNTech coronavirus vaccine require storage temperatures of minus 70 degrees Celsius.
Earlier, on November 17, Albert Bourla, CEO of Pfizer, said in an interview with Stat News, a health news website, that Pfizer has developed a special isotherm box that can be sent by any conventional transportation method.
The box, Bourra introduced, is equipped with thermometers and GPS inside, which not only tracks the position of the box at each point in time, but also how much the temperature is to ensure that it is not above or below specifications.
According to Burla, this isotherm box can hold between 1000 and 5,000 doses of vaccine." Once someone holds the box, they can keep the vaccine in the box for weeks, or in the super cooler for months, or in the ordinary refrigerator for several days."
On December 2, the official website of the U.S.
Department of Health and Human Services (HHS) announced the process of distribution of the Curvature Speed Action vaccine, which mentioned the coronavirus vaccines of Pfizer and Modena. According to the distribution process, the two coronavirus vaccines are divided into vaccine products and auxiliary tools. Among them, Pfizer's vaccines are shipped from Pfizer to UPS and FedEx, and auxiliary tools are delivered directly to UPS and FedEx; Modner vaccines and auxiliary tools are placed in distribution centers before being transferred to the states.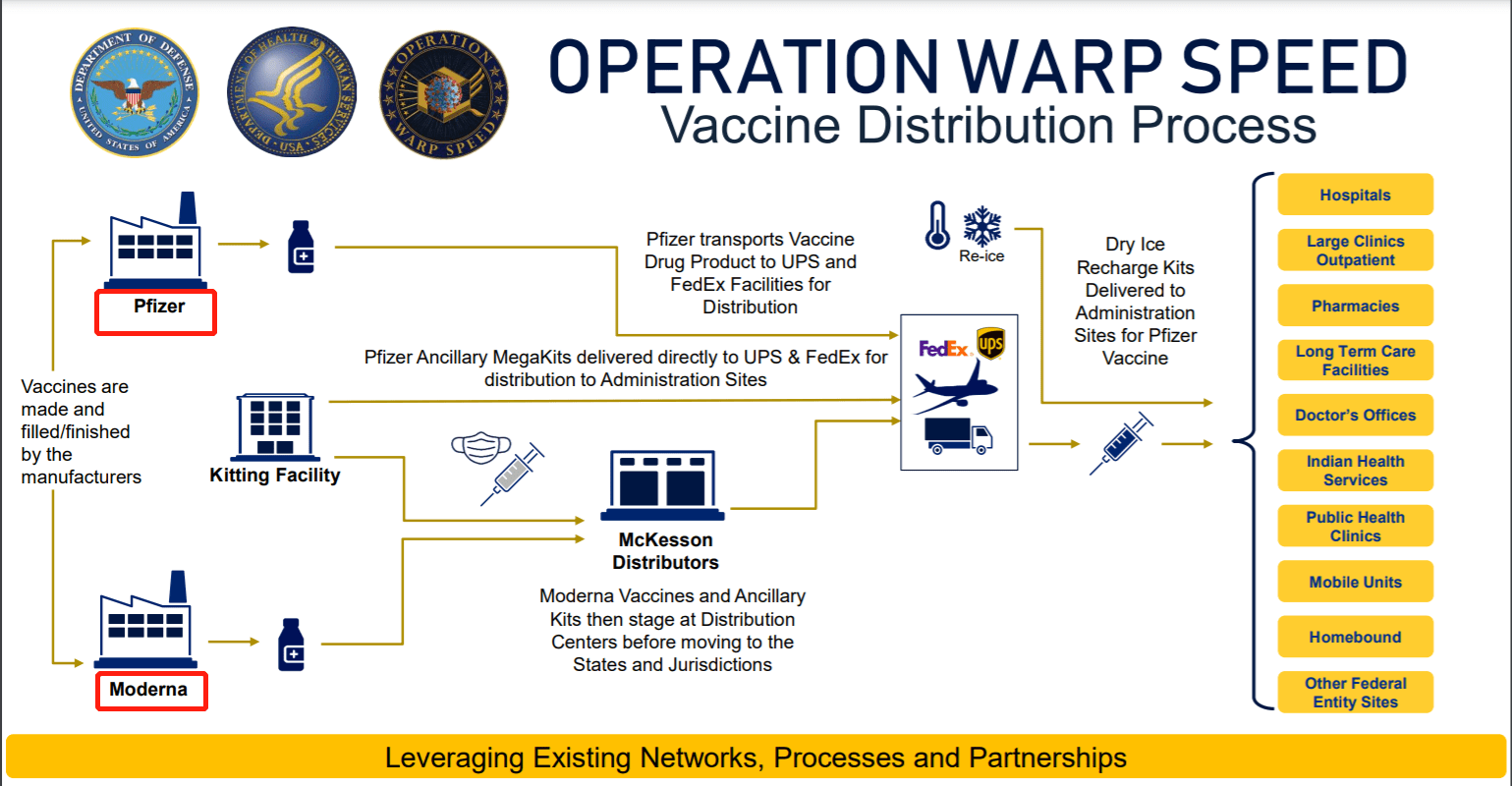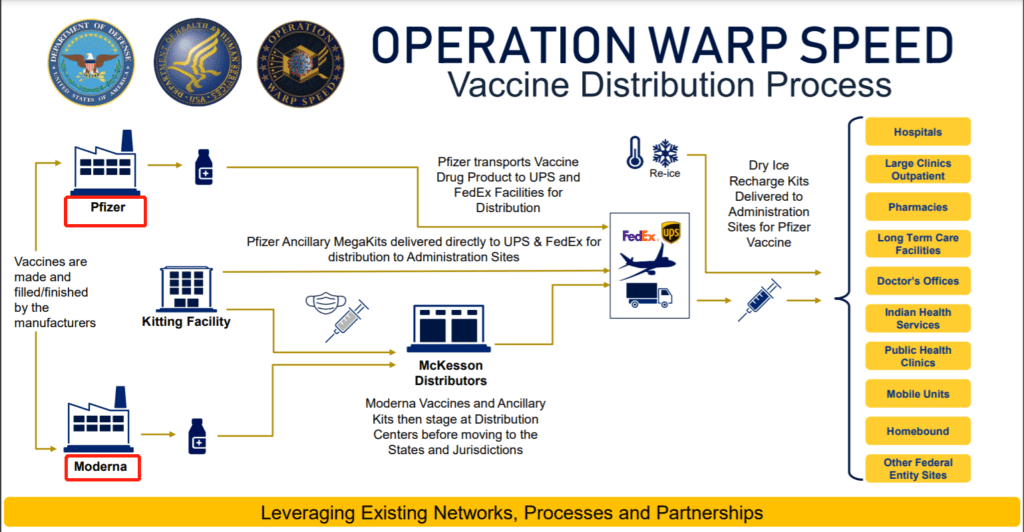 Transporting vaccines will be the focus of the next phase of transportation giants.
Mike McDermott, president of global supply at Pfizer, said: "This is a historic moment, a far-reaching achievement in vaccine development and rapid delivery. Excellent logistics is key to getting our products to the people needed nationwide.
We are excited to work with FedEx and UPS in this historic effort to save lives and end the COVID-19 pandemic."
In terms of cold chain transportation, FedEx has more than 90 cold chain facilities on five continents around the world, and plans to add more cold chain facilities in the next few years. In addition, FedEx said that dry ice may be needed for vaccine transportation.
FedEx has the ability to handle the corresponding volume of dry ice in a safe way. FedEx ships about 500,000 items containing dry ice every month.
UPS Healthcare operates 128 facilities in 32 countries. Its services include: inventory management, temperature-controlled packaging and transportation, storage and transportation of medical equipment, laboratory and clinical trial logistics.
UPS Healthcare's global infrastructure, the latest UPS Premier visibility services, tracking and tracking technology, and global quality systems all meet the complex logistics needs of today's pharmaceutical, medical equipment and laboratory diagnostics industries.